Transform your kitchen space with breakfast counters, handle-less cabinets and other features
Planning to give your kitchen a makeover? Some of these new additions might very well unleash the inner MasterChef in you.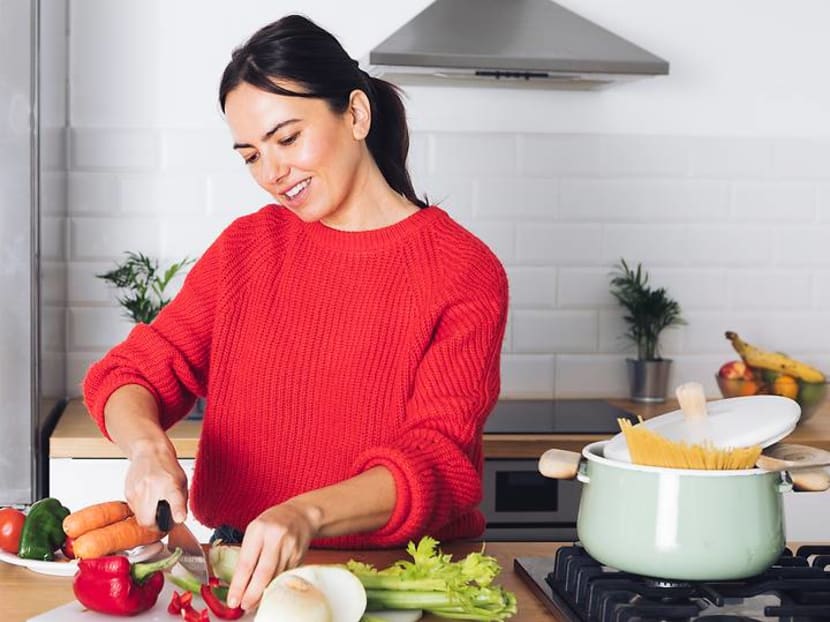 The month of April calls for some spring cleaning. And as you get rid of the old, consider these five new features you might want to add to your kitchen – some of which might very well inspire you to unleash your inner MasterChef.
1. BREAKFAST COUNTER
As more HDB Buy-To-Order (BTO) flats follow an open-concept design, breakfast counters are becoming a staple. It's reminiscent of the cafe look we all love, with multiple purposes: Food preparation station, worktop, and bar counter.
Affix it in the height of your kitchen counters and voila, you've got a food preparation station. You can slice and dice to your heart's content, but only if it's tough enough to withstand daily use.
A granite countertop is perfect for food prep as it's heat and scratch resistant. A 20mm-thick is around S$80 per foot run for a single profile and S$95 for a double profile.
Breakfast counters can also be a work station, especially with retrofitted plug outlets on its underside. No extensions needed or unplugging other kitchen appliances just for your laptop.
It can even be a second dinner table, especially for pre- or post-meal indulgences. Like drinking some wine before dinner or having dessert after.
Add a few high bar stools and you're instantly elevated to hipster-sophisticated status.
2. STANDALONE KITCHEN ISLAND WITH CUTTING BOARD
Don't mistake a kitchen island for a kitchen counter. Like its namesake, a kitchen island is a solitary centrepiece for kitchens.
It's more functional compared to the multi-purpose breakfast counter, especially for food preparation. Add a butcher's block at the edge or make it one big wooden countertop.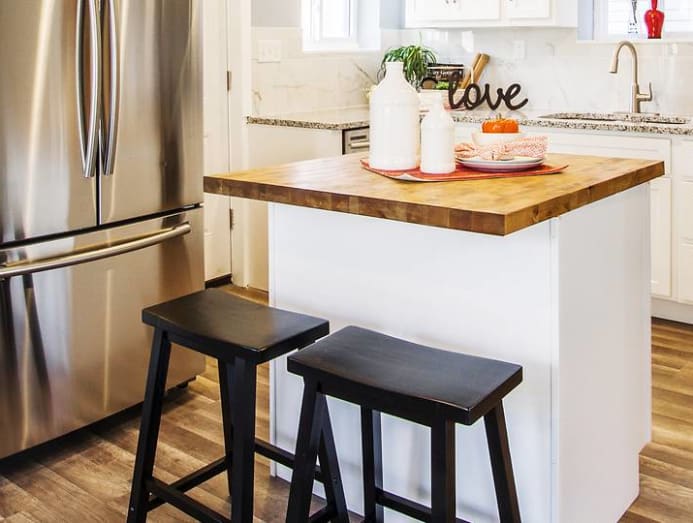 A butcher-block countertop is as easy on the knives as it is on the eyes. Plus, it's susceptible to scratches or stains and won't dull your knives.
And although bigger kitchens can accommodate an island better, smaller spaces can fit it as well. In such cases, a rolling butcher's table can be the way to go. You can move it in and out of the way, whenever you need to.
A rolling cart with a countertop can range from S$100 to S$2,500, depending on the size and additional features like cabinets or sinks and drains.
To custom-build a kitchen island, it would cost an average of S$3,000 to S$5,000. Prefabricated islands would be cheaper, but it might be harder to assemble on your own if you're not experienced.
3. INDUCTION STOVE
Technology hasn't just impacted mobile devices but kitchen appliances as well. And one of the most loved by Singaporeans is an induction stove. Not only does it look sleek, it has great specifications as well.
Compared to electric or gas stoves, induction cooktops or ranges can cook and heat up faster. It transfers heat directly from the glass cooktop to the pot, so it also cools down quicker. As soon as you lift the pot from the cookpot, it immediately stops heating up.
It also means that induction stoves don't get as hot as it does on a traditional radiant electric range. Plus, it has an additional safety feature: If you turn on by mistake an induction burner with no pot on it, it won't get hot.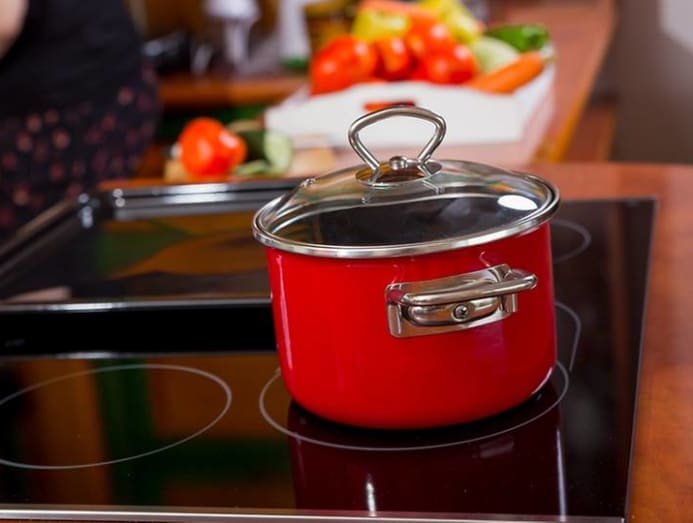 You'll need a more specific set of cookware, however. Only pots and pans that are induction-compatible will work with an induction range.
To see if any of your existing cookware is compatible with induction range, use a magnet to see whether it strongly sticks to the bottom of your pots. An induction cooktop is priced around S$1,200 and above.
4. GLASS PARTITION DOORS
If you're not so comfortable tearing down the walls of your home, consider installing glass doors or partitions. It helps divide the kitchen from the dining area and living room.
With glass partitions, you'll have the illusion of an open-concept home without the lingering smell of recently-cooked food on your sofa or throw pillows.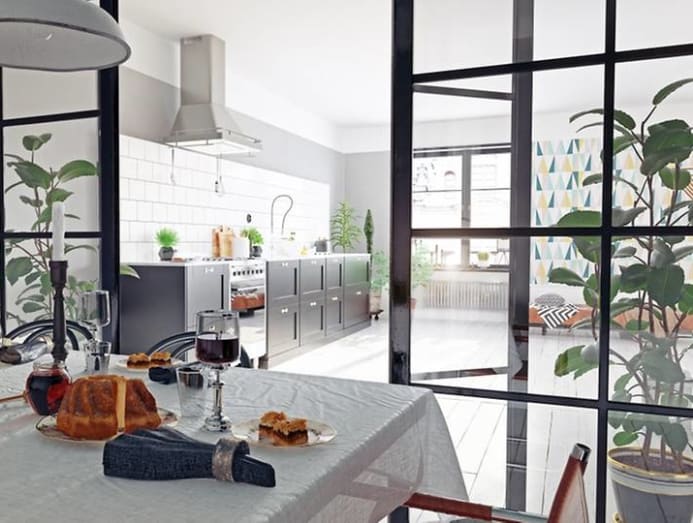 Your dining area will also appear brighter as more light can enter. With simple yet elegant black frames, your sliding glass doors add a minimalistic vibe to your kitchen.
This also helps with food preparation in that there'll be less disturbance from your guests. You can cook in peace, without itchy fingers snatching up food to "taste".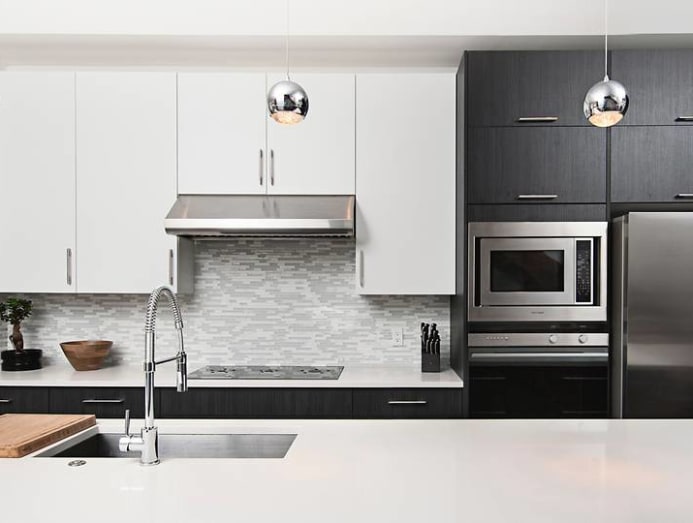 Hacking one wall panel for a glass partition would cost around S$40 to S$60 per foot run. But you'll have to check with your contractor if the quotation includes haulage and clearing of debris.
5. HANDLE-LESS CABINETS
Handle-less cabinets are no longer a design niche, but a popular fixture in most Singaporean kitchens. It's simple yet functional, and makes for a clutter-free look.
It adds quite a bit of space in the kitchen, enough for more room to manoeuvre. It also results in a visual flow that integrates adjoined spaces well.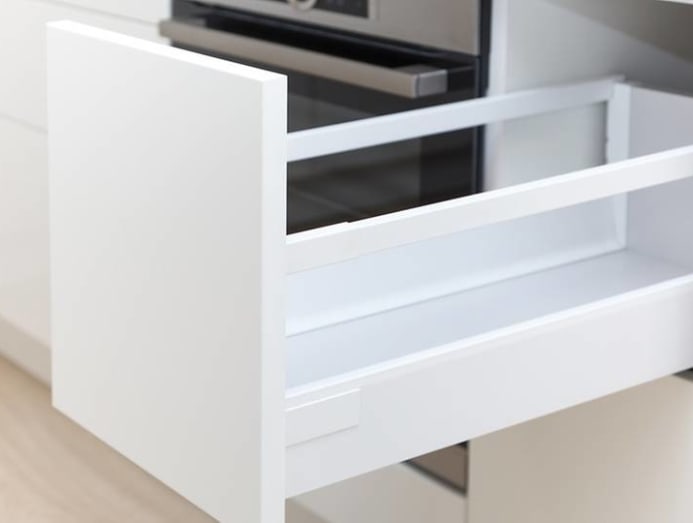 With handle-less cabinets, you won't be banging your hips or snagging your clothes on something. For the same reasons, it'll be safer for children as well. Not only that, but they'll make lesser noise opening and slamming doors open.
You can even add child-proof locks to prevent children from gaining access to items you don't want them to handle.
The channel at the top, which you use to pull the doors open, may catch more dust and crumbs, but you can always opt for a push-to-open mechanism.
An additional feature like soft-close hinges can also ensure there'll be no more banging sounds in the future. Carpentry work for kitchen cabinets are usually around $110 to $180 per foot run.
This article first appeared on 99.co.