Kobe Bryant and daughter's bodies released to family, according to report
Several big names paid tribute to the basketball legend during the Super Bowl, while Bryant's wife, Vanessa, recently shared her first public post about her loss.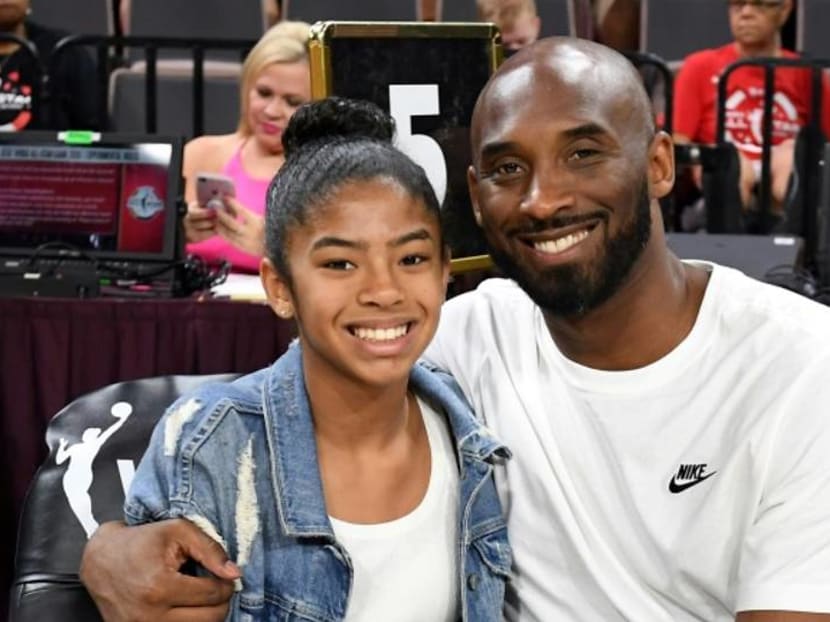 The bodies of Kobe Bryant and his 13-year-old daughter Gianna have been released to the family by the Los Angeles County coroner's office, according to US Weekly.
The family was able to collect the bodies after officials were able to confirm their identities and official cause of death, which was stated as blunt force trauma.
US Weekly also reported that Bryant was identified through fingerprint testing, while Gianna was identified through DNA analysis.
It has been a week since the former LA Lakers star, Gianna, and seven other people perished in a helicopter crash on Jan 26.
Several big names paid tribute to the basketball legend during Sunday's (Feb 2) Super Bowl game.
The NFL held a moment of silence for Bryant and the other crash victims, with teams lining up on their 24-yard lines, referring to the No 24 jersey Bryant wore with the Lakers.
Maroon 5 lead singer Adam Levine used his pre-Super Bowl concert to deliver his own message on Bryant's death. He held a No 24 jersey up and waved it as the stage lit up in purple, one of the colours for the Los Angeles Lakers.
Levine asked fans to join him in the song Memories, and said: "I don't know if I'll make it through this one with my emotions intact."
He continued: "Needless to say, I think we know who this song is dedicated to."
Genesis, the luxury arm of Hyundai, edited out a helicopter scene for their Super Bowl commercial out of respect. According to cnet.com, a representative for Genesis said that although production for the commercial had wrapped before the accident, the brand decided to remove the helicopter scene out of compassion and sensitivity to the families.
Bryant's wife, Vanessa, also made her first public statement on Friday (31 Jan) addressing her loss.
She posted a photo on Instagram of the entire family, with a caption thanking fans for their support and expressing her family's grief over the tragedy.
She said: "Thank you for all the prayers. We definitely need them."
She added: "There aren't enough words to describe our pain right now. I take comfort in knowing that Kobe and Gigi both knew that they were so deeply loved. We were so incredibly blessed to have them in our lives. I wish they were here with us forever. They were our beautiful blessings taken from us too soon."
Vanessa also expressed support for the families of the other victims in the tragedy, saying that she and her family "share in their grief intimately".
Ending the post, she announced the formation of the MambaOnThree Fund to help support the other victims of the crash.
Bryant's other daughters are Natalia, 17, Bianka, three, and Capri, who was born in June 2019.