Koo Hye Sun reveals divorce discussion with Ahn Jae Hyun on Instagram
The actress claims that her husband has had a change of heart and that "new reports" that he will be releasing are "untrue".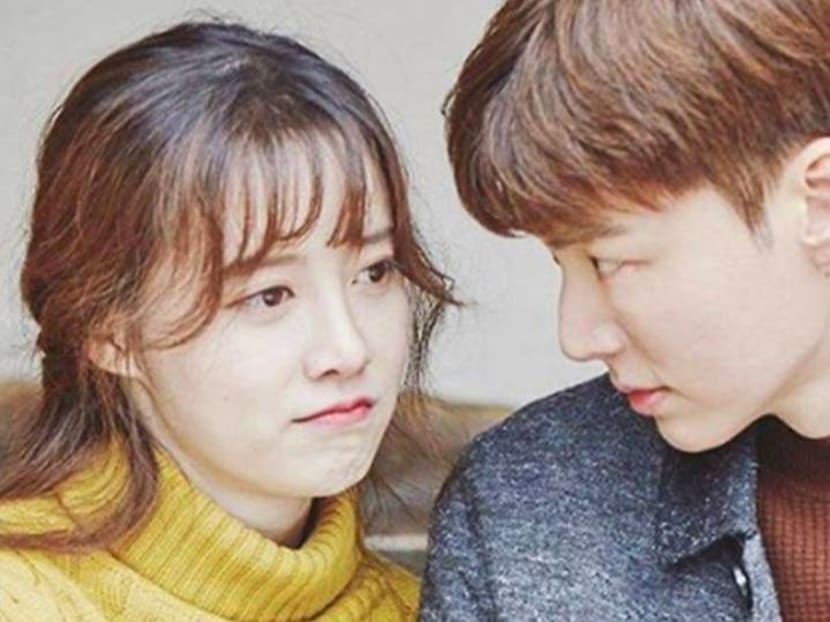 Divorce drama is swirling around Koo Hye Sun of Blood fame and actor-model Ahn Jae Hyun on social media. It all began when the South Korean actress took to Instagram on Sunday (Aug 18) to reveal that her husband wanted to call their marriage quits.

In the since-deleted post that showed a picture with the handwritten Korean characters, "I love you, Koo Hye Sun. I love you. Koo Hye Sun", the actress wrote: "After we lost our spark, my husband has had a change of heart and wants a divorce, and I want to stay married. (Next week, representatives of my husband will be releasing news reports, and I am informing you that they are completely untrue. I hope that the truth will come to light.)"

An hour later, she posted screen shots of text messages between them. Those posts appeared to have been taken down but here's a translation from Korean entertainment news website Soompi:

Ahn: I already told the New Journey To The West (a variety show) staff the day before yesterday that I'll be releasing the [divorce] agreement and the press statement that you gave me three days ago next week, and I'm currently in the process of discussing it with [the New Journey To The West staff].
Koo: Not next week. Depending on how my mum's doing.
Koo: To me, New Journey To The West isn't more important than how my mum's doing.
Ahn: We've already come to an agreement, and all that's left is the paperwork. I think it would be a meaningless meeting. Let's move forward as scheduled, then I'll meet your mother.
Ahn: I've also called her.
Koo: I heard that you have made plans to meet. Contact me when you meet.
Koo: Just like you persuaded her when we got married, take responsibility and persuade her about our divorce. Paperwork isn't hard.

The actress had also captioned the post: "My mother has received a shock and is not in good health, which is why I have posted these words. I'm sorry".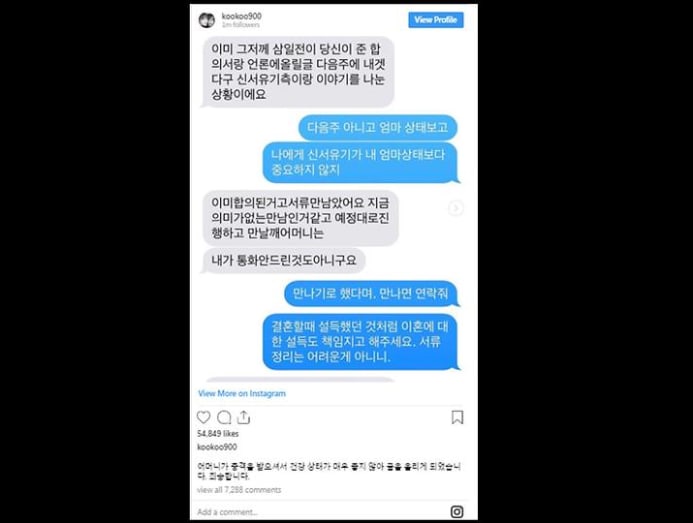 The conversation appeared to be cut off at parts in the Instagram posts. According to Soompi, this was what followed:

Ahn: … and I don't think it will be easy to sort out. I think it will be overwhelming for your mother, and I'm also overwhelmed. Let's proceed with things according to plan, and I'll meet her [another time].
Koo: Work is more important than my mum?
Koo: What kind of loathsome talk is this?
Ahn: I will speak to your mother on the phone.
Ahn: I don't know what to say to her in person.
Koo: But you should still take responsibility. If you act callously like this, I'm not going to stand by and watch.
Koo: Meet her in person and apologise … for the fact that you aren't able to keep your promises when we got married.
Koo: Why is work important? If you say work is more important than my mum, then I really won't hold back.

The couple had met on the KBS drama Blood and married in May 2016.  

A representative from Koo's and Ahn's agency HB Entertainment has noted that: "We are in the midst of checking [with the couple]. Once we have checked, we will make an official statement through a press release".