K-drama Vincenzo angers Korean netizens by using Chinese brand of bibimbap in show
In a recent episode, lead actors Song Joong-ki and Jeon Yeo-bin were seen eating the popular Korean rice dish in a scene. The problem was, it's made by Chinese brand Zihaiguo.
Korean actors in a Korean drama eating a popular Korean dish made by a Chinese manufacturer – what could go wrong? 
Korean viewers watched on episode eight of the TV drama Vincenzo as lead actors Song Joong-ki (who plays the titular character) and Jeon Yeo-been tucked into bowls of instant bibimbap made by Chinese brand Zihaiguo. There was even a close-up of the product.
The obvious product placement on the episode that aired on Sunday (Mar 14) angered netizens who went online to air their displeasure at broadcaster tvN for using a Chinese brand for the Korean dish.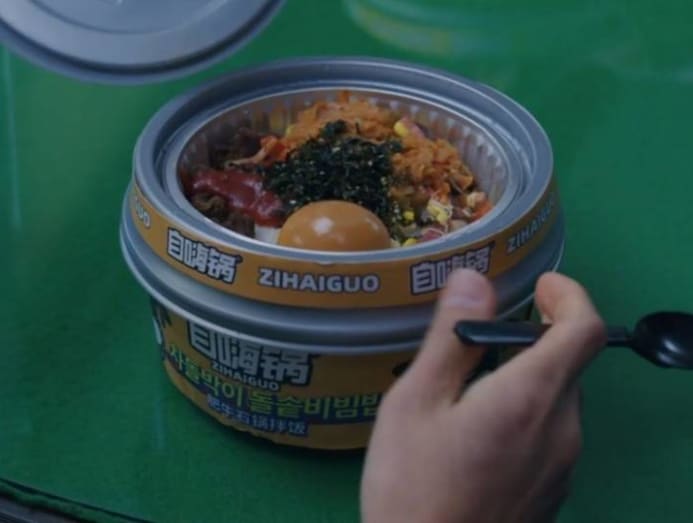 One person wrote, "How can the production company accept a Chinese bibimbap product when bibimbap is Korean? Are they crazy?"
Another person was concerned that international audiences – Vincenzo also airs on streaming service Netflix – will mistake bibimbap for a Chinese dish. 
The viewer commented, "If the network just sells placement to Chinese companies for quick money, wouldn't (foreign) people who watch this series think bibimbap's Chinese food? This is a serious issue … I know money is important but this is taking it too far".
There were viewers who tried to be the voice of reason by saying that the network needed to cover the 20 billion won (S$23.8 million) budget of the show.
According to entertainment portal AllKPop, the instant bibimbap depicted in the show was created in collaboration with popular Korean food company, Chungjungone, and the company's logo is on the pack. But that didn't seem to matter to the outraged viewers.
This isn't the first time the two countries are clashing over food, though – China's Global Times recently claimed that kimchi is a variation of paocai, a pickled vegetable dish.