Dismissing K-pop without attempting to 'get it' is just uninformed snobbery
What's it like to watch your first K-pop concert at the age of 41? CNA Lifestyle's Mayo Martin got dragged to the recent NCT 127 show and discovered it's just like football.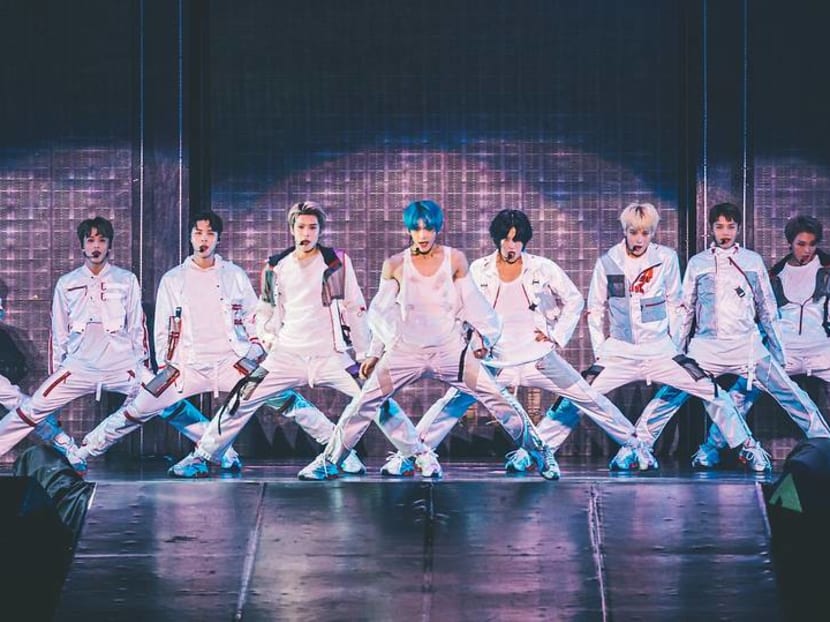 If there's one thing that can make a 41-year-old man feel terribly old and out of place, it's being completely surrounded by thousands of screaming girls watching a bunch of handsome young men onstage doing the "scissors" dance while the video screen flashes "Welcome To The 90s". In a very retro-ironic way.
It was an hour and a half into K-pop boyband NCT 127's Saturday afternoon concert at the Singapore Indoor Stadium. My ears were ringing, my bum hurt and I was scanning my section for others who looked similarly lost.
A couple of rows down, I spotted a woman glued to her phone, who seemed to have tagged along with someone I assumed to be her daughter. Squinting hard, I spotted what seemed to be a multi-generational family at the other end of the stadium. How could I tell? Half of them were waving "fanlights" while the other half just sat there, also glued to their phones.
I turned to the only "chaperone" excuse I had: My wife, who was attending her first K-pop concert just like me. But like everyone else, she was mesmerised by the spectacle on stage, excitedly waving her fanlight as it blinked green and red.
I guess there's a first time for everything.
IT'S PEAK K-POP
Even for someone whose only exposure to K-pop has come in drips and drabs, it's hard not to be intrigued by just how much it has exploded these past couple of years. My thirty-something wife, for example, has only recently taken her K-pop fascination to the next level in the past few months – culminating in the unilateral decision to buy tickets to the NCT 127 concert for the both of us.
Aside from simply following the old "happy wife, happy life" maxim all married men should do well to follow, I thought it would be interesting to find out what all the fuss was about. While I am aware that K-pop didn't come out of nowhere (yes, I do know my Super Junior, Girls' Generation and Psy), it does feel like we're in the middle of Peak K-pop.
Simultaneously fuelled by the current international success of acts like BTS, BlackPink and yes, NCT 127, as well as the scandals surrounding YG Entertainment and BIGBANG's Seungri, K-pop seems unavoidable these days and I was curious to know what it felt like to be swept into it, however briefly.
When my colleagues found out I was going to write about watching a K-pop show for the first time, they were mostly amused. But there was also a bit of apprehension on my side – I still remember an infamous newspaper article written by a friend of mine nearly a decade ago. 
It was titled "Sick of K-pop Cult" and she described the stars as "clones", the fans as "weepy" and the music as "manufactured". Let's just say it didn't make her Employee of the Month with some readers.

I'm happy to report that aside from suddenly becoming conscious of the "uncle" vibe I was giving off, catching a K-pop concert wasn't the miserable experience I dreaded it to be. And that probably had to do with the fact that there was something else taking place nearby, which I was very familiar with – football.
YOU'LL NEVER WALK ALONE

While teenage girls and female millennials were converging at the indoor stadium, football fans were in the neighbourhood to catch a match at the National Stadium that Saturday afternoon. And I realised, when you think about it, there's really not much difference between Manchester United fans and NCTzens.
As someone who watches football and follows a team (Liverpool rules and you know it), it all seemed so familiar. Consider these observations:
Man U fans wearing red jerseys to show their allegiance? NCTzens wore lime green shirts.
Man U shouting "Glory Glory Man United"? NCTzens have their own chants. Sometimes in Korean.
Man U fans wave their flags, banners and scarves? NCTzens have got their synchronised fanlights and DIY posters.
Man U fans wearing face paint? One NCTzen was wearing a huge flower on her head.
Man U fans screaming after a goal? NCTzens scream before, after and during every song.
Man U fans adore their star striker? NCTzens worship their "bias" (a term I just recently found out meant something positive – a favourite member.)
In other words, K-pop fans are really a tribe just like everyone else. Yes, their dads have to drop them off and pick them up after a show but they're a tribe nonetheless. And once you've gotten that in your head, dismissing them in an offhand manner simply seemed just plain uninformed snobbery.
HARDWORKING EYE-CANDY
So what of NCT 127 itself? I admit, before actually catching the show, I was, erm, biased against K-pop groups and swallowed the whole cynical narrative about them hook, line and sinker. That they're simply studio-manufactured personalities who probably lip synced and pouted their way to fame.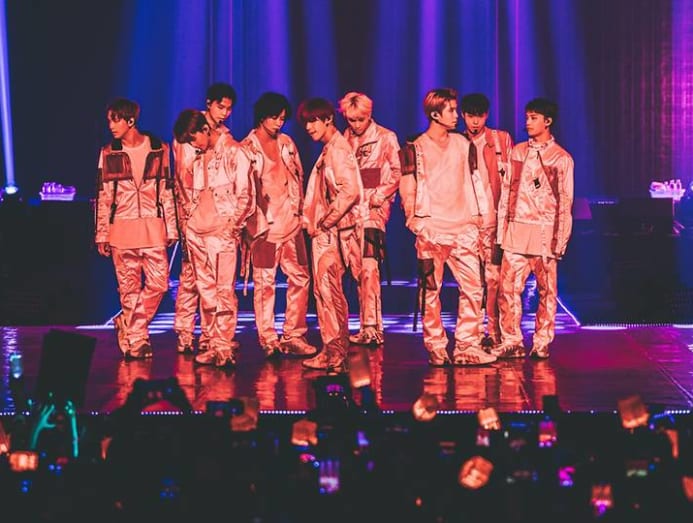 Of course, everyone now knows that's not the whole picture. Studio creations? Sure. Eye-candy? Yes. But behind the Beatlemania-esque levels of fandom and the light-and-sound spectacle, it was impressive to see these obviously talented, hardworking boys give it their all – robots don't fumble with their mics or stand breathless after a song.
And, apparently, Saturday's show was their very last one after their first gruelling world tour – whether or not certain segments were "staged" (it is a concert after all), that's an achievement to be proud of. 
I might not know what their songs are about – from what I can decipher behind the screams, there's at least one about a "firetruck" and another about a "cherry bomb" – but it was pretty entertaining nonetheless.
Would I catch another K-pop concert? Well, I do get what the fuss is all about now, but I'll probably stick to watching something with my tribe (or at least people my age), like that U2 concert later this year. Or a football match.
Unless, of course, the missus drags me to another one. After all, happy wife, happy life.