'Fame made me difficult': Kumar on losing friends and finding peace at 52
Singapore's most famous drag queen talks about the perks of getting older, and having to be lifted to safety out of Takashimaya in our podcast series House Party For 2.
Picture it, Sophia Petrillo style: Singapore, 1992. The sale of chewing gum has just been banned. The country's very first multiplex is now open in Yishun. Litterbugs now have to wear lovely yellow vests while cleaning up the streets for Corrective Work Order. And one of the brightest stars in Singapore is a drag queen named Kumar.
This was not a man in a dress as a simple gag, cross-dressing for laughs like Jack Neo would in the mid-90s with the characters Liang Po Po and Liang Xi Mei. This was a drag queen with a raunchy comedy show at a cabaret called Boom Boom Room located at Bugis Street – an area more known, at the time, for… well, ladies of the night who didn't tell if you didn't ask about the presence of Y chromosomes.
If this seems unlikely today, imagine how Kumar felt 28 years ago.
"I was very surprised, he said, during our conversation over lamb pie for CNA Lifestyle's podcast series House Party For 2 – recorded in the thoroughly professional setting of an actual house party for two in my little HDB flat. "I didn't know they (Singaporeans) were waiting for someone to start something daring."
(This podcast was recorded in mid-February. Both House Party For 2 host and guest are now hibernating safely in their respective homes.)
Yes, Boom Boom Room turned Kumar into a star to those in the know. But The Ra Ra Show, which premiered a year later on what was then the Singapore Broadcasting Corporation (SBC) made him a household name.
Kumar was so famous that he had to be saved from adoring fans as if he were Lady Gaga in a particularly ravenous episode of The Walking Dead. "They had to literally lift me out of Takashimaya," he said. "It was a show for 8 Days and I couldn't leave – the audience was pulling me, pulling my hair and all that. The security had to lift me flat [on his back], through Taka, to the staff lift."
If people don't find you important, then they don't find you important, lah.
This was back when he was still living at home with his parents, whose indifference, Kumar said, kept him grounded.
"They don't see you otherwise – 'You're still my son.' So they treat you the same at home. My dad refused to accept the fact that I'm different. My mum was like, 'Mmm hmm… Something's wrong here but never mind.'"
But, I ventured, at least they got to see him turn the very thing that made him different into a big success. "That came much later, when my parents came to understand that such a thing was possible," he replied. "Back then, my father didn't even think I was gay – he thought I was a prostitute."
Unfortunately, Kumar's wild rise from random Haw Par Villa performer to Singapore's most famous drag queen in a few short years proved to be as challenging outside of his home as it was inside. The loss of anonymity for him – and those around him who treasured their privacy – took its toll.
"It was quite tough to deal with the public. Because every day, you go anywhere, and everybody knows you. I lost a lot of friends because they didn't want to go out with me anymore – they didn't want to be in the public eye. It was very tough," said Kumar. "I'm Leo, so I love the limelight. But after a while, it got to me. 'I really need to stop this.' And I wasn't going to shut myself up at home, you know?"
"I think because of the fame, it made me into a real difficult person…" he said, pausing to sigh. So he quit working on television for eight years.
Flash forward to 2020 and Kumar is still one of Singapore's most popular comedians – and the crown lies a little less heavy after almost three decades into his reign. No doubt due to a few alterations he's made, now that he's wiser and turning 52 years old in a few months.
"I try to be a bit happier, relaxed and chill," he said. "What I came to realise when I reached 50 was that in life, you have to stop expecting. When I was younger and I invited friends over and last minute they say they cannot make it, I would be like, 'But I planned! I cooked!' Now when they say they cannot make it, I'm like, 'Okay, lor.' I don't get upset."
"Even when people want to borrow money from you, you give what you can. If they ask for S$200 and you have S$20, give S$20. But don't expect it to be returned. That's when you get really, really angry, and that's when you really get older and you stress yourself over nothing. People make mountains out of molehills. They're not seeing it properly because they're angry."
"Now that I'm like this, I feel younger because I'm not angry. If I get angry, I'll ask myself, 'Why? What's the point?'"
"If people don't find you important, then they don't find you important, lah," he said, shrugging.
It is a philosophy that is simple to the point of genius.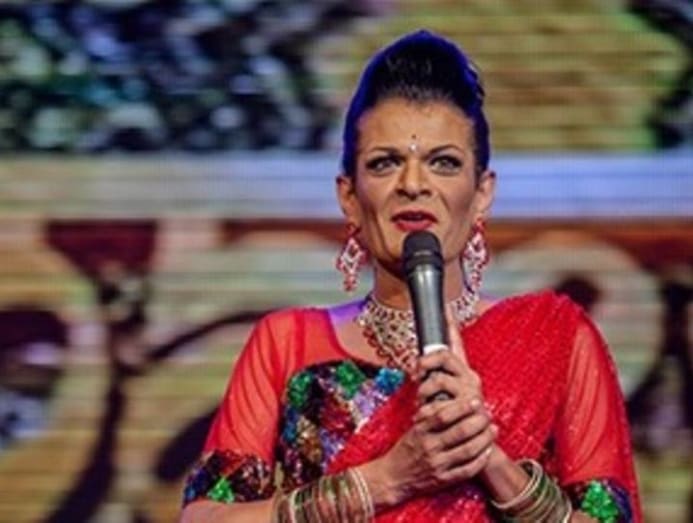 "When you reach a certain age, you'll actually know who will be there for you, and who will not… They don't make an effort as much as you do," said Kumar. "You cannot tell when you're young. It's all life experience. Only when you grow older, then you can see it."
Yes, Kumar is glad to be older, happier and more at peace. Just don't ever make the mistake of calling him "auntie".
"Oh my god, I would really, really slap," said Kumar, clutching imaginary pearls. Forget "uncle", too. A young boy made that mistake at the void deck of Kumar's block recently, and the wee kid received that patented icy stare that immediately fills any mortal with terror and a sense that one might be accessorising wrong.
Do not try it under any circumstance. Kumar gets irritated even when his nephew and niece – to whom he is an actual biological uncle – call him that in public. "Because we are in denial about our age!" he laughed. "I still want to feel young and stay young."
"Nowadays, I don't even call taxi drivers 'uncle' anymore. I call them 'brother'. I wish for the same thing to come back to me!"
Listen to the full House Party For 2 podcast to find out why Kumar refuses to get on social media (his @thekumarshow Facebook page is managed by someone else), what sort of parent he is (Kumar has two dogs and an actual human "son" – surprise!), and how he once had an apparition in his hotel room (just combing his hair, as apparitions do).
New episodes of House Party For 2 are published every Sunday at cna.asia/podcasts.