Enemies no more: Lady Gaga and Madonna make peace after a decade
The female pop icons embraced for a photo at Madonna's Oscars afterparty.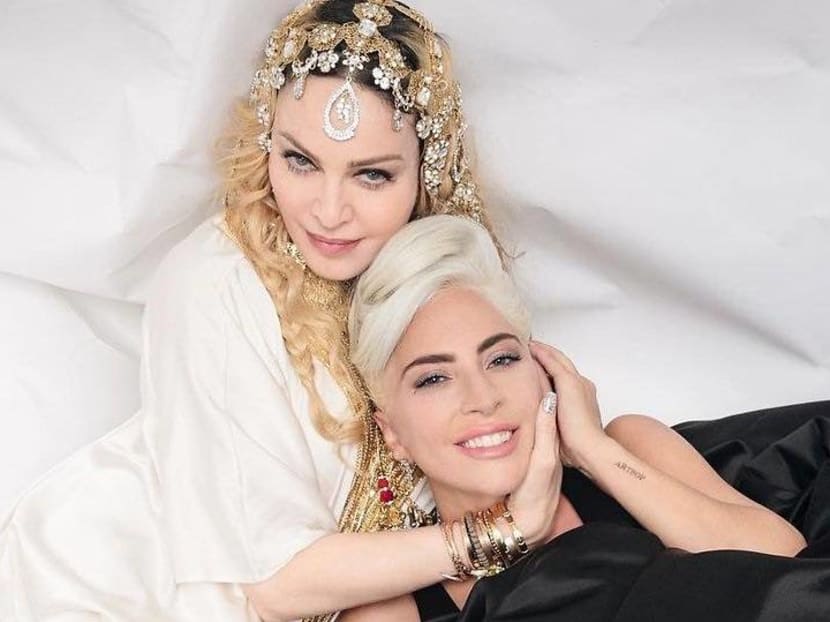 After a decade of icy exchanges and shady comments, Lady Gaga and Madonna finally put aside their differences last night (Feb 25) at Madonna's Oscars afterparty.
The pair posed for a photo on a crumpled white background, with Time magazine first posting the shot on Instagram.
Madonna later posted the photo on her own page, captioning "Don't Mess with Italian Girls" along with a black heart emoji and a tag on the JR pseudonym of the mysterious French photographer.
Due to the party's strict social media ban, little else was captured of the detente, save for a behind-the-scenes video of the pair touching foreheads.
Gaga had been compared to the Queen of Pop thanks to her evolving image, genre-breaking music and use of religious imagery. Their relations turned sour in 2011 when Gaga's Born This Way was said to bear similarities to Madonna's Express Yourself.
While Madonna never took legal action, she did perform mashups of the two songs in her concerts.
The feud was reignited in 2016 when Gaga said on radio that she is different from Madonna because she writes her own songs and plays instruments, although Madonna is competent in both as well. 
In her documentary Five Foot Two, she explained that she was upset that Madonna was the one to take their feud to the media and felt angry at the passive-aggressiveness of their stand-off.
Now that the two are on talking terms, is it too much to ask for a collaboration?