Meet the laksa robot for hire that dishes out 80 bowls an hour
Singapore catering group Neo Group recently unveiled its latest innovation, where you can have a piping hot bowl of the yummy Singapore dish in just 45 seconds.
Thinking of hosting a party and having laksa on the menu? Why not hire a robot to do all the cooking for you.
Singapore's largest catering group, Neo Group, recently unveiled its all-new robotic live cooking laksa station, which can dish out 80 yummy bowls an hour.
The new innovation was announced last Friday (Jul 4) at the group's first catering showcase held at SMU School of Law. The event also saw 15 of Neo Group's catering and lifestyle brands, such as Orange Clove, Neo Garden and Lavish Dine Catering, present their new menus.
So how does the laksa station work? Customers simply select their noodles and add-ons such as sliced fishcake and beansprouts. The robotic station will then blanch the noodles and serve up the laksa gravy. All in all, it takes 45 seconds to serve one bowl.  
Jointly developed with Orange Clove and built by a local engineering company, the robot noodle station is available for hire, whether for small-scale events or large corporate ones. Those who rent will be able to activate it within just three hours, since it doesn't rely on live demo chefs.
No rental price has yet been set for the new concept but there are already plans to cater to new dishes and recipes.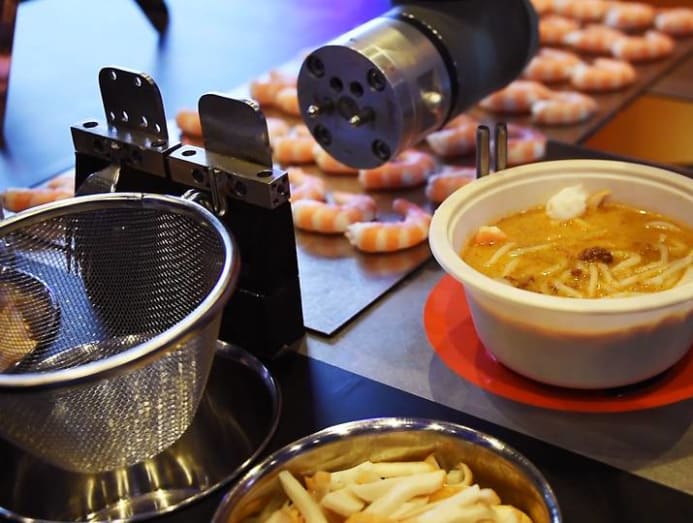 What would this new innovation mean for Singapore's catering industry?
"The noodle station is generally the most popular live-station for hire at our catering events, therefore we have decided to develop and create an automatic noodle-cooking station. The station ensures consistency in the delivery of our recipe, and management of food waste as customers can decide their preferred portion," said Sally Liew, Neo Group's executive director.
"Of course, this is also an innovative launch. We believe that live cooking automatic stations stand to be the future of Singapore's catering industry due to our labour intensive nature, and that this is just the beginning."