Return of Lee Seung-gi: 'I'm just going to focus on what I'm good at'
Fresh out of the military, the popular Korean star has a question for his fans, as CNA Lifestyle finds out.
SINGAPORE: Fourteen years. That's how long it's been since Korean actor, singer and host Lee Seung-gi made his debut. Couple that with the fact that he's spent the past two years out of the spotlight and it's only natural that the newly discharged army enlistee might have been worried about his career.
"If I lose my job, what can I do?" the 31-year-old had asked in the first episode of All the Butlers (also known as Master in the House), which began filming just days after his discharge.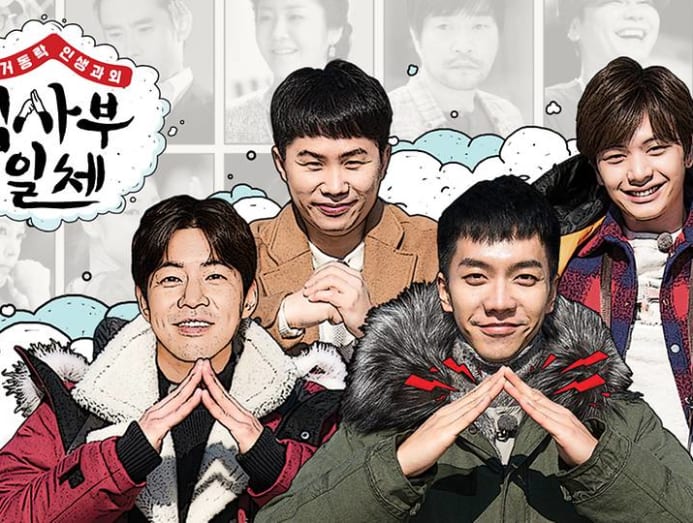 In the SBS variety show, cast members, who also include actor Lee Sang-soon, comedian Yang Se-hyung and BTOB member Yook Sung-jae, spend a night in the home of a famous figure in the hope of gaining career knowledge and wisdom.
It turns out Seung-gi, who is also known as Ballad King with hits like Return and Meet Someone Like Me, needn't have worried. Two years in the military was apparently not enough for the Forbes Korea Power Celebrity to lose his reputation as a household name.
The multi-hyphenate ended up juggling at least two jobs, including his role as a self-serving mystical creature on the Netflix-commissioned A Korean Odyssey.
He's also been chosen as the main emcee of survival reality TV show Produce 48, in which he has the enviable job of rubbing shoulders with South Korea's next big girl groups, and is set to reunite with Gu Family Book co-star Bae Suzy in the 2019 spy show Vagabond.
When CNA Lifestyle spoke to the star at the Grand Hyatt Singapore during the weekend of his fan meet here, he said appearing on All the Butlers helped restore his confidence in his staying power.
"I'm in my thirties now and in your thirties, you tend to think about your future a lot and which path to choose," he said. "I think what I can do is to focus more on what I'm good at, and see if I can improve on these positive qualities so that I can continue on the path I'm on now."
POST-MILITARY LIFE
We also asked him about the behind-the-scenes action on the Vagabond set.
"We haven't filmed much, so I haven't experienced anything really difficult. Right now I'm just making sure that my body is fit for the physicality the role demands so I've been going to the gym a lot and training at action school.
"I also exercise five to six hours a day," he said.
One of the running jokes in All the Butlers is that Seung-gi can't seem to stop talking about his time in the army. He shared some of his main takeaways from the experience with Channel NewsAsia.
"The most important thing I learned was how to fix my mentality. I learned that one's mentality can influence how they react to physical obstacles.
"There were many instances when I thought: 'If I have do any more of this, I might die.' But I didn't. When I start performing my stunts for Vagabond, it will have been ingrained in my memory that I can do it," he said.
In the military, Seung-gi also picked up another skill - field cooking. You could even say he's become a little obsessed with it - his mess kit, gas burner and instant food like tteokbokki and ramyeon all appeared on the sets of All the Butlers and A Korean Odyssey, and was even included in the second episode of the former.
"In the field, everything can go into your cooking and when I say everything, I mean even dirt and soil.
"I was worried that we would fall sick. But now I know that they're safe to eat - in fact, I'm starting to think that these ingredients actually help to boost immunity," he said, laughing.
"Eating dirty stuff is definitely new to me. Also, I always had my meals set up for me before the military and the dishes were always delicious with many ingredients. In the field, there are not so many ingredients and also things are not prepared for you. That was a new challenge," he told us.
In the hotel function room, where his interviews were being held, Seung-gi was friendly and upbeat, and occasionally broke out into his signature cheeky chuckles.
But he grew pensive when telling us that even with all the work he's been given, he still wonders about his fans.
"I actually want to ask them what exactly it is that they like about me, because I'd like them to stand by me the way they have all this time. I really don't know the answer, actually," he said.
He didn't need to wait too long for the answer.
That Saturday night at Zepp@BIGBOX, more than 1,400 fans, known as "Airen", gathered as he sang old hits like You're My Woman and performed romantic scenes from A Korean Odyssey. 600 of them bought the S$248 VIP pass that got them a high-five with their beloved star.
The crowd, represented by a sea of glowing "Airen" fanclub headbands and light sticks in the auditorium, roared in all the segments, and many fans who scored the chance to play games with him ran into his arms the moment they stepped onstage. 
How did Seung-gi feel now? The smiles said it all.
Watch the full interview: