What do vegan burgers and Singapore have to do with Lewis Hamilton's post-F1 retirement plans?
The seven-time F1 world champion tells CNA Lifestyle all about surfing in Malibu, visiting Singapore "on a normal time" and diving into the many causes he feels deeply about.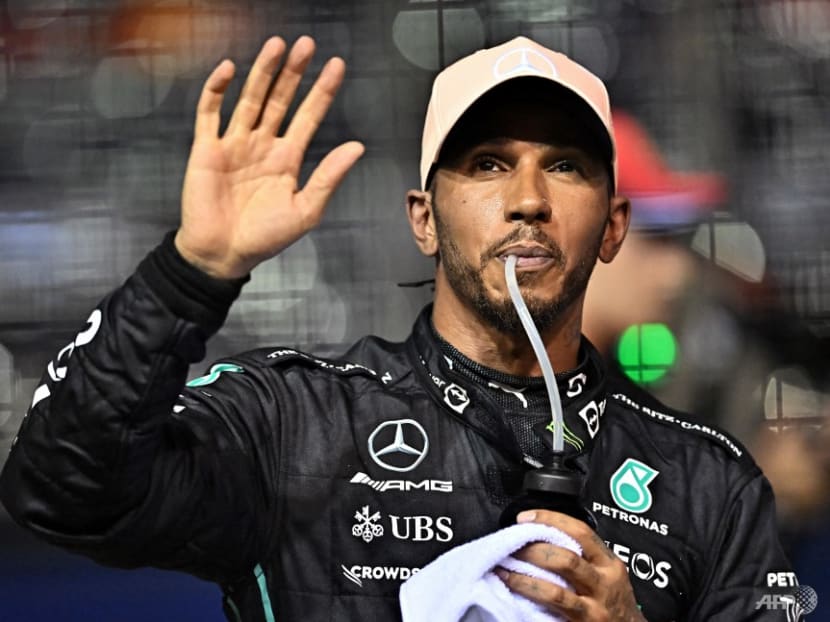 He's the most successful driver in the history of Formula One (F1), winning an incredible 103 Grands Prix throughout his career. He has also won a whopping seven world championships, the all-time best record he shares with Michael Schumacher. And yes, he still sits on top of the list for most podium finishes and total points scored as he wraps up his 16th and current season (which Red Bull Racing's Max Verstappen won at the Japanese Grand Prix over the weekend).
But there will come a day when Lewis Hamilton finally decides to hang up his helmet. After all, the Mercedes-AMG Petronas F1 driver is 37 years old, making him the second-oldest driver on the grid, behind 41-year-old Fernando Alonso.  And Hamilton fans are fully aware that drivers racing in F1 beyond the age of 40 are few and far between, marking these next few years as very likely his last.
But fret not, the British legend told CNA Lifestyle he knows exactly what life after racing looks like. CNA Lifestyle recently got a chance to talk with Hamilton when he was in town for the Singapore Grand Prix.
"I want to be doing something impactful – whether it's with the companies that I'm trying to build or story-telling with movies or documentaries," he shared, during the interview arranged by Marriott Bonvoy, one of his team's partners and a members' only travel programme which offers exclusive experiences with the Mercedes-AMG Petronas Formula One Team.
"I want to be building up teams that are inclusive, constantly working on missions for which I plan to take over from the UK to the States as well."
Hamilton also hopes to be doing some work in Africa as well. "I really want to be more aggressively working on things," he added. "Hopefully, I'm going to be working with many different young people that are trying to make the world a better place than we found it."
Indeed, over the last few years, Hamilton has been increasingly involved with a number of passion projects and business ventures. But with so many causes, are there any specific ones he would like to zero in on?
"There are so many things to care about, and you can't do everything, right? I don't think it's bad to care about everything, but there's only some things you can really focus on and really push them forward towards change," he said.
"So what my Mission 44 is really focused on right now is really trying to create better pipelines, not only for my industry, but for young kids from underserved communities getting into STEM subjects in the UK," he shared. "That's the focus."
Mission 44 is Hamilton's charitable foundation launched in 2021 to support underrepresented groups in the UK. Its aim is to build a more inclusive education system, to empower more young people from underserved communities and to support progression into key sectors and professions, "through partnerships, collaborations, grant giving and advocacy".
Animal welfare, Hamilton says, is also another cause very close to his heart. After all, Hamilton, a vegan himself, is the founder of UK vegan burger chain Neat Burger.
"I spent the last six years working on our biggest restaurants in London, as well as food chains in London. I'm working on really trying to push that part of the business and tell them you know, there are replacements for meat, fish, eggs and so on," he said. "So I want to invest into a greater direction. And I think that comes down to education."
Indeed, that sounds like a legit purpose-driven life for Hamilton after racing. But that is not to say he won't be indulging in some relaxation as well, post retirement.
"I love to be in a place like Malibu, California. Oh sun every day!" he said with a smile. "I love nature so I'd like to surf in the morning or go for a run. And then head into town and work."
He also admitted that he would like to (finally) properly visit the cities he's been racing in, like Singapore.
"I love visiting Gardens By The Bay because I love nature, but honestly, I haven't had the pleasure of really truly experiencing the culture there," he revealed.
Hamilton explained it's because every year, year in year out, he's on "a really strict schedule" when he lands in Singapore.
"What's bad is because every year we get to Singapore for the night race, we have to stay on UK time. So every single year, I arrive around 7am, and as soon as we land, it's like blacked out windows. We go straight to the hotel and then I go back to sleep. Then I wake up early afternoon to go to the track and then it's back to bed at six or seven. And then you do it over again!" he shared.
"So, in actual fact, I don't think I've ever been to a restaurant in Singapore just because I've always stayed on that time zone. And everything's closed then."
But yes, Singapore is on the list. "I need to go back another time," he said. "On a normal time! And if you have any pointers on where to get the best (vegan) food, please let me know!"