Five boys living out rock star dreams in Singapore – until reality came crashing
My Singapore Life is a CNA Lifestyle series about coming of age in the Lion City. This week, the rise and fall of a band called AWOL.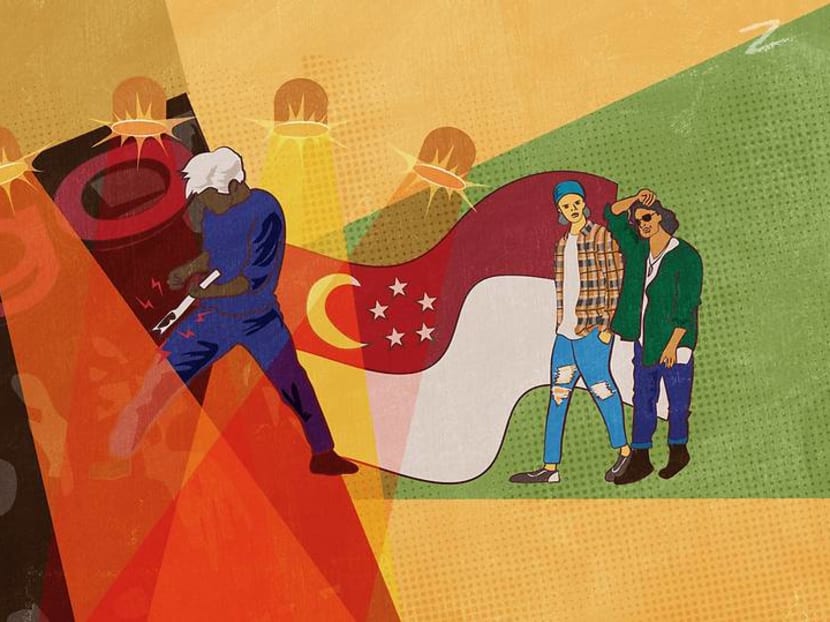 New Year's Eve, 1993. The Singapore Indoor Stadium. We could hear the crowd as we stood in the wings of the stage in the cavernous hall.
The venue was packed with fans waiting to see Canadian rocker Bryan Adams, even though Bryan had already played the Indoor Stadium as recently as February that same year.
We weren't die-hard fans of Bryan. We were there as AWOL, aka Bryan Adams' opening act. The support band. You know, the one that the audience sits down to. But playing to 10,000 disinterested people was still a big deal, and we were nervous, like a mouse in a cat cafe.
The rise and fall of being AWOL: A band living rock star dreams in Singapore
The announcer said our name, and we walked onto the stage. But even as we plugged in our guitars, I couldn't help but wonder: How did five ordinary guys get to play on the biggest stage in Singapore?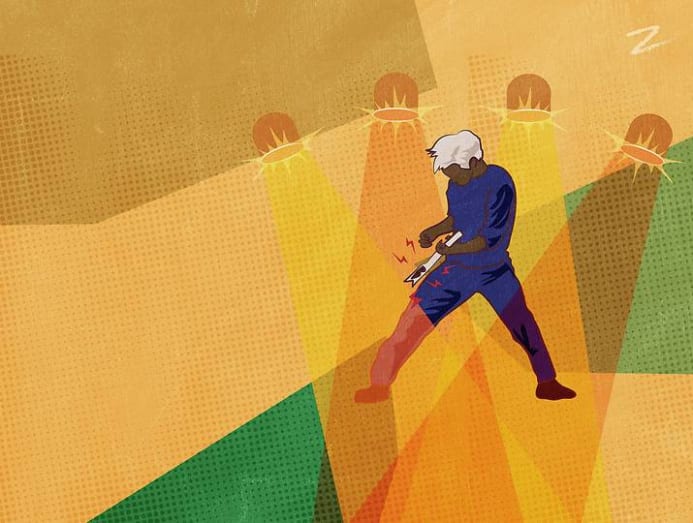 Things were moving fast in 1990s Singapore. New buildings, new transport systems, new policies, and new things to see and do. Orchard Road was transforming so fast with new shopping malls like Ngee Ann City. The MRT was expanding its lines to link Jurong East and Woodlands.
The new Ministry Of Information and The Arts had come up with movie ratings from G to R(A)21, which stood for Restricted (Artistic), for moviegoers aged 21 and older – most of which were shown at a new cinema called The Picturehouse.
It was as if a new age was dawning.
I had just finished national service and turned 21. My parents suggested – well, insisted, really – that I get a job. They wanted me to do the usual 9-to-5 thing, but I was more interested in being in a band.
The 90s saw a flourishing of young local bands such as the Oddfellows and Opposition Party. They were inspired and influenced by "alternative" or "indie" bands such as Nirvana, Black Flag, Fugazi and Sonic Youth. Those bands made their mark without the help of big record labels. They were bare bones outfits and looked like they went out in last week's clothes.
Which was perfect for the bands here in Singapore. There were no big labels signing up local bands at the time, so that DIY ethos was adopted with gusto. I was sucked in by this.
I had a band that played at church gatherings. We would meet up every weekend to jam at a small studio in Yishun called Lee Kwong Seng. We weren't great, but we had fun, performing nominal renditions of 80s hits by U2 and Fiction Factory, or 60s stuff by Chuck Berry and The Beatles.
We called ourselves AWOL, which pretentiously stood for "Artistes Without Official Licence" – although nobody remembered that.
But rock star dreams had to be set aside while I found a job for mum and dad. And because I'd made a hash of my studies, getting a cushy job like most of my peers was going to be difficult.
The nearest I came was at an interview for a job as a secretary, which paid S$1,000 a month – big money in those days. I was ultimately told that "guys cannot be secretaries" and was shown the door.
In the end, I became an office assistant for a newspaper. I was surprised that they accepted me, having no prior experience – or truth be told, any interest in working at a newspaper. But job was a job. It didn't pay very well but it afforded me the time to pursue music with my new band.
We called ourselves AWOL, which pretentiously stood for "Artistes Without Official Licence" – although nobody remembered that.
Our break came when BigO magazine organised gigs at venues such as Marina South (outside the Khameleon Club), and the back garden at The Substation. These gigs could last all afternoon and into the night. Every weekend, hundreds would flock to see their favourite local bands perform.
Truth be told, these were more like loose open mic sessions or family gatherings than they were proper concerts. Everyone shared instruments. Sometimes, musicians from other bands would stand in for those who couldn't make it.
We weren't making any money from these shows. Sometimes, we'd get a free packet of Yeo's to drink. We were happy just to have the opportunity to play. It was raw but exciting.
In contrast, my "main" job was more mundane – collating news reports and listings isn't exactly what a young man leaps out of bed in the morning for. But one day, an editor gave me an opportunity to make an extra buck by contributing columns to the lifestyle pages. She knew I was interested in music and was willing to give me a chance to cover the scene.
I was more than ecstatic. I would cover concerts by a variety of acts, from Cliff Richard to Bon Jovi to Pearl Jam to KC And The Sunshine Band. All the while, I'd observe how they carried themselves onstage and pick up a few tips to bring back to the band.
One day, BigO got in touch. They had heard a recording of our original song, Claude's Dog, on a cassette compilation called Gang Bang Vol. 1 (don't ask), and wanted AWOL to take part in a band competition.
Claude's Dog was a moody, echo-guitar-drenched tune inspired by Eric Khoo's short film August… with the title stolen from a Roald Dahl story. So, we decided to write the antithesis of that.
After meeting up nearly every night for three weeks, we eventually finished Postcards, a fast, nearly happy, acoustic guitar-driven song with gloomy lyrics.
Armed with these two songs, we set out for the Sim Kim Kok theatre in Katong, where the competition was held. We were anxious because the media was there to cover the event, and because our songs didn't sound like the kind of stuff the other bands were playing.
Perhaps that's why we were picked as one of the three winners.
We were jumping with joy backstage – literally. So much so that we didn't hear the MC call us out on stage. One of the other two winners was Fish On Friday – their singer was going out with Nicolette Rappa, the hottest newscaster on TV. We only watched the news because of her.
Our prize? A chance to record our two songs for a BigO CD compilation in 1992. Compact disc. This was the big leagues.
Things started taking off then. Our two songs took the top two spots on the magazine's mid-year music poll. Postcards became a Top 10 radio hit. Then BMG signed us for an album deal.
We did big events like the Singapore Arts Festival and the Sentosa Music Festival, alongside Bon Jovi and Andy Lau. But we also did early morning school assembly sessions, afternoons at shopping centre atriums, and evening acoustic gigs in Indian restaurants.
Would you like to open for Bryan Adams on New Year's Eve? It's going to be at the Singapore Indoor Stadium
When our album was released in 1993, we were invited to appear on radio and TV programmes such as Live On 5, AM Singapore and Gurmit's World. We said yes to everything – on top of our day jobs. We were exhausted.
Then came the phone call. 
A woman named Carmel was on the line. She had seen us at the Sentosa Music Festival and wanted to offer AWOL a gig.
"Would you like to open for Bryan Adams on New Year's Eve? It's going to be at the Singapore Indoor Stadium," she asked.
When I didn't immediately answer, she quickly added: "We'd pay you, of course," and mentioned a four-figure sum.
Now, up till that point, despite us playing regular gigs for a year, we'd only ever made enough to pay for our cab fares and rehearsal fees, with precious little left over. Which was how we found ourselves in front of 10,000 people, at the biggest gig of our lives.
"It doesn't get bigger than this," we all said, watching Bryan Adams sing Everything I Do, I Do It For You. And we were right.
Despite being fairly known, we could not sustain ourselves financially as a band. Our royalties for that year amounted to about S$700 – split five ways.
I started taking night classes because I was told that the newspaper would only hire university graduates as reporters. Working in the day and studying at night took its toll on me. Instead of looking forward to rehearsals on the weekends, I would rather just sleep in.
Meanwhile, the other members of the band headed off to university or took on jobs that demanded a large chunk of their time.
In June of 1994, we performed on AM Singapore with Lance Alexander, playing the song that got us our start in the first place.
After the show ended, we went for breakfast. Then we went our separate ways.
AWOL had officially gone AWOL.
Christopher Toh has written about music for more than 20 years, covering both the local and international music scene. New episodes of My Singapore Life are published every Sunday at cna.asia/podcasts.