Listen to Madonna's single Medellin from her upcoming album Madame X
The video to the collaboration with Columbian singer Maluma will premiere on Apr 24 during a special MTV segment.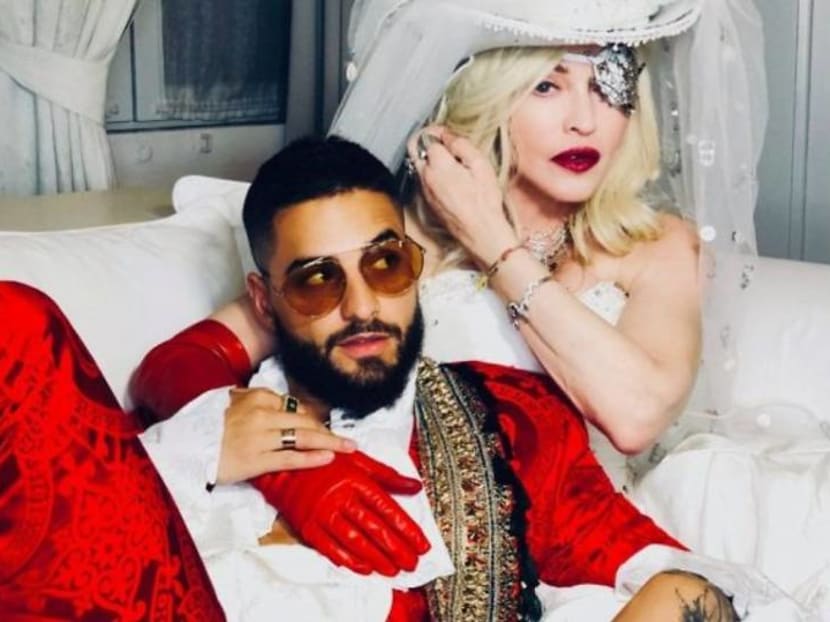 A chance encounter backstage at the MTV Video Music Awards last year has spawned Madonna's lead single off her upcoming 14th studio album, Madame X.
The queen of reinvention released Medellin, a collaboration with Colombian singer Maluma, on Wednesday (Apr 17) just a day after teasing the single. Back in February, both superstars surprised their fans by sharing photos of themselves together in the recording studio. 
During Madonna's recent interview with Julie Adenuga for Apple Music's Beats 1 (Apple's 24/7 radio station), she revealed that Maluma sent flowers after their meeting backstage at the VMAs.
"He was very sweet. The next day he sent me flowers and said what a great honour it was to meet me. Then I heard that he wanted to collaborate with me so I told that to Mirwais (her record producer)," said Madonna. 
"He's so great to work with. One of the most easygoing, open, warm, generous," she continued. "He doesn't leave the studio until the work is done and has a great work ethic. I adore him. Nothing but great things to say about him."

According to the pop superstar, it was the reggaeton in Maluma's music that she likes. 
"[I said to Mirwais], let's do something slightly different but still has a connection to the music he makes and is still connected to Madame X," she said. "We started working on music and he started commenting and adding things, and eventually we got into a studio together."

On the single art, Madonna sports an elaborate wedding dress and glittery eyepatch while seated behind Maluma, dressed in regal red.  

Madonna's 14th studio album, Madame X, will be released on June 14, according to a statement from her label, with MTV slated to premiere the Medellin video on April 24 during MTV Presents Madonna Live & Exclusive: Medellin Video World Premiere, reported Billboard.
According to the release, the singer will be joined by British DJ Trevor Nelson and fans for a live event from London in which she'll discuss the influences on the new album, with Maluma joining in from Miami and additional events taking place in New York, Milan and Sao Paulo. 
The 15-track album was inspired by Madonna's experience living in Lisbon, Portugal, over the past few years and features her singing in Portuguese, English and Spanish, reported Billboard. The album includes features from Diplo, Quavo of Migos and Mirwais.
The follow-up to 2015's Rebel Heart was recorded over 18 months in New York, London, Los Angeles and Portugal. "Lisbon is where my record was born," said Madonna in a statement. "I found my tribe there and a magical world of incredible musicians that reinforced my belief that music across the world is truly all connected and is the soul of the universe." 
The album title refers to a persona the singer adopted for the sessions, described as "a dancer. A professor. A head of state. A housekeeper. An equestrian. A prisoner. A student. A mother. A child. A teacher. A nun. A singer. A saint. A whore. A spy in the house of love".
The singer will perform a new song at the upcoming Eurovision Song Contest in Tel Aviv, reported Billboard.