Mandopop singer JJ Lin wins 3 Tencent music awards, including best male singer
Lin also debuted the first live performance of his English song Not Tonight – dressed in a cyperpunk-inspired costume that reportedly weighed 15kg.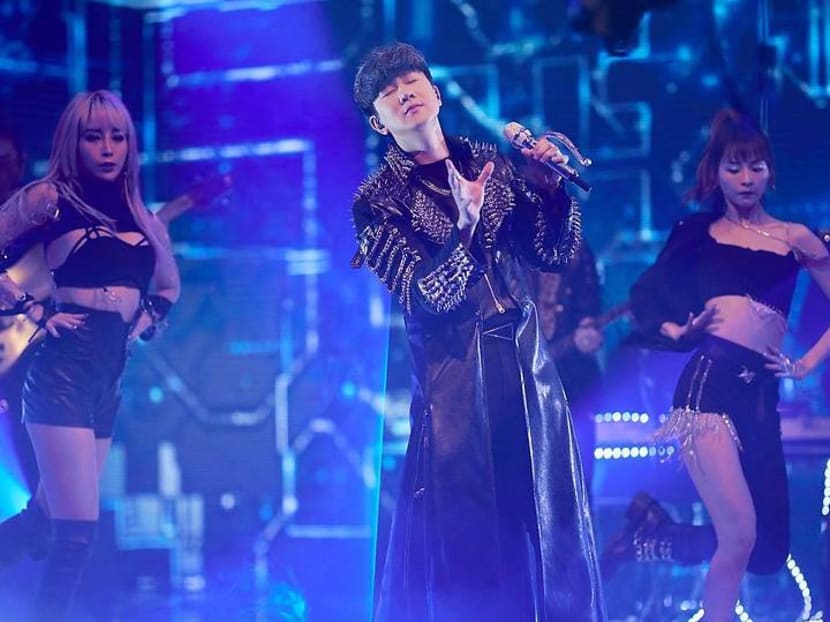 Singapore-born Mandopop singer JJ Lin picked up three trophies at the recent Tencent Music Entertainment Awards that took place on Saturday (Jan 23) at the Venetian Macao.
He won Best Male Singer of the Year, Best Producer of the Year and Top 10 Single of the Year.
What really caught the viewers' attention, though, was the costume he wore for his performance – a cyberpunk-inspired, metal-studded leather coat that reportedly weighed 15kg.
Lin performed three songs, including the first live performance of English track Not Tonight, his collaboration with American DJ Steve Aoki. He also sang Drifter and No Turning Back.
Lin posted a video of his performance on Instagram and wrote in the caption that it was filled with cyberpunk elements from "music arrangement, to the costumes and makeup" and that he wanted to explore "the theme of finding love and purity in a cold, dystopian future world".
The stage concept is said to be a continuation of the song's music video, which has garnered more than 1 million views since its debut in November.
When accepting his awards, Lin shared that this year marks 18 years since his debut and he thanked fans for their support. He also said he would continue working hard with his team to share more music and to bring more positive energy.
Lin released a double EP called Drifter/Like You Do in October last year.
This is the second edition of the awards show, which recognises the best-performing artistes of the past year. Tencent Music Entertainment Group is the leading online music entertainment platform in China.
Other winners this year include Taylor Swift, who had a pre-recorded segment in the show.