Emotional roller-coaster weekend for Mandy Moore whose cat died before her wedding
It was a tumultuous time for the This Is Us star when her rescue cat died in her arms hours before her big day.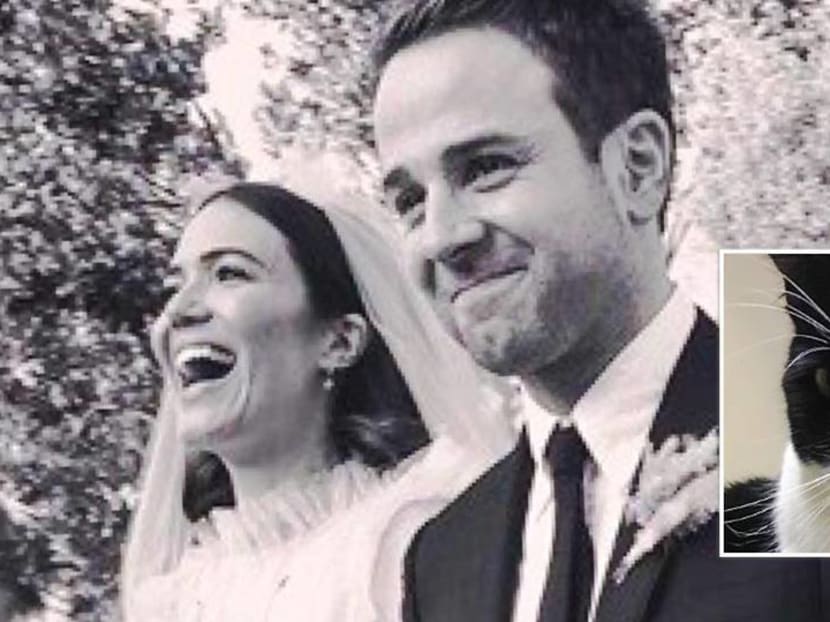 Imagine getting married just hours after your rescue cat has died. It was an emotional weekend for Mandy Moore and Dawes singer Taylor Goldsmith to say the least.

The This Is Us star, 34 and her musician husband, 33, tied the knot in an intimate ceremony at the couple's house on Sunday (Nov 18) after her cat Madeline died on Saturday evening. Attending the wedding were close pals Minka Kelly, Wilmer Valderrma, Milo Ventimiglia, Chrissy Metz and Sterling K. Brown.

Moore's cat had an enlarged heart and blood clots that caused the heart failure. On her Instagram, the actress wrote: "Completely out of the blue. We're still in shock and processing the pain and grief of this loss but holding her in my arms, making sure she knew she was safe and loved as she took her last breaths will stay with me for the rest of my life."

"This poor cat would suffer through allergy shots every other day and not blink as we tried to get pills down her throat and then hop up in our laps and purr louder than a car engine. She never held it against us... like she knew we were trying to help her feel better."

Moore concluded her long Instagram post by thanking her rescue cat for the companionship: "Animals really are the ultimate teachers. Thank you for the lessons in patience, responsibility and unconditional love, Madeline. Love you, baby girl. Also, #adopdontshop #rescuesarethebest."
The wedding was apparently very "boho", thanks to "rugs on the floor surrounding the altar. The flower arrangements were beautiful with lots of large feathers," according to an insider quoted on E! News. After the ceremony, guests travelled to The Fig House, located in the Highland Park neighbourhood of Los Angeles – and a popular event venue for weddings.