Top Singapore chefs come together to provide meals for migrant workers
Damian D'Silva, Julien Royer and LG Han are some of the chefs committed to providing nourishing, comforting food to migrant workers during the COVID-19 circuit breaker.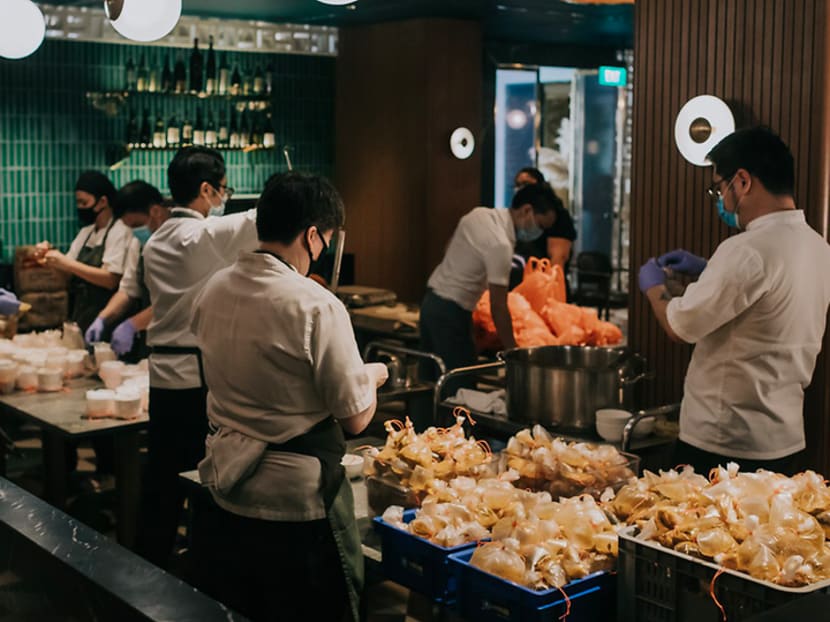 Migrant workers at the Goldmine Energy Tuas factory-converted dormitory now have meals from the hearts of some of Singapore's top chefs.
Straits Clan, with support from The Lo & Behold Group, has set up a community kitchen preparing 450 meals a day, seven days a week, for migrant workers in need of food support.
The initiative is led by Chef Daniel Sia of The Lo & Behold Group and Chef Damian D'Silva of Restaurant Kin, which is located within Straits Clan.
Recipes are being contributed by chefs including Odette's Julien Royer, Le Bon Funk's Keirin Buck, Esora's Shigeru Koizumi, Labyrinth's LG Han, Roketto's Willin Low and Cloudstreet's Rishi Naleendra. They are supported by volunteers from the Straits Clan team.
The meals are designed with their Southeast Asian beneficiaries in mind, aiming to provide migrant workers with comforting and familiar flavours as well as balanced nutrition. Each meal is produced at a cost of no more than S$2, as required by the government of meal suppliers for funding. The chefs are able to achieve this thanks to a partnership with Ugly Food, an initiative targeted at miminising food waste and making the most of resources.
The meals were rolled out on Apr 22 and are set to continue daily throughout the "circuit breaker" period, with the potential to be extended.
The initiative is in partnership with the Collective of Migrant Efforts for the #HOMEFORALL campaing, alongside the Alliance of Guest Workers Outreach, Migrant Workers' Centre and more than 10 other NGOs and government agencies. It is funded by contributions from the Straits Clan community as well as support from the #HOMEFORALL fundraiser led by COME.