Michelle Yeoh wore her Crazy Rich Asians ring to the Golden Globes
The big emerald ring wasn't a prop but her very own piece of jewellery.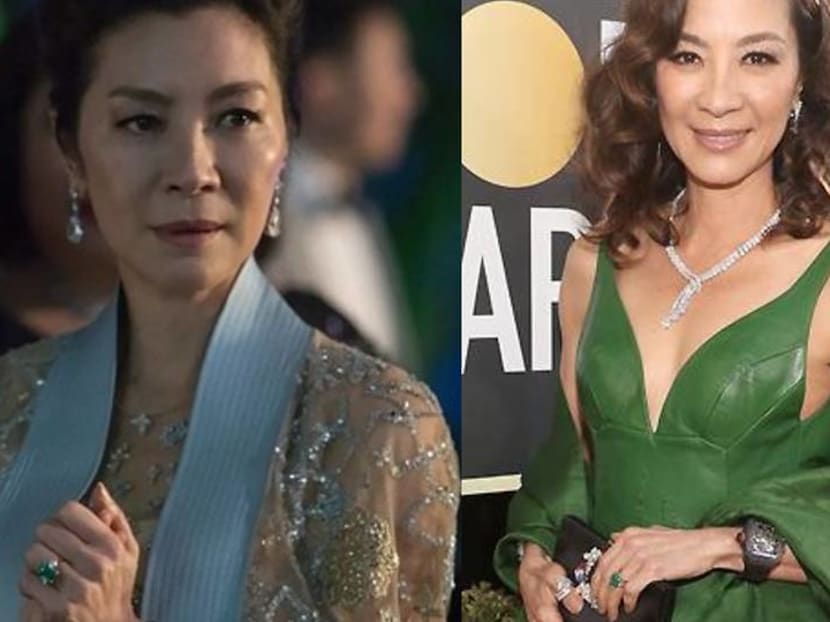 If you just followed the Golden Globes ceremonies earlier today (Jan 7), you might have spotted something very shiny, very huge and very familiar on Michelle Yeoh's finger – the Crazy Rich Asians actress, who played the tough-as-nails matriarch Eleanor, had on the same emerald ring she wore in the movie, reported People.com.
And just so it's clear, that wasn't a prop but her very own piece of gorgeous jewellery.
"The ring in the movie, it belonged to me, yes," Yeoh had told The Knot. "It was very important for it to be real. And Eleanor was a character who knew what she wore had to be flawless. Her (own) mother-in-law did not approve and did not give her the family ring at the end of the day… so that ring had to be very special."
She added: "Because it was such a character in the film, it had to be instantly recognisable. The color green is about life, prosperity so when we said with Eleanor she's very particular and I know the ring that she will wear."
Director Jon M Chu had already planned for the character to wear an emerald ring from the very beginning – but the mock-up wasn't up to scratch. Luckily, Yeoh had something way better.
"We had a ring designed already, and our mock-up looked so s***** that Michelle was like, 'That cannot be the ring I wear,'" Chu told Vulture.
"I'm like, 'I know, I know. I'm so embarrassed by it, but we don't have the money.' She's like, 'I have a better ring than that.'"