How Mickey and Donald came to sell satay and roti prata thanks to some Singaporeans
From fanning the satay sticks to using angklung music, the creators behind Disney's ongoing video series Mickey Go Local made sure everything was as authentic as possible.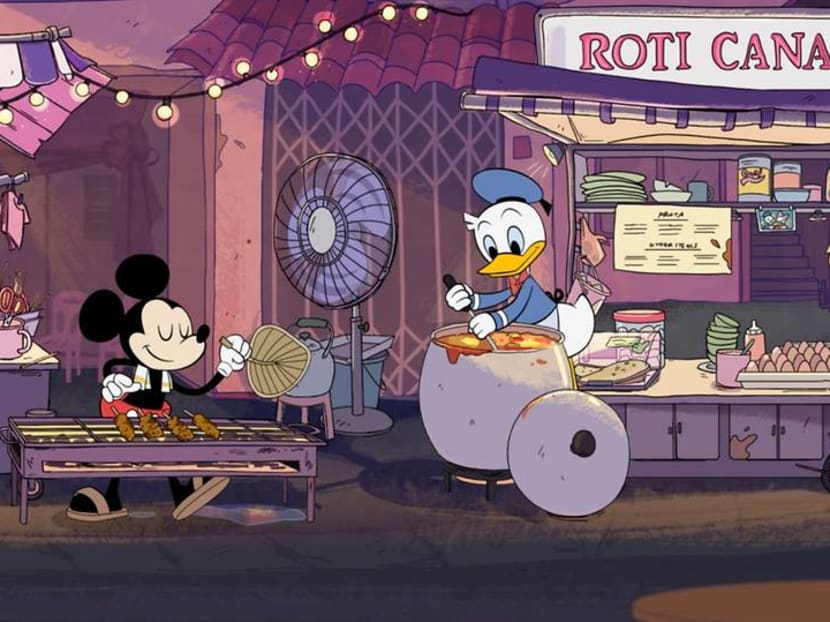 If you've watched the Disney Channel or surfed YouTube recently, you may have come across a two-minute video featuring Mickey Mouse and Donald Duck showing off their hawker skills selling satay and roti prata, with a hapless Goofy caught in their tug-of-war for customers.
Titled Master Hawker, it's part of a new six-part series of animated shorts by Disney Channel Southeast Asia called Mickey Go Local, a campaign to localise their most iconic cartoon characters. 
Every month until January 2020, a new piece will come out, featuring these iconic characters exploring Singapore and Malaysia's food, traditional wear and architecture. At some point, viewers will also see Daisy and Minnie, with the latter channelling her inner Nyonya with some spicy cooking and Donald also appearing as a trishaw uncle.
So how did Mickey go from steamboat captain to a satay seller? Turns out some Singaporeans had a hand in the series to make sure it's as authentic as possible – from how it looks to even how it sounds.
Disney Channel's Mickey Go Local series is the first ever produced by the company in Southeast Asia, with the entire production done in the region from start to finish – the voice over artists are from Malaysia, production was done by Xentrix Studios in Manila, while pre-production and sound design was done in Singapore.
To help conceptualise the entire series, Disney enlisted the help of Robot Playground Media. The Singapore-based animation company has worked on projects such as an animated short for the Singapore Bicentennial and Heartland Hubby, the first local animated series.
"The team at The Walt Disney Company Southeast Asia came to us with the concept and from there we worked on the scripts, character designs, art style and storyboards," said series director Bernard Toh.
The idea of turning Mickey into a satay seller came up during one of the creative sessions, when the team discussed setting the stories in a hawker centre.
"Using our own personal experiences at popular hawker centres, we thought it would be fun to have a story based around two hawkers vying for a customer's attention," said Toh.
"We discussed many local dishes to feature, but it also had to be visually appealing and fun for animation. The motion of fanning the satay and flipping the roti is iconic to audiences, so we decided to go with that," he added.
According to Toh, although the animated shorts are designed in a way where the location could be either Singapore or Malaysia, the team worked in fun details that would identify the exact location. In the first episode, for instance, Donald sells roti canai – the Malaysian equivalent of roti prata – and there's also one store selling assam laksa, a famous Penang dish. 
For the record, it's not the first time Mickey has been showing off his satay. Last year, a Mickey Go Local exhibition in Singapore, celebrating the famous mouse's 90th anniversary, featured more than 90 interpretations. 
And one of them was, you guessed it, in a satay-seller motif, dressed with the familiar Good Morning towel around his neck and brandishing the iconic woven leaf fan that was commonly used by satay sellers of yore. Mickey also carried sticks of satay and wore ketupat-inspired shoes.
Beyond the visuals, the creators also made sure the sound design incorporated elements familiar to the region such as the sound of kompangs and angklung.
"Music-wise, we wanted to showcase our heritage and culture in a way that would resonate across the region," said StereoImage Studios' August Lum, the series composer, adding that they made use of instruments from Asia.
"For instance, when Goofy rolls along the road, one can hear an angklung, an instrument made of bamboo that produces sound when shaken. It originated from Indonesia, but can be found throughout Malaysia, Singapore, Brunei, Borneo, the Philippines and East Timor," he said.
"Storytelling is at the core of the series, and together with Disney Southeast Asia, we enjoyed creating content that was locally relevant while also staying true to Mickey's universally appealing values, such as fun, optimism and friendship," said Toh.
As for whether the series could be interpreted as a kind of cultural misappropriation, that would be missing the point, said Toh.
"Sometimes they are tourists, and other times, they are locals showing you the way of life. Regardless, they always manage to find themselves in funny situations which audiences in our region will be entertained by."
The first episode, Master Hawker, can be seen on Disney Channel Southeast Asia, and on the Disney Channel Asia channel on YouTube, while the second episode, called Peranakan Spice, will premiere on Aug 30.