8 things Miss Singapore's national costume looks like instead of 'world peace'
CNA Lifestyle takes an honest – and thoroughly cheeky – look at the dress that will tell beauty pageant aficionados around the world what Singapore is made of.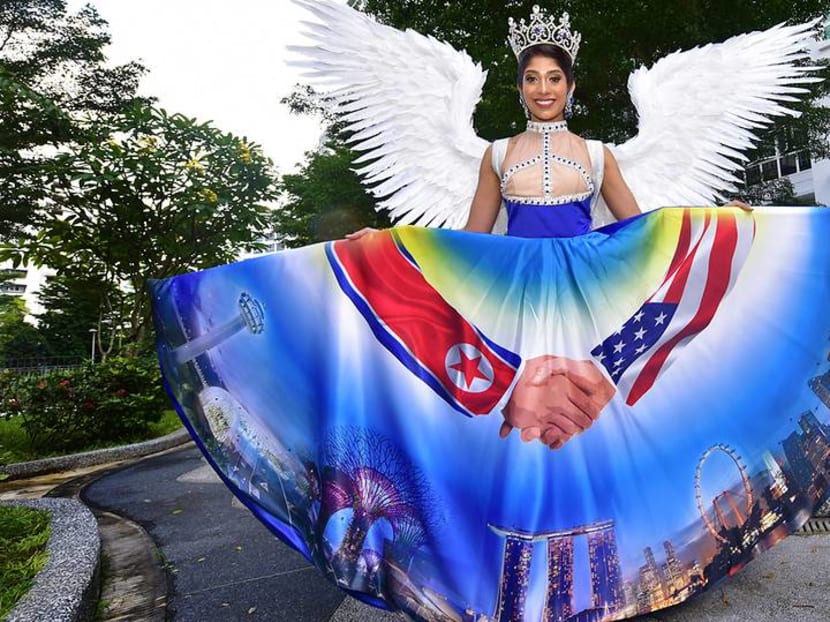 Miss Universe Singapore's national costume apparently depicts world peace. Peace as a result of the North Korea-United States summit that saw Kim Jong Un and Donald Trump meeting in Singapore in June.
The dress was unveiled today before Miss Universe Singapore 2018 Zahra Khanum wears it at the Miss Universe pageant in Bangkok next month.
No offence to the designer, but I just don't see "world peace". I do, however, see:
What the ceiling of the Sistine Chapel might look like if Michelangelo was from Singapore and designed dresses for Miss Universe Singapore contestants.
Changi Airport in a much more convenient location.
An American flag missing around 40 stars.
Two arms making a deal. Wait… Is that an "arms deal"?
An angel showing us a vision of a dystopian future.
Two foreign men being deported from Singapore via UFO.
The Merlion, cracking up in the corner, spitting out his drink at the sight of this dress.
Shoes that do not go with this dress.
That said, I also see an opportunity to make a fortune on Taobao next Halloween.