K-pop band Monsta X members in back-to-back scandals, from debts to an affair
Singer-songwriter Wonho announced he was leaving the band after a debt rumour surfaced, while the group's leader, Shownu, was said to have an affair with a married woman.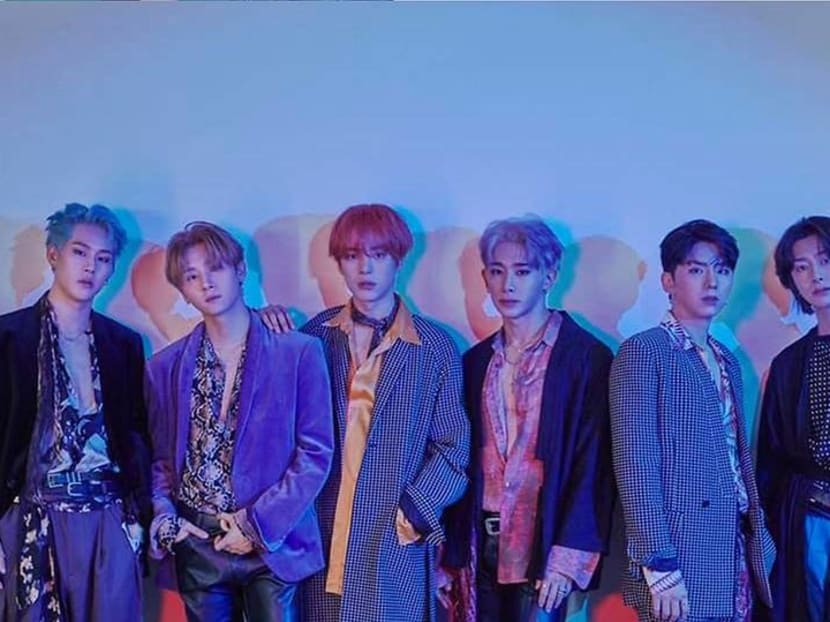 One member has left because of debt rumours, another was said to be caught having an affair with a married woman – seems like it's not a good time for Monsta X fans.
This week, the K-pop boy band was embroiled in back-to-back controversies, with singer-songwriter Wonho recently announcing he was leaving the group.
The news came just a few days after Monsta X released on Monday (Oct 28) a new album, Follow: Find You, and the single Follow; and earlier reports about the singer having unpaid debts.
On Tuesday, actress Jung Da-eun posted on Instagram claiming Wonho owed her money, said to be 30 million won (S$34,880). "That annoys me after seeing him on TV. As soon as I find out his number, he disappears," she said. Jung later also posted text conversations she had with the singer's lawyer.
Wonho has since shared a letter apologising to fans for leaving the group. Monsta X's company, Starship Entertainment, has denied the allegations but also said the split was "amicable", tweeting: "We greatly respect Wonho's decision who wants to make sure the recent chain of events doesn't distract from all the exciting things that are happening for Monsta X now and what lies ahead in the future. We will continue to hold legal liability for malicious and distorted claims related to this matter."
Monsta X fans have created an online petition for the singer to stay in the group, with the Korean hashtag for "Against Wonho leaving" trending on Twitter. Some have also stuck Post-it notes of support on the building of Starship Entertainment, with plans for a silent demonstration on Saturday (Nov 2).
Meanwhile, fellow Monsta X member Shownu was also thrown into the spotlight after allegations surfaced he had an affair with a married woman.
A former idol trainee, Han Seo-hee, had posted on Instagram anonymous messages about Shownu's alleged affair – including those from Starship Entertainment lawyers saying the Monsta X member was not aware if the woman was married or had a boyfriend.
The agency later released a statement confirming Shownu "was in contact with the woman in question prior to her marriage."
It added: "But our label confirmed Shownu didn't know because she did not tell Shownu. Her husband contacted the agency, so we met with him and everything was explained. Afterwards, Shownu, who found out about her marriage after the fact, did not contact the woman at all. Shownu revealed he would not get involved in a married couple's relationship, and a text was sent via our law firm to confirm his position."