Friends, cancel culture, fake news: Jennifer Aniston and Reese Witherspoon weigh in
The co-stars of The Morning Show talk to CNA Lifestyle about debunking misinformation about themselves, their love for each other and the cost of success and fame.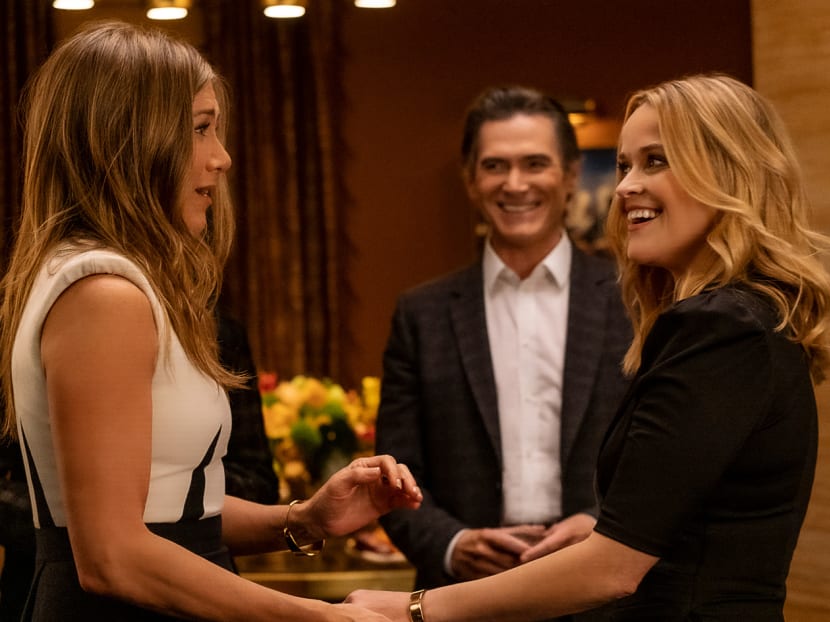 After an explosive first season, the Apple TV+ series The Morning Show is back for a twisty second one with Jennifer Aniston's Alex Levy and Reese Witherspoon's Bradley Jackson – the complicated and dysfunctional news anchors in a fictional newscast – now even more at odds and with their rivalry upped a notch.
But in real life, the duo, who also serve as executive producers on the show, could not be more in sync or in awe of each other as friends.
"I want people to know that she is genuinely the kindest, nicest person that you think she is. And she's the most inspiring, supportive friend that you could possibly imagine!" gushed Witherspoon during an interview with CNA Lifestyle. "And every day that I get to be with her and be in her light, is just a true blessing because I laugh harder than I ever do."
CNA Lifestyle had a chat with The Morning Show's two co-stars, who heap praises on each other – and why they can't be bothered with all the misinformation floating around in the world today.
The 45-year-old mother of three added: "I really feel proud that we got to make this show together because it's important and it's meaningful; it doesn't work without our shared leadership. Women together create incredible, powerful partnerships. And I hope that's part of the legacy we leave behind with this show – that we did it together."
Aniston was equally effusive of praise for her co-star when CNA Lifestyle asked about what she would like the world to know about the true Reese Witherspoon.
"Besides the fact that she is a killer, kick-ass business woman that is moving mountains like no other woman in the industry that I'm aware of?" said Aniston, without missing a beat.
"She inspires me on a daily basis. She's blazing trails for women, young women. And that is unbelievable and it's extraordinary. (Her) kids must be so proud. I mean, just even imagine that – I get to sit back and watch what she does. And it gets me inspired. Really, I love that. I love that we get to have what she what she we get to share what she's so good at doing."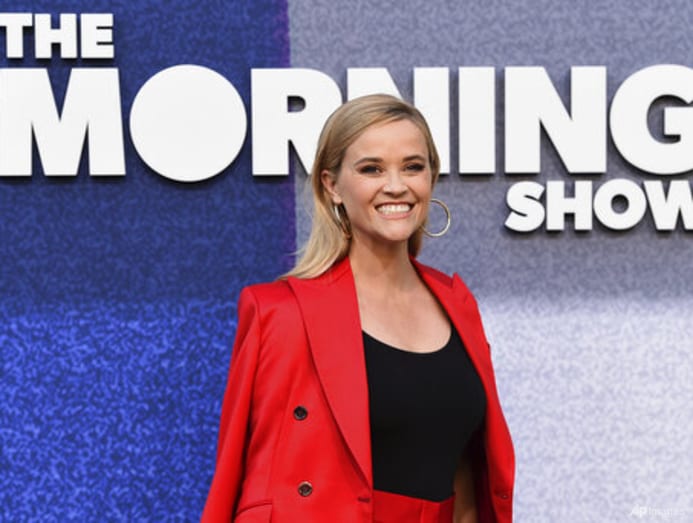 The pair has a lot to be proud of when it comes to producing the Apple TV+ series together. The first season proved to be a hit with its star-studded cast and an unflinching look at the #MeToo movement and sexual misconduct in the workplace.
The show also won Aniston the Screen Actors Guild Award for Outstanding Performance by a Female Actor and Billy Crudup the coveted Emmy for Outstanding Supporting Actor in a Drama Series.
Both Aniston and Witherspoon say audiences should expect nothing less this second time round, as they navigate another season of exploring timely and hot-button issues, from racism and sexism to homophobia, COVID-19 and cancel culture.
Regarding the latter, there is a particularly poignant line that Aniston's Alex Levy says in the show about how there's a cost to success and fame, to which Aniston reveals she agrees with "100 per cent".
"You put yourself out there as an artist… It's become a sport for people, to decide how they feel about a different person this week or the following week, or what they've said, or if something was said out of context. It's a lot more than just, 'we're going to perform for you and we're going to create a show so that you can be entertained'. Now, there's the ability to tap all parts of you."
Witherspoon concurred. "Success without meaning or purpose is really difficult – it can feel very empty," she said.  "And I think there's a lot of people who have achieved a lot and they're unhappy – we all know them. Sometimes you're running a race to a place and you get there, and you think, 'What am I doing here?'"
"And 'Where am I? What did I just run to?'" added Aniston, with a laugh.
So in the current world filled with fake news and misinformation, is there anything the friends would like to debunk about anything?
"How long is our interview?" quipped Aniston with a laugh. "It's not enough time to debunk everything. It's almost not worth it.
Her advice? "It's a much healthier place to not live in misinformation and try to battle it and correct it and stamp out fires and plug up all the holes in the canoe," said Aniston. "Because it'll be gone by tomorrow."
For Witherspoon, she doesn't pay any attention, "unless my mother calls me".
"I don't know! There's so much misinformation I don't even like to pay attention to it. It doesn't even hit my radar."
The Morning Show is streaming on Apple TV+ now.