Popular Singapore children's horror books Mr Midnight to premiere as a Netflix series on Oct 24
Adapted from the series written by Jim Aitchison under the pseudonym of James Lee, the show stars Singaporean actress Chen Yixin, daughter of celebrity veterans Xiang Yun and Edmund Chen.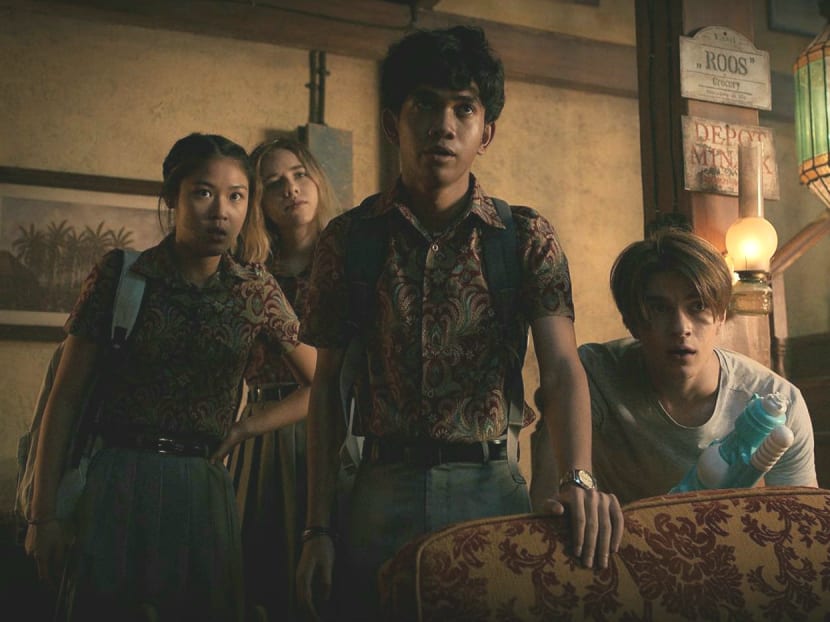 If you grew up in Singapore in the late 90s and early 2000s, you'd probably remember being engrossed in Mr Midnight, a popular children's horror fiction series, with its ghouls, ghosts, witches, haunted houses and all things dark and creepy, set against an Asian backdrop.
Standing at 128 books to date (including 26 special editions) and counting, Mr Midnight has leapt right off the page and on to our screens as Netflix adapts the books into a 13-episode arc centred around a group of teenagers fighting to solve a series of strange supernatural occurrences in Tanah Merah.
 
Titled Mr Midnight: Beware The Monsters, the show stars veteran Singaporean actor Lim Yu-Beng and up-and-coming actress Chen Yixin (daughter of Singapore's own Xiang Yun and Edmund Chen), alongside Malaysian actor Idan Aedan, Indonesian actress-model Adinia Wirasti, and Australian actors Caleb Monk and Nikki Dekker. 
Chen stars as Ling, one of the four teens who become paranormal detectives and document their adventures on a blog under the name of Mr Midnight.
The series, developed together with Singapore production company Beach House Pictures, will premiere on Oct 24. According to reports, filming took place in Batam and Singapore during the COVID-19 pandemic.
The books were first published in 1998 by Angsana Books, Flame Of The Forest Publishing and penned by Australian writer Jim Aitchison (under the pseudonym of James Lee), who was based in Singapore from 1983 to 2010. 
Often referred to as Southeast Asia's answer to the bestselling horror fiction series Goosebumps by RL Stine, the regional popularity of Mr Midnight boasted sales comparable to the Harry Potter series.
Lauded for being refreshing in its use of Asian names and backdrops for the horror suspense genre, the series has been translated into several languages including Burmese, Malay, Indonesian and Mandarin. 
Mr Midnight will start streaming on Netflix on Oct 24.