Forget tweeting and selfies: What the Internet really wants is to watch you eat
Videos with the hashtag "whatieatinaday" have been viewed more than 7 billion times on TikTok. The Financial Times' Elaine Moore digs into the global phenomenon.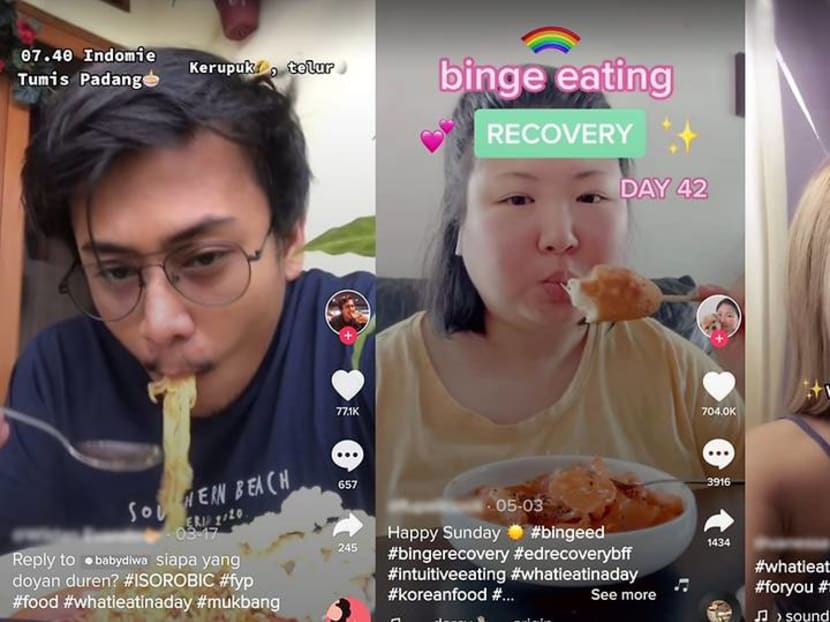 Mukbang videos always start with the food. Heaps of bright red crab legs or bowls of glistening noodles sit close to the camera. Behind them, the video creator nods and smiles at the viewer before leaning in and taking a bite.
Watching strangers eat is one of the weirder spectacles on the Internet – simultaneously gross and mesmerising. There is a format. Some creators chat, others play jaunty music and speed up their film. Many say nothing at all but exaggerate the sounds of chewing, cracking or swallowing to create an autonomous sensory meridian response (ASMR) in their viewers.
If that sounds unappealing, it will come as a surprise to hear how popular the trend is. Videos with the hashtag "whatieatinaday" have been viewed more than 7 billion times on TikTok.
Twitch has an entire category called "Social Eating" on which people livestream themselves cooking and eating. The trend is so popular in China that President Xi Jinping has identified it as counterintuitive to the country's fight against food waste.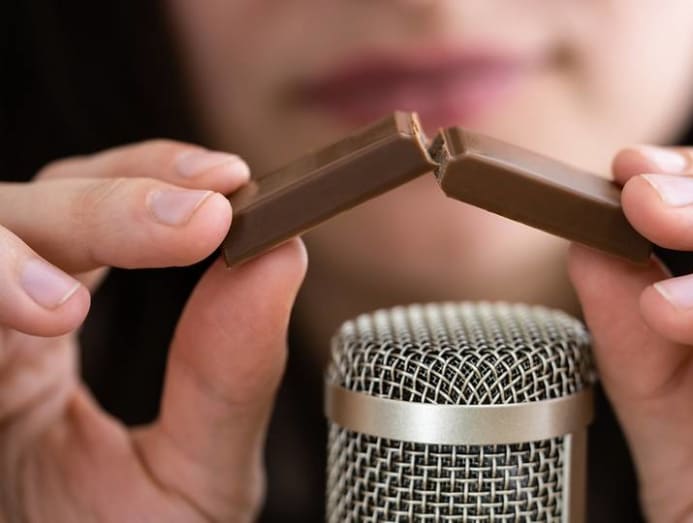 Mukbang, which comes from South Korea, simply translates as "eating broadcast". But it has become better known as a sort of extreme sport in which people binge huge quantities of food.
Some videos are practically Boschian, with splatters of ranch and hot wing sauce all over the table and influencers gasping as they try to finish a bowl of spicy fire noodles or the entire Domino's pizza menu.
Stunts are, of course, the Internet's bread and butter. Why should food on the internet be any different? One woman has become famous on TikTok for making "sandwiches" from raw green peppers, cream cheese and bagel seasoning.
On YouTube, there are hundreds of videos in which people try to follow a supermodel's diet for the day. Influencers make videos that show every meal and snack they consume, aware that many of their followers want to look just like them.
The backlash to these aspirational eating diaries are the videos that deliberately make a virtue of being humdrum. British TikTok star Eden Harvey has amassed over 2 million followers with her daily "eat with me" videos, in which she records herself having a one-sided conversation while eating her dinner, pausing to allow viewers to answer her questions.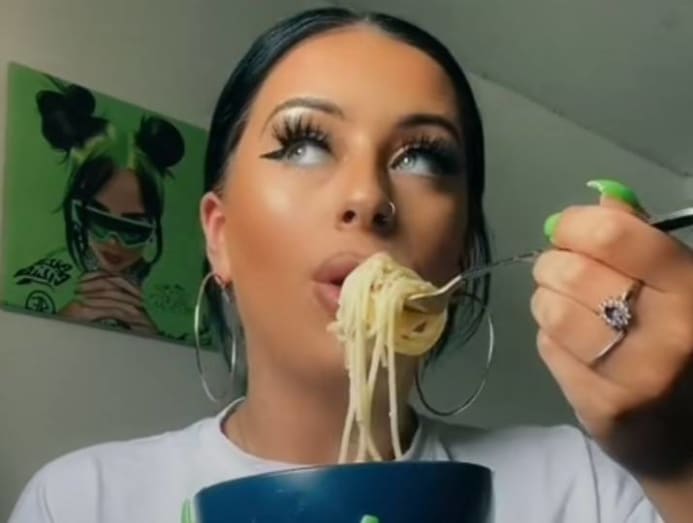 The food is comforting in its ordinariness: Spaghetti bolognese, sandwiches and chicken kiev. Harvey's fanbase of viewers often seems skewed towards those who struggle with food issues. Her success is an indication of just how many people, particularly young people, have a difficult relationship with what they eat.
But even if that's not the case, there is something appealing about knowing what another person eats every day. This is not a new phenomenon. One of the most vivid illustrations of life in the 17th century comes from diarist Samuel Pepys' description of his meals. There is the venison pasty that "stunk like a devil" and the "pretty" dinner that included stewed carps and neats' tongues.
Years later, English housewife Nella Last's wartime diaries are memorable for her make-do recipes, including margarine created from milk, salt and corn flour. Whenever I buy potatoes, I think of the legend that Jackie Onassis' diet consisted of a single baked potato each day, stuffed with caviar and sour cream.
It is not unusual to be interested in the minutiae of someone else's life either. See the success of Vogue's online videos showing famous women putting on their make-up and the livestreams of people sleeping or silently revising homework for hours at a time.
Website Refinery29 has found success with its money diaries, in which readers record their exact spending habits over the course of a week. There is a sense of companionship in seeing the banal details of another person's life – plus the chance to judge.
What the Internet has done is allow more people the ability to film their daily routines and upload the results, sharing them with a bigger audience than ever before.
Part of the appeal is nosiness. But many of the videos are also designed to make it feel as if the viewer is with a friend. Watching someone eat online seems to help some viewers feel less alone. Dining is a social activity, after all. Perhaps it makes sense that this side of our social lives is moving online, along with everything else.
By Elaine Moore © 2021 The Financial Times