Majulah, NDP! 7 times in the past when the annual parade was put to the test
We're finally celebrating the National Day Parade on Saturday (Aug 21). But it's not the first time Singapore has had some hiccups – from bad weather to a certain original pesky virus, here's a quick look for some perspective.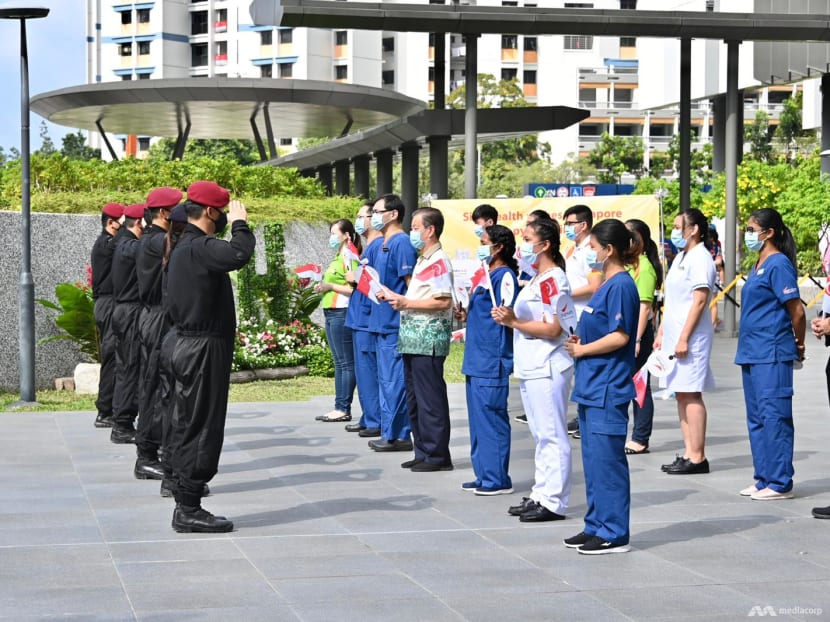 Every year, on Aug 9, we look forward to the National Day Parade (NDP). This year, it's obviously been a little different – and after the ceremonial parade a while back, we can finally look forward to the postponed NDP on Saturday (Aug 21).
We've been blessed to be able to enjoy the performances and firework displays every year, but for a little perspective, it hasn't always been easy. Every NDP has its own set of challenges but things eventually work out if we go by past experiences.
Here's a quick look at seven NDPs where things didn't quite go as planned, from weather disruptions to unexpected fights. But at the end of the day, the show always went on.
1966: FIREWORKS WERE SHY ON THEIR NDP DEBUT
There's no doubt that one of the parade highlights is the fireworks display with patriotic NDP songs playing in the background, but there was a time where our fireworks were not as fancy as they are now.
Singapore marked its first year of independence in 1966 and more than 23,000 people took part. The Chinese Chamber of Commerce arranged a daylight fireworks display at the Padang but there was a hiccup.
While the first 10 successfully filled the sky with little State flags, the remaining ones failed to ignite after a few tries – depriving viewers of lions, dragons, and mythical creatures. Despite the minor drawback, the crowd remained.
Apart from the fireworks, the perseverance of the nation was seen when rain poured during the morning parade. The military units, who were mostly volunteers then, were undeterred and continued marching through the streets of Chinatown and Tanjong Pagar.
1968: CAN'T RAIN ON OUR PARADE
And so it rained on the morning of Aug 9 that year. The fledgling nation was hit by a heavy downpour and the whole Padang was misty. Everyone was drenched, including our former Prime Minister Lee Kuan Yew and his cabinet, but no one moved from their seats.
Mr Lee had to decide whether to proceed with the parade or to postpone it – and he opted for the former – a symbolic statement about the resilience of Singaporeans.
1981: A SERIES OF DRAMATIC EVENTS
Fast forward to the 80s. The celebrations were decentralised back then (shoutout to NDP 2020) and, since this is on the list, there were issues, of course.
For starters, a platform for VIPs collapsed right before the parade began at Ang Mo Kio Secondary School due to weight. Then a fight broke out between two dragon dance troupes, resulting in a police officer drawing out his revolver to stop the commotion. Fortunately, no one was hurt.
That wasn't all. One of the most heart-stopping moments in NDP history took place over the skies at Toa Payoh, when a commando skydiver was forced to deploy his emergency parachute after his main one failed.
On top of that, two other skydivers missed their landing at the National Stadium and landed at an electronics factory 50m away. The crowd still applauded and showed their support to the skydivers.
How could you not?
1991: MINI BANNER BLOOPER
Every NDP is well-rehearsed in order to have the best show ever. But what's an event without an "oopsie"?
It was an exciting parade as the commandos performed a synchronised Omega descent from the 20-storey National Stadium light towers. It also happened to mark Mr Goh Chok Tong's first parade as Prime Minister.
However, a tiny hiccup happened when half of the Happy Birthday banner they released failed to spread fully.
On the positive side: Funpacks were introduced that year!
2003: SARS IS A VIRUS THAT WE MINUSED
Before COVID-19, we had SARS. And this was the year the outbreak hit hard – and that iconic rap was born (#dontplayplay).
Some 240 healthcare workers were honoured during the NDP, each holding a glowing paper heart on stage.
2013: SHE WILL NOT BE STOPPED!
This was the year Shirley Ng was supposed to make history as the first-ever female Red Lion parachutist to jump during NDP. But weather (pun intended) she liked it or not, it didn't happen because of cloudy skies.
In an interview, the now-Second Warrant Officer shared that her relatives and friends still waited for her appearance because they thought that the segment was just postponed.
But in true Singaporean fashion, Ng came back the following year to make her mark at the 2014 NDP. Legend!
2020: THE YEAR WE WILL NEVER FORGET
And finally, we had last year. We couldn't have everyone gathering in the stadium or floating platform, but Singapore went through its history books and got creative. Taking a leaf from the 1981 edition, the NDP was decentralised and the party was brought to the people.
From the Red Lions landing in heartland areas, to the Roar of Unity (Singapore Air Force) paying tribute to the healthcare workers, 2020's NDP didn't come easy, but as usual, Singapore prevailed.
So yes, we can take heart that while NDP 2021 isn't what we're used to, history has shown, it's not the first time we've had to adjust. And for those who are still sore about the actual event not taking place on Aug 9, remember: We still had Michigawa the patriotic pet chicken.