Lock and load: World's first Nerf-themed attraction opening at Marina Square
The 18,000 sq ft Nerf Action Xperience, or NAX, arena opens on Oct 5. It is designed to promote learning and teamwork through active play.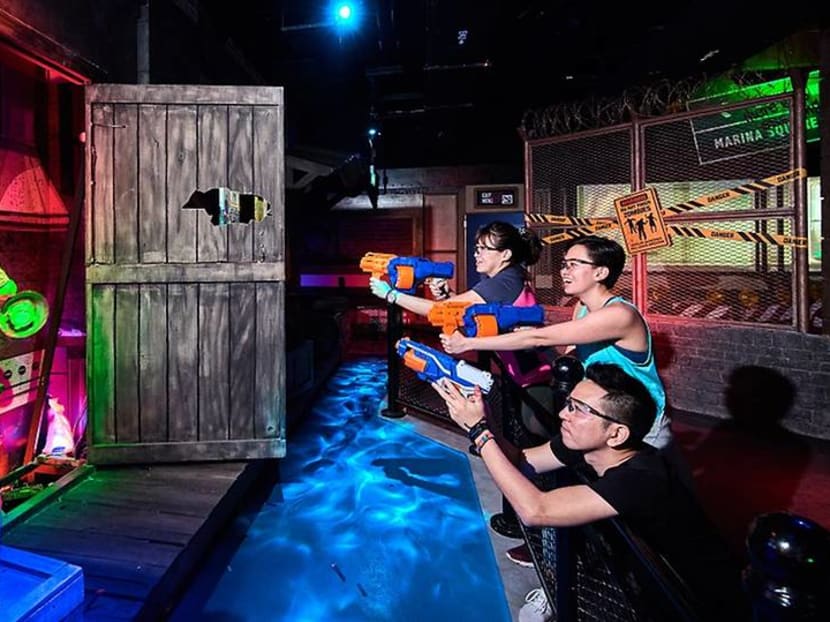 Looking for a bonding activity with friends, colleagues or family members that requires shooting with Nerf blasters? You got it.
The world's first Nerf Action Xperience (NAX) arena opens on Saturday (Oct 5) at Marina Square. The 18,000 sq ft Nerf-themed attraction boasts four activity zones and private event spaces and is created by communication design and production group, Kingsmen, in partnership with toy company Hasbro.
Spanning more than 18,000 sq ft in Marina Square, the Nerf Action Experience (NAX) features four themed activity zones that promise fun for the whole family. Nerf blasters at the ready! The NAX opens on Oct 5, daily from 10am to 10pm.
The arena is geared towards those between the ages of six and 16, although it's open to players of all ages. It's designed to promote learning through active play and uses a wide range of Nerf blasters in each zone. 
The four zones are Compete, Conquer, Challenge and Create.
In Compete, players over the age of seven battle it out on two Nerf worlds: Zombie City and Camp Dune. Players have to search for the vaccine against zombies in Zombie City and move quickly to avoid being captured, while in Camp Dune, players are transported to the year 2983 where they have to make their way to the safe area.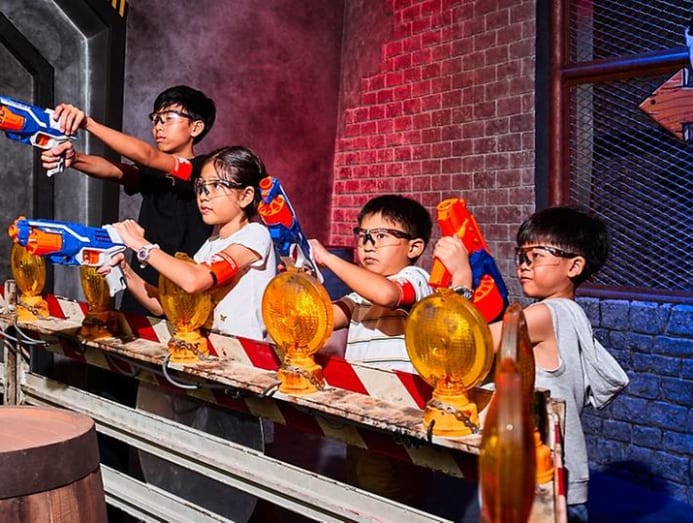 Also for players seven years and older, Conquer is a zone of extreme landscaped and harsh terrains. Clear obstacles to make it past The Volcano, climb to The Summit, navigate The Glacier's slide and scale up the transparent Ice Cliff.
Younger players between the ages of three and six also have an area to call their own. Head to the Challenge zone, which derives its shape from the inner workings of a Nerf blaster. This obstacle course includes a Racetrack where players soar through the air on a zipline and the Expressway where the little ones can weave through a complex rope course.
Finally, test your resilience and problem-solving strategies at the Create zone, which was developed with sports psychologists from the Mental Toughness Research Institute in the US and meant for those six years and older.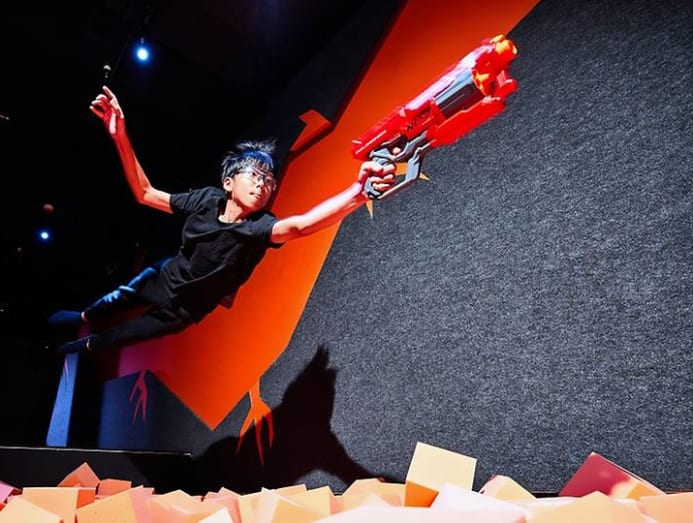 Said Kingsmen CEO Andrew Cheng: "A world's first, the NAX arena brings a unique proposition to the market – one that integrates multiple-themed activity zones, together with first-in-the-world programmes that encourage learning, team building and family or community bonding through active play."
NAX is open for groups and single players, with four rooms available for event bookings. You can also pick up exclusive made-for-Singapore Nerf blasters and merchandise from the retail space.
Prices range from S$19 for off-peak two-hour access to the Challenge zone to S$39 for three-hour peak access to all zones. Go to nerfax.com.sg for more information.

NAX Arena is located at Marina Square, 6 Raffles Boulevard #01-208, Singapore 039594. It opens daily from 10am to 10pm with the last entry at 7.30pm.