Nicki Minaj calls out BET and Grammys producer on Twitter
The rapper pulled out of all engagements she had with the American cable television channel.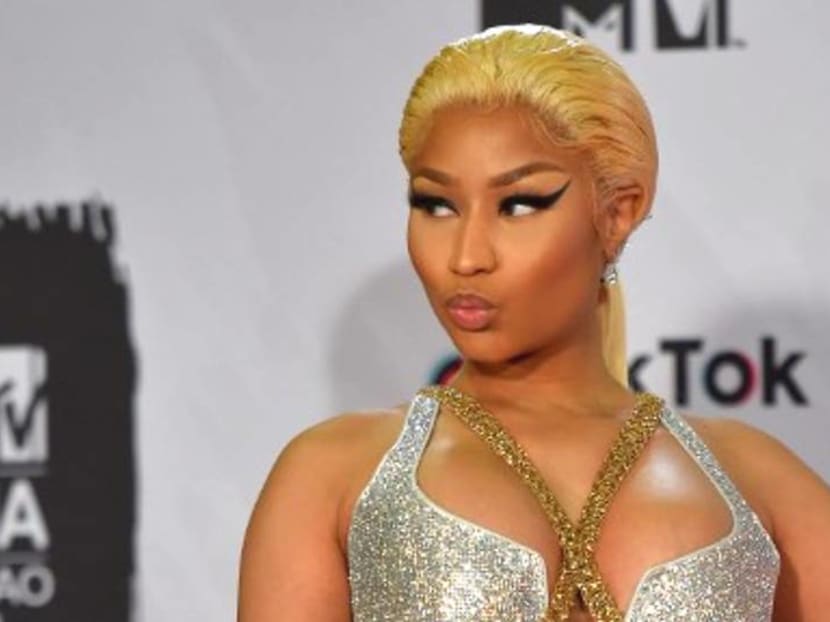 Nicki Minaj took to Twitter early this morning (Feb 12, Singapore time) to hit back at Black Entertainment Television (BET) for a now-deleted Facebook post that disparaged her.
The official BET page on Facebook shared an article of rapper Cardi B's Grammy win for Best Rap Album, an achievement that remains elusive for Minaj, accompanied by the caption, "Meanwhile, Nicki Minaj is being dragged by her lacefront".  
The 36-year-old rapper retweeted a fan who tweeted a screenshot of the deleted post, while adding in a separate tweet that she will be pulling out of all engagements with the American cable television channel.
Lil Wayne of the Young Money record label will also no longer perform his scheduled set, according to an Instagram post by Minaj. 
The BET Experience Concerts are set to take place from Jun 20 to 22, followed by the BET Awards ceremony on June 23. Cardi B is performing at the June 22 concert.
Last year saw escalating interactions between Minaj and Cardi B, culminating in a physical altercation at a New York Fashion Week party. Minaj contends that Cardi, who burst onto the scene with her 2017 hit Bodak Yellow, does not write her own raps, the hallmark of an authentic hip-hop artist.
Cardi B has deactivated her Instagram account, where she is most active, as of this morning.
Minaj also tweeted a response to a fan wondering who she "pissed off" to have been snubbed by the Grammys for the entire of her decade-long career.
"I pissed off the same man Ariana just called out for lying. Grammy producer KEN. I was bullied into staying quiet for 7 years out of fear. But I'll tell my fans the REAL on the next episode of #QueenRadio they deserve the truth."
This comes just days after pop singer Ariana Grande pulled out of the Grammy awards following a disagreement with Grammys producer Ken Ehrlich over her planned performance.
Ehrlich told the Associated Press on Thursday that the singer "felt it was too late for her to pull something together" but Grande hit back on Twitter, accusing Ehrlich of lying.

Minaj's next release arrives Feb 13, with a feature on pop rock singer Avril Lavigne's new single, Dumb Blonde.