Music albums from Nirvana, Green Day, The Cranberries and more that turn 25 this year
Were you into Britpop, wore flannel shirts, chased Waterfalls and yodeled about Zombies? You're definitely a 90s kid – and 1994 was the best of the lot.
Last Friday marked the 25th death anniversary of rock icon Kurt Cobain. On Apr 5, 1994, the world was stunned by news that the Nirvana frontman had shot himself in his Seattle home – at the age of 27 and with the world seemingly at his feet.
While the tragedy was one of 1994's darkest incidents, that year also proved to be one of the best for music fans – a bumper crop of albums that are now regarded as classics. From alternative music and grunge to R&B and pop to hip-hop and Britpop, it seemed musicians could do no wrong, releasing one solid album after another.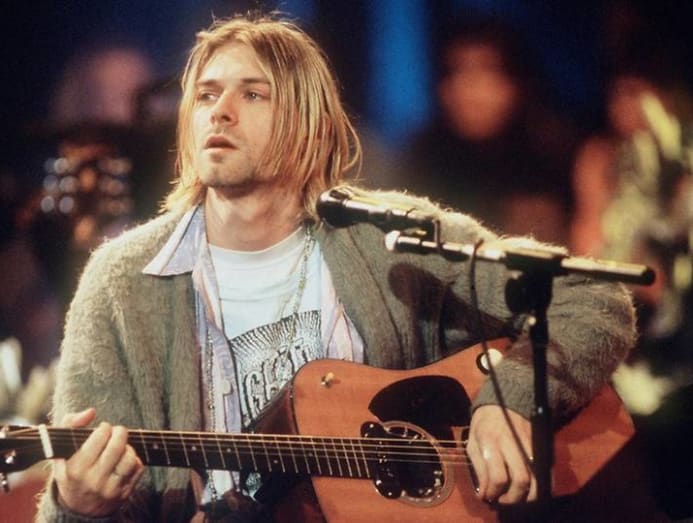 Even music soundtracks sounded curated, from Reality Bites (My Sharona, anyone?) to Pulp Fiction to The Crow (and in case you forgot, The Lion King was also released that year).
It was a time before Spotify, YouTube or even MySpace – music was consumed through CDs, cassettes and MTV. And while you also had singles before, it was also a time when people would actually sit through an entire album.
Here's a look at some of the best releases from a quarter of a century ago.   
***
GREEN DAY'S DOOKIE
Before becoming political with the critically acclaimed American Idiot a decade later, the California trio of Billie Joe Armstrong, Mike Dirnt and Tre Cool were California punk's hardest hitting goofballs (as if the deadpan faux British accent wasn't already a giveaway). This major label debut included moshpit-ready hits like When I Come Around, Basket Case and Longview.
REM'S MONSTER
After jingly-jangling their way to alt-music hero status with songs like Losing My Religion and Everybody Hurts from the early 90s, Michael Stipe and gang decided they were rock stars after all. Cue: Loud guitars, groovy rhythms and songs like What's the Frequency, Kenneth? and Crush with Eyeliner.
TLC'S CRAZYSEXYCOOL

No Scrubs was still five years away but the sophomore outing of hip-hop soul trio T-Boz, Left Eye and Chilli was the album that catapulted them to fame as one the best-selling girl groups of all time, thanks to tracks like Creep and the uber chill Waterfalls that actually tackled touchy subjects of that time such as AIDS. Tragically, Left Eye, aka Lisa Lopes, died in a car crash in 2002.

BOYZ II MEN'S II
The R&B vocal group (or "boy band" if you insist) debuted in 1991 with CooleyHighHarmony, with its emotionally-drenched ballads End of the Road and It's So Hard to Say Goodbye to Yesterday. It took a while for their follow-up, but it was well worth it – II featured even more saccharine singles like I'll Make Love To You and On Bended Knee.
MADONNA'S BEDTIME STORIES
Sandwiched between the sexually charged Erotica (and her book Sex) and the electronica adventures of Ray of Light, Madonna's sixth album may sound conventional and mainstream. But that's by her standards, of course. Described by music critics as "autobiographical", Bedtime Stories include singles such as Secret and Take A Bow – and there's even a dance track collaboration with Bjork.
BLUR'S PARKLIFE
Before Damon Albarn went on to do cartoon hip-hop with Gorillaz, his original band was celebrating the sights and sounds of Cool Britannia. And no album was as synonymous with Britpop as this, propelled primarily by the disco beats of that song about girls who like boys to be girls who do boys like they're girls who… you get the idea.
OASIS' DEFINITELY MAYBE
Meanwhile, Blur's rivals were getting ready to sneer their way to rockstardom. This was the album that introduced us to the squabbling Gallagher brothers and their bushy eyebrows. The confident bombast of songs like Live Forever was a sneak peek into what they had to offer the next year – the melody-drenched (What's The Story) Morning Glory? and anthems like Champagne Supernova, Wonderwall and Don't Look Back In Anger.
BEASTIE BOYS' ILL COMMUNICATION
Mike D, MCA and Ad-Rock started out fighting for frat boys' right to party in the 80s. The following decade, they became experimentalists, culminating in this everything-but-the-kichen-sink masterpiece of hip-hop, hardcore punk, funk and jazz. And that Spike Jonze-directed Sabotage music video is still one of the coolest there is.
THE CRANBERRIES' NO NEED TO ARGUE
Dolores O'Riordan's death last year was mourned by many – and for good reason. The Irish band's vocalist was an iconic female music hero with one of the most distinctive voices around, as heard in this album's most famous song Zombie.
TORI AMOS' UNDER THE PINK
The classically-trained singer-songwriter rocked the piano the way others did the guitar. She first shocked the world with a song about rape in her 1992 debut Little Earthquakes, but Under The Pink took things to another level with her confessional songs that were sexually suggestive and often controversial.
WARREN G'S REGULATE… G FUNK ERA
The West Coast hip-hop pioneer teamed up with fellow rapper Nate Dogg to come up with the commercially successful album's eponymous anchor single about gangster life along LA's Long Beach. His former partner, Snoop Dogg, might be the more successful, but this album – and the song Regulate – is regarded as one of the best.
NIRVANA'S MTV UNPLUGGED IN NEW YORK
The first Nirvana album released after the tragic suicide of frontman Kurt Cobain earlier that year was actually recorded in 1993. The uncharacteristically quiet acoustic set offers an intimate portrait of a rock star that, in hindsight, seemed like in emotional turmoil – just listen to songs like All Apologies and their cover of David Bowie's The Man Who Sold The World.
HOLE'S LIVE THROUGH THIS
Whatever you may think of Courtney Love, you can't deny that she's been through a lot – and her band's second album was released just a week after her husband, Nirvana's Kurt Cobain, blew his head off. Live Through This, indeed. But she's an artist in her own right – just listen to the feminist brashness in songs like Doll Parts and Miss World.
BECK'S MELLOW GOLD
Musical chameleon Beck arguably made better albums later on, such as 1996's Odelay and 1999's Midnite Vultures. But his major label debut – a lo-fi, low-budget offering – had one thing going for it – an anthem for the slacker generation in Loser.
NINE INCH NAIL'S DOWNWARD SPIRAL
Arguably the album that brought "industrial music" to the mainstream, Trent Reznor's second album was claustrophobic, chaotic, menacing and provocative – with a seeming preoccupation with pigs (Piggy, March of the Pigs) and probably the scariest/sexiest song ever in Closer.
JEFF BUCKLEY'S GRACE
An angelic voice, mean guitar chops and one hell of a tragic story – the singer-songwriter wasn't able to finish his second album before accidentally drowning in 1997. Grace is his only proper album and has come to be regarded as a classic, with songs such as Last Goodbye and an unforgettable cover of Leonard Cohen's Hallelujah.
STONE TEMPLE PILOTS' PURPLE
After being derided as Pearl Jam copycats with their debut album Core, the late Scott Weiland's band's sophomore outing pulled back on the grunge and added some psychedelic flavour. They would continue to experiment later on, but Purple was that perfect transitional period, with memorable hits like Interstate Love Song and Vasoline.
SOUNDGARDEN'S SUPERUNKNOWN

Nirvana and Pearl Jam were more popular, but this Seattle band's fourth album showed they're the boss. Complex Beatlesque melodies, ferocious riffs and, in the late Chris Cornell, arguably the most powerful voice to have emerged from the genre (sorry, Kurt and Eddie), Soundgarden's 15 songs in 71 minutes is the artistic masterpiece of grunge. Also, they made a song using spoons (Spoonman).
WEEZER'S 'BLUE ALBUM'
The ultimate geek rockers, Weezer's debut album had songs that namechecked Buddy Holly, Mary Tyler Moore and sweaters, while laying the foundation for "emo" rock with frontman Rivers Cuomo's why-so-drama-meets-pop-rock stylings.