Actress Pam Oei and her band play tennis to smash bigotry in new music video
"The result is an epic tennis match between a warrior, an altar boy and a rainbow fairy against today's biggest bigots," said the actress and vocalist of Ugly In The Morning.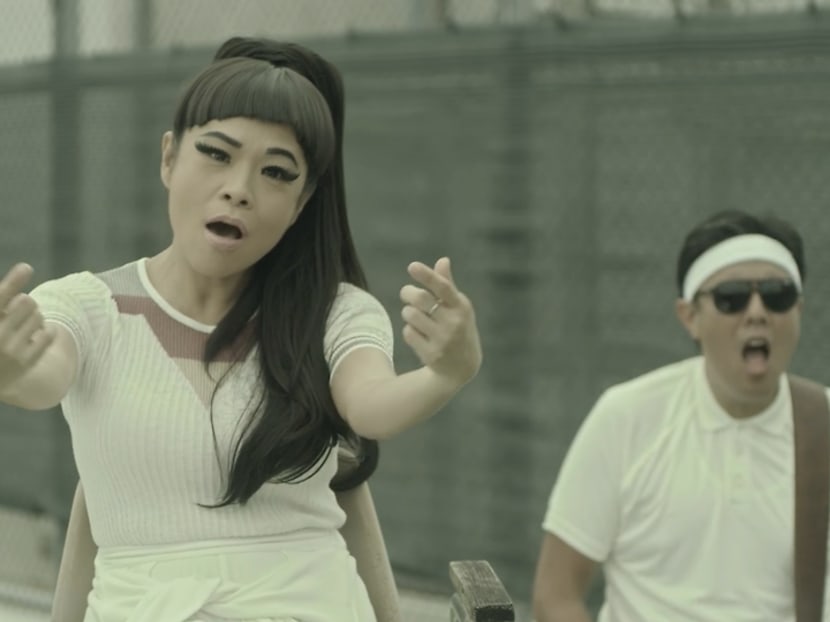 Local actress Pam Oei is fed up with bigots, and she's taking them to court. The tennis court, that is.
Oei and her funk rock band Ugly In The Morning has released the music video for You Can't Touch Me Now on Friday (Mar 8).
Besides the female frontwoman, the group includes Clement Yang on bass, Noel Ong and David Baptista on guitar and Joseph Saleem on drums.
Speaking to CNA Lifestyle, Oei said the song was written to capture the spirit of bouncing back from defeat, with the video, which was directed by filmmaker Ken Kwek, released in celebration of International Women's Day.
"When I first wrote the lyrics to this song, I felt there was a real strut to the music – I could imagine someone walking in confidence to the groove. And I imagined someone who was just getting back on her feet, after a dark period of her life, getting her groove back."
She also revealed that the band first performed the song at Pink Dot 2014, "because the lyrics also reflected the common sentiments of the minority LGBTQ community in Singapore".
A lot of work went into perfecting the intense tennis scenes in the video, said Oei, who is seen playing against people wearing face masks of the likes of Bill Cosby, US President Donald Trump and Hollywood producer Harvey Weinstein.
"The idea of a tennis match between a survivor or warrior and her opponents was hatched by Ken Kwek early last year, inspired by the Me Too movement and other events in the LGBTQ and religious world," said Oei.
Before the concept could be brought to life, the Dim Sum Dolly member went through four months of tennis lessons.
In an Instagram caption, Oei wrote that she "begged" Kwek to consider other sports. "Badminton can? Ping pong can? I can play those! NO he said, must be TENNIS."
"But I had never held a tennis racket before and had to take months of lessons before I could even bluff my way through the shoot," said Oei
"The result is an epic tennis match between a warrior, an altar boy and a rainbow fairy against today's biggest bigots. The song is a celebration of the strength and spirit of those who have faced discrimination."
Formed in 1999, Ugly In The Morning released their third studio album 3 Or More If You Can Afford It last April. The album is the band's first with vocals by Oei.