Theatre company Pangdemonium to stream hit musical comedy Urinetown for free
Audiences can catch the show on Vimeo from Aug 6 to Aug 15.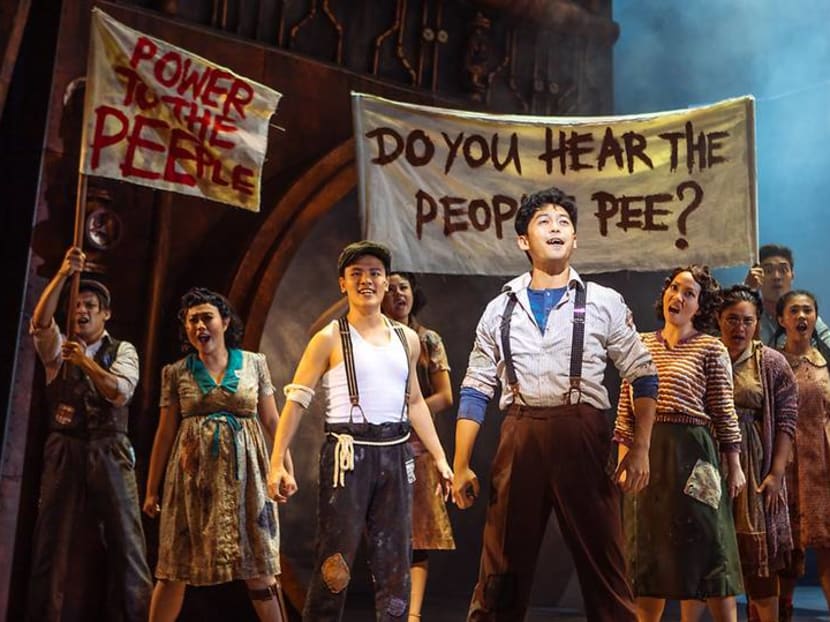 Live theatre may be out of the question for now but you can catch the next best thing – an online performance. And you're in luck because local theatre company Pangdemonium will soon be streaming its production of the satirical musical comedy, Urinetown, for free.
Pangdemonium announced on social media on Friday (Jul 30) that they will be showing the hit musical production on Vimeo from Aug 6 to Aug 15.
Urinetown: The Musical takes place in a fictional "most expensive city in the world" where a "cross-border water crisis" has led to a government ban on private lavatories. This has resulted in a price surge for pay-to-use public toilets operated by the powerful Urine Good Company.
Those caught breaking the law against gratuitous peeing will be sent to the mysterious "Urinetown", never to be seen again. After being threatened with yet another fee hike, the poor citizens decide to stage a revolution.
Pangdemonium's staging of the show in 2019 was sold out, according to its Jul 30 Facebook post.
The post added that while audiences can watch the show for free, "we would also be very grateful if you want to show us some love back and help us keep fighting the good fight, by making a donation to Pangdemonium". You can do so here.
The musical's original Broadway production won three Tony Awards in 2002.