The maker of Pixar's Up and Inside Out talks about Soul and life's big questions
Pete Docter talks about entering the spiritual realm with his new movie.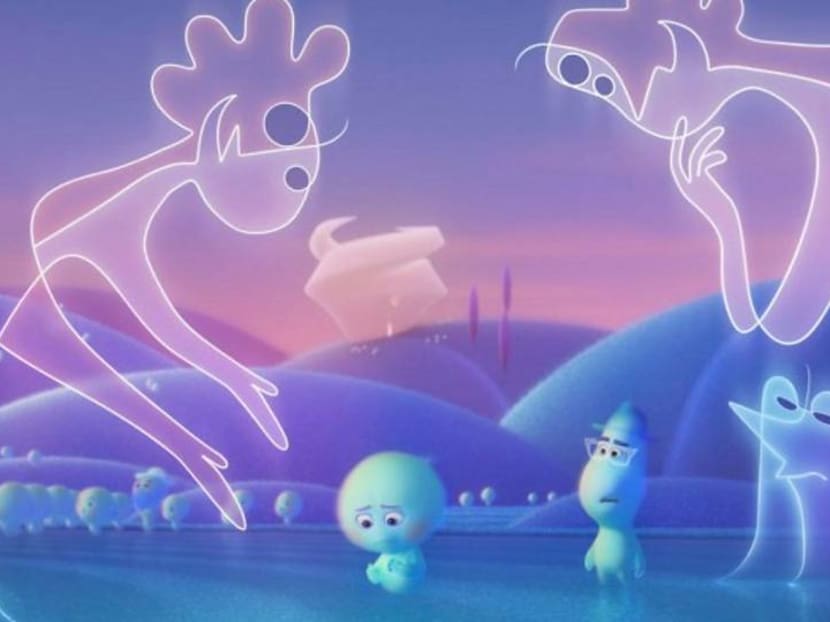 Few filmmakers can say that their first three features have achieved both universal critical acclaim and combined box office takings of more than US$2 billion (S$2.66 billion). One of them is Pixar's Pete Docter, writer-director of the animated movies Monsters Inc, Up and Inside Out.
But if the success has gone to his head, it isn't showing. The self-described "geeky kid from Minnesota" exudes easy-going charm and a boyish enthusiasm for his craft even in his relatively new position as chief creative officer of the Disney-owned company.
"You're getting me out of an executive meeting," he said with some glee as he joined me on a video call from San Francisco's Bay Area, where Pixar enjoys "a semi-long-distance romance with Disney".
We are here to discuss his latest film Soul, the idea for which was born five long years ago when, having finished and collected a second Oscar for Inside Out, Docter experienced an unexpected dip.
"It felt like the culmination of a lifetime of loving animation," the 52-year-old recalled. "And yet I thought: 'I still don't feel like everything is settled and I'm at peace with the world. Why?' I thought the narrative was you find what you love, you do that and you feel happiness."
That mini existential crisis became the question at the core of Soul, the story of Joe, a middle-aged New Yorker forced to ponder his true purpose in life when he is faced with death and becomes a mentor to an as-yet-unborn soul. No small undertaking for a cartoon.
"At various points in the production, I was like: what are we doing? This is absurd," Docter laughed, before parrying away his own self-doubt. "On the other hand, there's no reason why animation can't take on the big questions – it's as valid as the novel or live-action films or theatre."
It is this mixing of sophisticated concept and accessible comic adventure that has made the best Pixar films beloved by small children and seasoned critics alike, and provided a panacea for parents grateful for the grown-up gags smuggled in like contraband. Soul is no exception, with jokes coming courtesy of Copernicus ("The world doesn't revolve around you!") and at the expense of hedge fund managers (portrayed as the ultimate "lost souls"). 
Having consulted clinical psychologists for Inside Out, which made manifest a teenage girl's emotional inner workings, this time Docter and his team turned to spiritual advisers for guidance.
"We did a lot of research, talking with priests and rabbis, looking at Hinduism, Buddhism, all sorts of different traditions to see what they could teach us about the nature of the soul," he said.
However, when it came to visual representations, they hit a dead end. "Largely it was not too helpful because it said they're non-visible. And we thought: Well, great but we've got to film something!"
Looking within themselves instead, the animators devised a solution that has the film flirting with abstraction as the action moves from the temporal world to the ethereal landscapes of The Great Beyond, The Great Before and the Counsellors who inhabit them.
Here they turned to art history for inspiration. "We looked at a lot of Scandinavian modernist sculpture, Picasso wire sculptures, Alexander Calder. We thought of the (line-drawn) Counsellors as the universe dumbing itself down so that the humans and souls could understand it."
The result is some of the most inventive and visually pleasing sequences in the movie, more striking for their simplicity. Docter cited a similar experience when constructing a scene at the beginning of his 2009 heart-tugger Up in which an elderly widower looks back on his long, happy marriage in a wordless four-minute montage.
"When we started on that we had scenes with bits of dialogue, and as we developed it we stripped more and more away to the point where there's just music and cuts, so the audience is invited to bring their own missing details. That's something we lose sight of too often: A lot of the time mystery is more interesting." 
From 1995's Toy Story (for which Docter co-wrote the story) to this year's Onward, Pixar's films have often revolved around loss and been unafraid to touch on death. Soul arguably delves even deeper, positing a cosmic travelator that transports the departed from this world –a visual twist on Powell and Pressburger's stairway to heaven in A Matter Of Life And Death. There are also aspects of It's A Wonderful Life as Joe is forced to ponder his mortality and the life he may be deprived of – fitting themes for a movie arriving at the end of 2020.
Docter acknowledged the strange serendipity: "All of this was thought of five years ago but it does feel as though it has tapped into something about what's happening in the world around us."
But in one important aspect, this is a departure from movie classics and any of Pixar's own to date: It has a black man as its protagonist. While the core concept arose from Docter's personal experience, the idea of making Joe an animator was soon rejected ("I don't know if you've ever watched anyone animate – it's not the most thrilling thing") and an actor was deemed too fame-hungry. Eventually, the creators settled on making him a jazz musician because "You don't go into jazz to become rich and famous."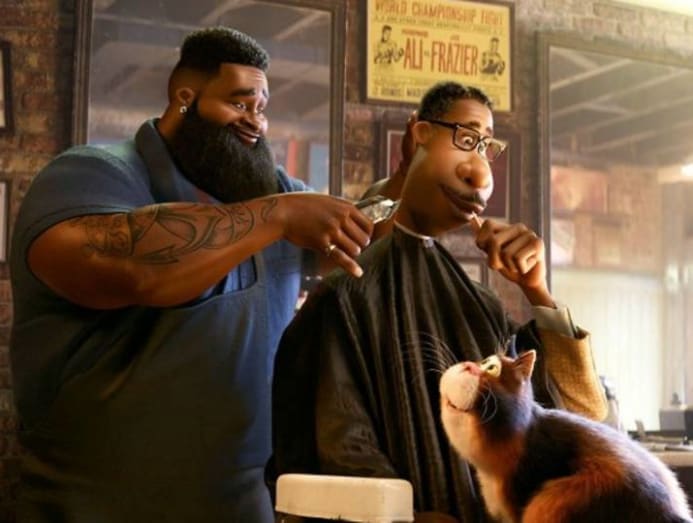 It was at that point that Joe became African American. "It was only correct that we make this character black and we knew we're going to need help with that because the crew at that point was pretty white," Docter recalled.
In came playwright Kemp Powers, initially as co-writer and eventually as co-director, to ensure that the character (voiced by Jamie Foxx) was authentic, writing in several key scenes including one in a black barbershop.
"Kemp worked hard to push us to make sure that Joe passes through what he calls 'black spaces'," said Docter. "Even though the film isn't specifically about being African American, it can't help but be – and needs to be." 
Soul is a first for Pixar in another respect. "This is the first of 23 features we've done that won't premiere in a theatre and that's a heartbreaker. It's a movie that we made specifically to be seen on the big screen, so it felt really tragic," said Docter.
For the moment, the film will be available only through the Disney Plus subscription service but he hopes a limited cinema run will be possible once screens reopen. (The movie will be shown in cinemas in Singapore, where Disney Plus isn't available yet, from Dec 25.)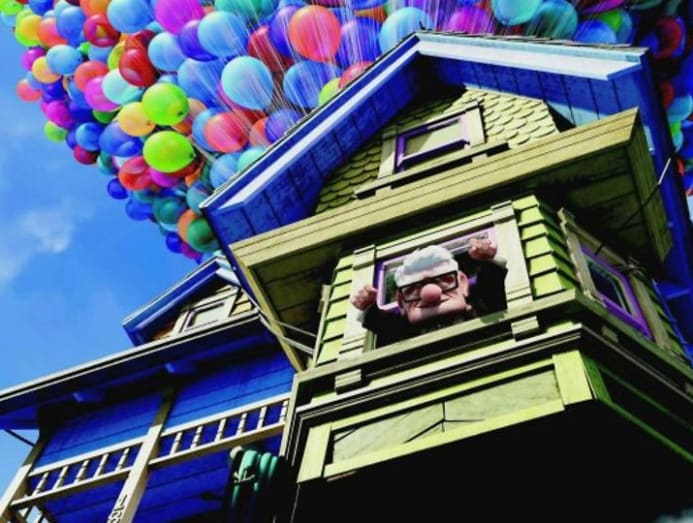 However, there was a compelling reason for pushing Soul out now. "We have another eight films in the works that are like planes waiting on the runway. If ours stops, everyone else has to wait," said Docter, whose role as CCO involves shepherding projects into production (he assumed the position in 2018 after John Lasseter left the company following allegations of sexual harassment).
"We have all these new voices and perspectives of people who have not directed before, and that's going to bring a lot more diversity and surprise to the films we're making," he said. "My job is to make sure that everything we do is as good as it possibly can be. It's not just me –Andrew Stanton (maker of Finding Nemo and WALL-E) is a very major voice. It's a really cool blend of old school folks who've made a couple of these and a bunch of new people who don't know what they don't know."
As in the film, it's a case of the new souls reinvigorating the veterans –and even teaching their mentors a lesson or two. "I watch them and think: 'Oh yeah, I remember facing this when I was first directing, and sometimes things I thought were untenable they find solutions for. So I've learned to shut up for a little while, let them explore it and see what it leads to." Perhaps in that lies the key to happiness and fulfilment.
Soul is out in Singapore cinemas on Dec 25.
By Raphael Abraham © 2020 The Financial Times