Zoe Tay juggling, a Singapore Idol reunion and Taiwan's Eric Chou at President's Star Charity 2022
This year's annual fundraiser from Mediacorp will be held on Oct 30 – and yes, our Ah Jie will be part of a juggling act, while Taufik Batisah and Sylvester Sim singing together with be a throwback to 2004.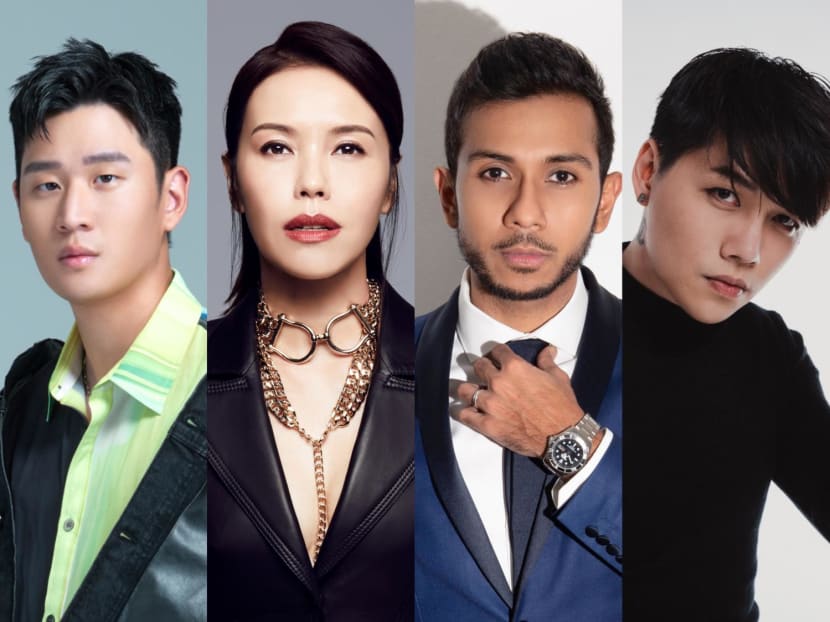 This year's President's Star Charity (PSC) will be held on Oct 30, with viewers getting a chance to see Singapore Idol alumni Taufik Batisah and Sylvester Sim reuniting and Zoe Tay, Elvin Ng and Richie Koh taking part in a juggling act.
This year's theme is "Small Actions, Big Changes" and Mediacorp's annual fundraiser under the President's Challenge will be supporting 82 beneficiaries.
Hosted by Kym Ng and Steven Chia, the lineup of local and international stars also include Taiwanese pop star Eric Chou, Malaysian singer-songwriter Aina Abdul and Pradhana Vizha 2021 Best Original Singer recipient Pavithra.
Meanwhile, Singapore Idol 2004 winner and runner-up Taufik and Sim, respectively, will be doing three songs together, while Mediacorp's Tay, Ng and Koh are joining students with mild intellectual disability from APSN Delta Senior School Circus Arts Group and D'Circulus for a juggling performance.
Also performing are veteran singers Rahimah Rahim, L Vijayendran and Liu Ling Ling, who'll be doing a medley accompanied by the West Winds Symphonic Band. SPOP! Wave winner and finalists Gao Mei Gui, Ridhwan Azman and Sherly Devonne Ng will team up with students with special needs from the Starlight Music-Making Programme by Voices of Singapore.
There's also a "bungee dance performance" courtesy of Azura Goh, Denise Camilia Tan, Fadli Kamsani, Gunalan Morgan, Jay Nesh Isuran, Ke Le, Tay Ying and Tyler Ten.
You can donate to this year's PSC until Nov 6, via a PayNow QR code available on https://www.mediacorp.sg/psc2022 or flashed on-screen during the show, or through https://www.giving.sg/psc2022.
Sheng Siong's also partnering with Mediacorp to drive public awareness on the PayNow QR code donation platform. The public can also keep a lookout for PSC 2022 banners at 34 outlets across the island and on their corporate and e-commerce websites, social media platforms as well as the SS Connect mobile application.
"The theme of PC 2022 is 'Supporting Lower-Income Families'. As with your support in previous years, I hope you will continue to donate generously and join me in extending a helping hand to aid these households in overcoming the challenges they face," said President Halimah Yacob in a media release.
Mediacorp CEO Tham Loke Kheng added: "The message for this year's President's Star Charity is an important one – every little act counts. We would like to call upon our partners and the wider community to join us in celebrating the individuals and families that have risen above challenging circumstances."
The 82 beneficiaries include: Club HEAL (Hope, Empowerment, Acceptance & Love), Very Special Arts, and TOUCH Community Services.
More information can be found at https://www.presidentschallenge.gov.sg/
More than S$10.9 million was raised at the end of the live show at last year's edition.
The President's Star Charity 2022 will be aired on Oct 30, 7.30pm to 9.30pm, on meWatch, Channel 5 and the Mediacorp Entertainment on YouTube, with a repeat on meWatch and Channel 5 on Nov 6, 3pm to 5pm.