Ramen Keisuke dishes available on selected Singapore Airlines flights from Oct 1
Four different noodle creations will be on rotation for passengers in Business Class and First Class.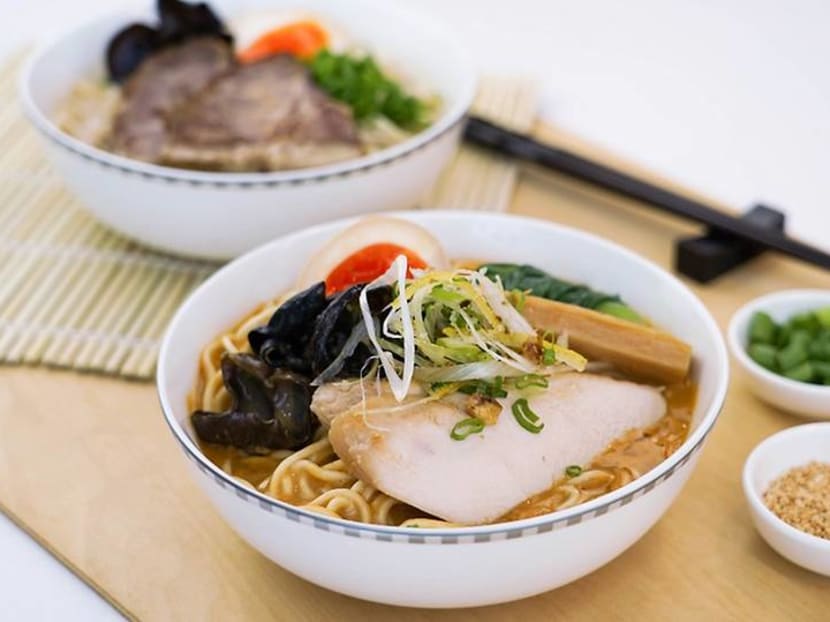 Get a taste of authentic Japanese ramen even when you're in the air. Passengers on Singapore Airlines' (SIA) Business Class and First Class will be able to enjoy Ramen Keisuke's special creations on selected SIA flights from Oct 1 onwards.
There are four different ramen dishes on offer in Business Class on selected Japan routes. First Class and Business Class passengers on all routes for selected flights departing Singapore can also enjoy the dishes via Book the Cook.
The dishes are: Tonkotsu ramen with a creamy pork broth, sliced pork, cloud ear fungus and spring onion; lobster ramen with a rich lobster broth, sliced chicken, bamboo shoot, cloud ear fungus, leek and yuzu; miso ramen with a creamy miso-flavoured pork broth, sliced pork, cloud ear fungus and spring onion; and niboshi ramen with a smoky dried sardine and pork broth, sliced pork, fish cake, bamboo shoot and spring onion.
The creations are the result of six months of tests in Japan and Singapore to ensure the taste remains original and authentic in the high-altitude conditions of an in-flight environment, SIA said. 
This includes perfecting the blanching time required to maintain the chewy texture of the noodles, using the sous vide method to ensure the chicken remains tender and sourcing for high-quality ingredients such as pork from Spain.
Ramen Keisuke was founded by celebrity chef Keisuke Takeda, who was named Ramen Champion at the 2011 Tokyo Ramen Championships. 
He said in a statement: "For the first time, Ramen Keisuke's signature ramens will be served to customers at 30,000 feet, bringing the taste of authentic Japanese comfort food from the ground to the air."

You may want to slurp a little more discreetly.