Citizens, beware! The real-life Singapore 'zombies' that shuffle amongst us
With the world premiere of Singapore's first zombie movie Zombiepura, CNA Lifestyle takes a cheeky lookout for examples of the living dead that already roam our streets.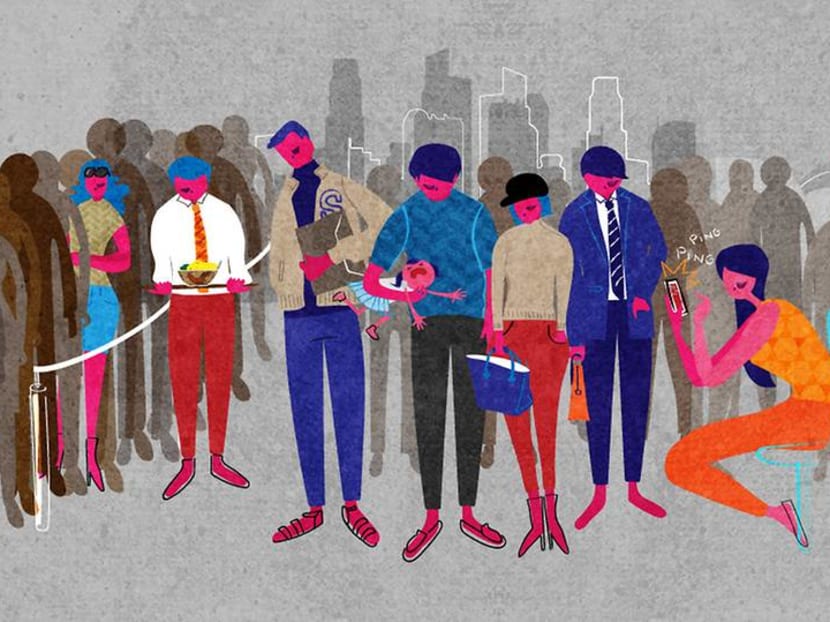 The zombie movie – that gruesomely popular genre that seems to never die. For years, horror fans have revelled in fright and delight over tales about this particular undead monster rising from the grave to menace the living.
And on Oct 19, Singapore cinema crawled and dragged its half-eaten leg into that sacred horror film canon. Zombiepura – Singapore's first ever zombie movie – premiered at the inaugural Scream Asia Film Festival, which runs at The Cathay Cineplexes till Oct 28.
Directed by Singaporean Jacen Tan, the horror-comedy sets The Noose's Alaric Tay in a zombie apocalypse unleashed in a Singapore army camp. Co-produced and co-distributed by mm2 Entertainment and Clover Films, the film will open theatrically across Singapore on Oct 25.
In a landscape inundated with everything walking dead – from TV shows and graphic novels to immersive laser-tag experiences and video games – zombies in popular culture show no signs of, well, dropping dead.
And with good reason – besides a gruesome scare, the zombie is also a versatile metaphor. Thanks to George Romero's 1968 landmark film Night Of The Living Dead, these decomposing, man-eating fiends now serve as an allegory for the social anxieties of each generation.
What might a zombie apocalypse look like today? Perhaps it's a population stuck in the endless monotony of the daily grind. Or the lack of real-world connection that fuels an overall sense of hopelessness that eats us alive. Or blind bigotry and hate that makes us attack our own communities.
Sound familiar?
The filmmakers of Zombiepura imagine a Singapore overrun by mindless creatures of the living dead that move in mobs – we say that sounds like our Monday morning commute. Cannibalistic ghouls in search of blood? That's the comments section on Facebook.

CNA Lifestyle takes a tongue-in-cheek look at zombies that already shuffle amongst us right here in Singapore.

1. THE MRT COMMUTER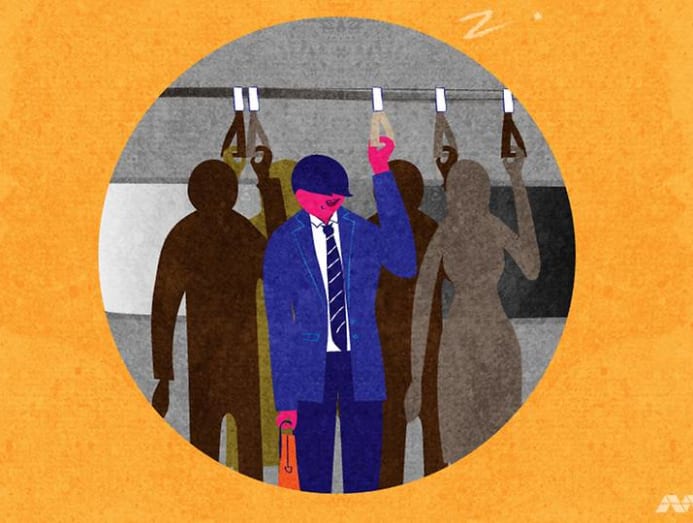 Trying to navigate packed carriages of grumpy, robotic, rush-hour commuters on a daily basis is sure to make anyone's train to Bishan feel increasingly more like Train To Busan.
Heads perpetually hanging down, with only their thumbs showing signs of life, poking at their phones screens, the MRT zombie won't eat you, but they will gnaw at your nerves. Friendly smiles are reciprocated with blank stares. An "excuse me, do you mind moving in?" elicits a grunt.
Usually spotted standing stationary at the ends of escalators in MRT stations, causing a pile-up while answering Whatsapp messages.
2. THE SHENTON WAY LUNCH CROWD
With packets of tissue paper gripped firmly in hand, the lunchtime zombies of the Central Business District wander the streets, malls and hawker centres of Singapore, glassy-eyed and in search of innards (soup).
At lunchtime, hordes of hungry office workers can be found lurching towards the latest, hippest or cheapest eateries, single-minded in the search of the first available table to "chope". Sometimes with lanyards.
3. THE SOCIAL MEDIA JUNKIE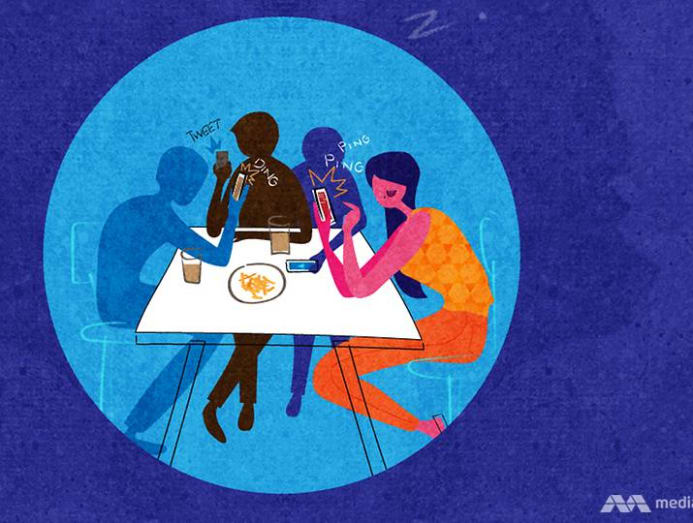 Facebook, Instagram, Twitter, YouTube… The hypnotic trance of these platforms is arguably the equivalent of a slow-but-deadly modern day zombie virus. A zombie apocalypse may seem like a science fiction fantasy but society's growing addiction to smartphones is as real as it gets.
These zombies come in all shapes and forms, be they kids during mealtimes, teenagers at a family gathering or even adults at a social event or party. With vacant eyes lit only by the glow of the phone, they turn ferocious when friendly conversation is initiated. Especially dangerous to public safety when crossing busy roads.
4. THE FOMO QUEUER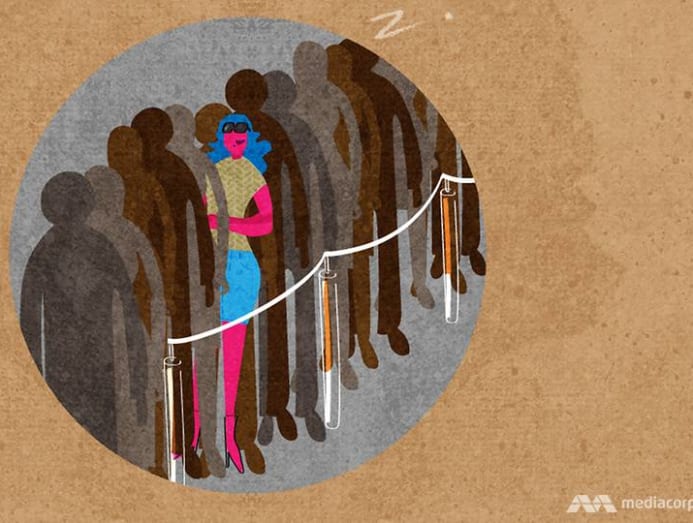 Also known as the quintessential "kiasu" zombie, this mindless ghoul can be found joining the queue for almost anything and everything.
Easily infected by the lure of a limited-edition McDonald's Hello Kitty plushie, the latest iPhone model, what Michelin says is the best chicken rice in town, or just some bubble tea.

5. THE PARENT WITH THE MELTDOWN KID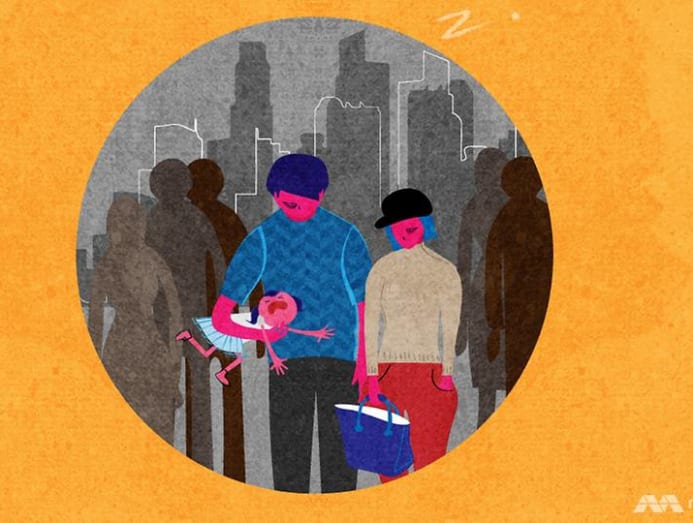 Disobey. Cry. Scream. Full-on tantrum on the floor. No amount of shrieking or tears can faze this immovable zombie parent who hasn't had a decent night's sleep since the miracle of birth.
The more public the setting, the more likely the meltdown kid will act out. But the zombie parent has seen it all. And will have none of it. Wash, rinse, repeat. Especially deadly when bitten by the "my helper will fix it" virus.
6. THE TEENAGER GOING FOR TUITION CLASS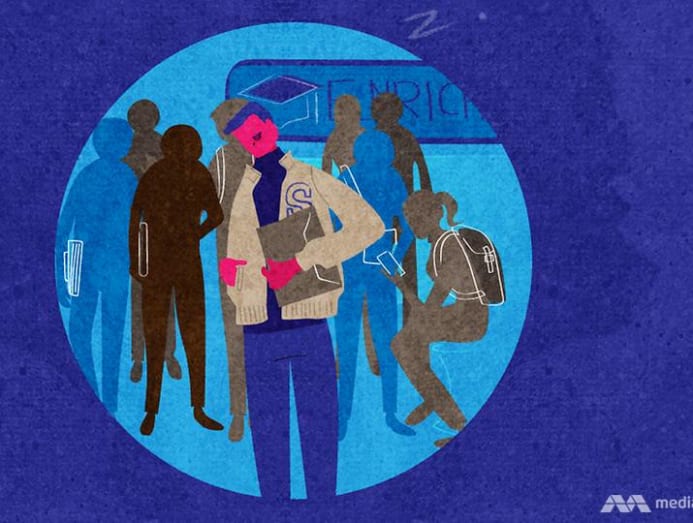 Resembling an extra from The Walking Dead, this is the zombie any Singaporean can relate to. Instantly identifiable with those blood-vessel-popping dead eyes, all meaning in life massacred by their unreasonable parents' request that they learn something.
7. PEOPLE WHO STILL PLAY POKEMON GO
Must. Catch. Snorlax. Argh...