Rebecca Lim reveals more about her fiance, proposal and wedding plans, including how he got along with grandma
Touched and overwhelmed by all the well wishes, Rebecca Lim says she'd love to reveal who her mystery man is because she's "proud" to have him as her "other half". And instead of scrutinising Ian Fang's social media posts, we should just "focus on love", she thinks.
In the two days since actress Rebecca Lim officially announced her engagement to a mystery man, she's been inundated with well wishes.
Even her secondary school principal called her "crying, saying she's very happy for me", she told CNA Lifestyle.
"Over the past few days, I've been so touched by the love and congratulatory messages from everyone that I've teared up a couple of times. And it's difficult to make me tear!"
Lim, 35, previously kept all her romantic relationships strictly under wraps – until Nov 15, when she posted a photo of the big proposal.
Her husband-to-be, also 35, isn't in entertainment – in fact, when they met, he had no idea she was a celebrity – and instead has a career in corporate branding.
 
Lim, a self-professed homebody, had often remarked in interviews that in her line of work, it was difficult to meet people.
"I was actually resigned to the fact that I would most probably be a spinster, just living with my grandma forever," she said, with a chuckle.
She moved in with her grandmother late last year when her grandfather became ill, was hospitalised and subsequently died – even sleeping in the same bed for company.
"That was my plan – to just spend time with her," Lim said. "So, when he came along, my relatives joked, 'Now grandma needs a bigger bed!'"
What made her certain that he was The One? "The fact I can be just myself with him; the way he respects not only me and his family but the people he works with and the people around him; and also his love for his family, and my family as well. These are the core values that I admire and have always wished for in a partner, because of the importance that I place on my family as well. To have that in him is wonderful," she said, adding that her family took to him immediately.
Although she "wouldn't call him a typical romantic guy", she was won over by how he tried to converse with her grandmother in basic Mandarin. Her fiance, who grew up in Singapore and has a Singaporean mum and English father, "is not good in Mandarin at all. Seeing him make the effort to communicate with my grandma, and the way he treats my family, to me, is a realistic romance that I would like, as opposed to big fanfares", she said.
 
Their romance was highly straightforward – they met earlier this year through mutual friends, put all their cards on the table and decided to commit to a serious relationship with an end in mind.
"To be honest, we didn't have a honeymoon period because it was just honesty from the start, and if it didn't work, it didn't work, and we'd have to move on. But, thankfully, it did."
The elaborate proposal was "not exactly out-of-character, but unexpected", because the two of them are usually quite low-key.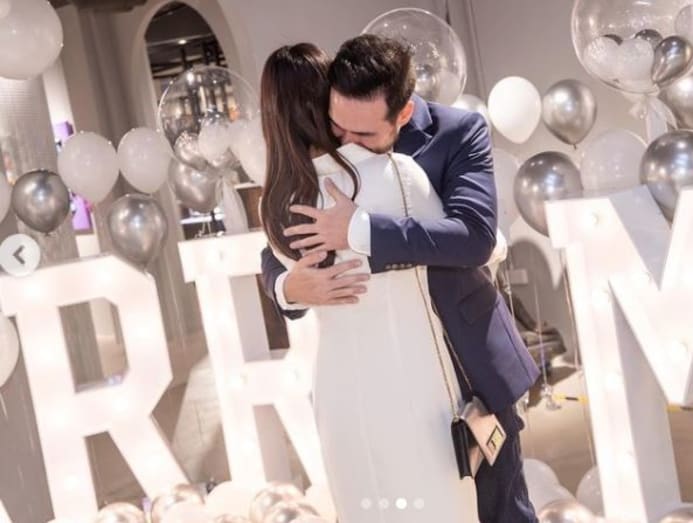 "I had a suspicion the night before, because we have our meals at home with our families," she said. "But he planned a dinner, and he told me to dress up for the dinner, which he has never done because he's also super casual. He said he was going to wear a suit.
"I called my sister immediately. I said, 'I think he's going to propose.' She was like, 'Oh, wow. But he hasn't asked mum yet.' I was like, 'Okay, I guess the restaurant's just very formal.'"
It turned out that her sister – and her entire family – had been conspiring with him to surprise her for over two weeks. "Everyone knew he was going to propose except me," she laughed.
Both she and her fiance have been touched and overwhelmed by the outpouring of congratulations and love, she said, "not just from close friends and family but Singaporeans who have also grown up with me". It has been "extremely surreal".
But some of his friends, she thinks, still have no idea who she is (even if it's all over the news).
Did he really not know who she was when her face is plastered all over billboards and buses, not to mention in television and movies? we questioned.
"Initially, when he said that, I did not really believe him, but then after getting to know him, he's not really acquainted with local entertainment. Nor are his friends and parents," she said.
Their first meeting was at a restaurant over dinner with some of his friends. "None of them knew who I was until the waitress wanted to take pictures," she recounted. "Then they were like, 'What's going on?'"
For now, the couple have agreed that his identity should remain unknown since he's not a public figure like she is – at least until he's "slowly assimilated" into her world.
"I said to him, 'I would really want everyone to know who you are because I'm proud to have you as my other half and really want to share my joy with everyone who's been so happy for me,'" she told us.
"But as I've been so overwhelmed the past couple of days, and so is he, I'm just slowly introducing him into my world. I definitely would want to (reveal who he is) but, one step at a time."
One thing she did reveal to us is that he loves dogs, just like she does, and has three of his own.
And, yes, they have had the talk about how she has to do intimate scenes with other actors in her line of work. "I guess I'm thankful that he doesn't watch my shows!" she quipped.
And what about the reports that her rumoured ex, actor Ian Fang, made some now-deleted, cryptic, emo posts on social media? (Lim and Fang always denied the rumours, saying they were just good friends.)
"He has sent me congratulatory messages," she told us, adding, "I wish that everyone would just focus on the happiness that I'm feeling right now. In this world we live in today, it's better to share more love and happiness and good news. Now that I'm sharing one of the happiest moments in my life, I hope everyone will be happy (along) with me and focus on that. I'm looking forward to a wonderful future. I hope everyone will do the same and just focus on love."  
The main thing occupying her right now is "to sort out wedding plans and celebrations", she said. "I started writing a rough guest list and contacting a few venues, but because of the pandemic, there are restrictions to numbers, so we are really still trying to look for that location that can have that many people. Unfortunately, because of the pandemic, we may have to change our initial plans."
Although there's uncertainty about when and where, the wedding will "definitely" take place next year, she said.
In fact, "I was the one who said, 'Why don't we just get married ASAP?' He was the one who said, 'There are a lot of things to plan.' I'm not a planner. I'm just go-with-the-flow", she said.
And finally, the "auntie" question: Does she think she might want to have kids?
"I definitely dream of having my own family with a kid, but I don't want to give myself too much pressure," she said. "Initially, I never wanted to have a kid, but after my niece was born and my interactions with her, seeing her grow up – I'm still 50-50 sometimes because it's just so much responsibility to take care of a human being, but I'm ready for that and if fate allows, I will definitely look forward to motherhood one day."
For now, "I just feel so blessed and overjoyed".