How is Kim Kardashian greeting other people now that she can't shake hands?
Celebrities have resorted to using elbow bumps and feet touching to say hello during this time of COVID-19.
Better safe than sorry, even if you do come off looking a bit odd. That's probably the line of thinking that has gotten celebrities such as Robbie Williams and Kim Kardashian elbow bumping fans and touching feet instead of shaking hands.
Williams was on a tour in Australia – also where Tom Hanks was filming when he confirmed he had COVID-19 – and meeting fans ahead of his performance at Melbourne's Lakeside Stadium when he was spotted touching elbows with fans, reported the Evening Standard on Thursday (Mar 12).
The 46-year-old singer also greeted Australian Formula 1 driver Daniel Ricciardo the same way.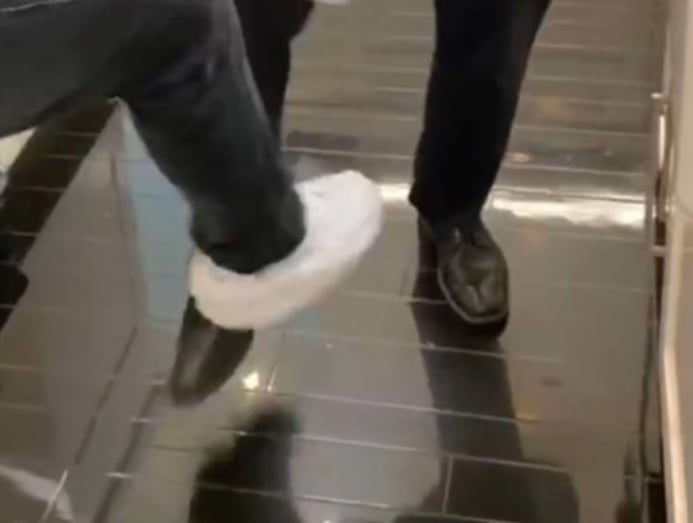 Meanwhile, Kim Kardashian has another novel approach to exchanging greetings during this time of COVID-19 – she posted an Instagram story of her friend and her family doctor gently touching their feet together to say hello.
In the clip, the 39-year-old Keeping Up With The Kardashians star said: "So you should not do elbows, because you cough into your elbow. So no more elbows!"
"Or just do a little bow," she added, as the video showed her friends with their palms together and bowing.
Other high-profile individuals have also resorted to alternative greetings during this period. Prince Harry touched elbows with Craig David at the Commonwealth Day service at Westminster Abbey on Monday, while his father Prince Charles was seen giving a namaste greeting with his palms together at the Prince's Trust Awards ceremony on Wednesday.
Still, elbow touching isn't fool proof according to a tweet by Tedros Adhanom Ghebreyesus, the World Health Organization's Director-General.
He wrote: "When greeting people, best to avoid elbow bumps because they put you within 1 meter of the other person. I like to put my hand on my heart when I greet people these days."