Robbie Williams could reunite with Take That for next year's anniversary tour
And Jason Orange might just join in the fun, too.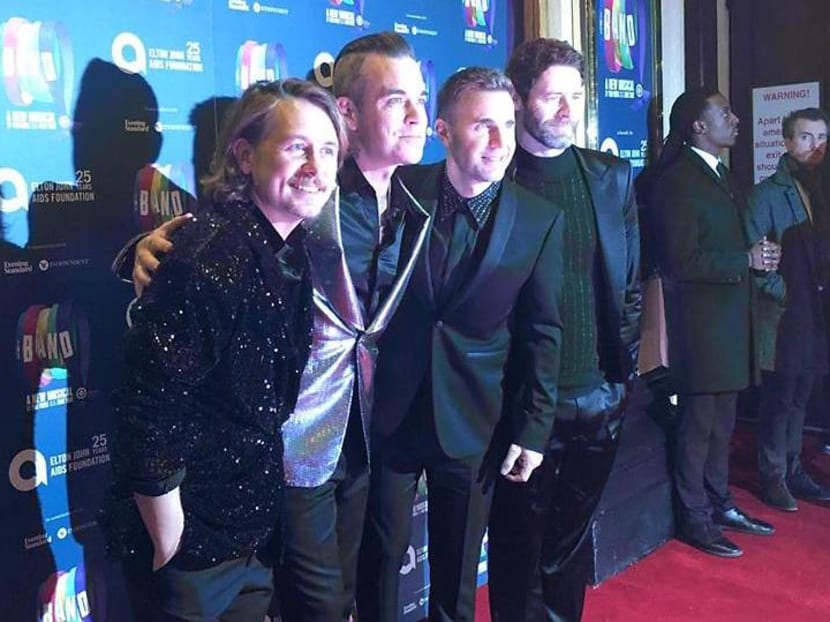 Robbie Williams recently revealed he will be joining his former group Take That on their 30th anniversary tour next year.
The group – minus Jason Orange – performed on Tuesday (Dec 4) for the gala performance of the musical The Band, which is based on the boy band's hits.
The Rock DJ star said he will be joining whenever he can, adding he regretted they didn't call each other sooner. He also hinted that fifth original member Orange would make an appearance.
"Maybe we can coax Jason back, who knows? We shall have to see," he told Magic Radio in an interview.
In an interview with Sky News, the group said they were glad to be part of the 1990s. Williams also added: "I would never get away now, with what I got away with back then."
Howard Donald chipped in, comparing pop stars then and now, saying: "Now they use social media, Spotify, YouTube, iPhones... We had to physically go to countries and really work."
The group, which also includes Gary Barlow and Mark Owen, was formed back in 1989, along with Orange. 
"We are really proud to have an entertainment career this long and not having to do panto, not that it's below me, I just don't have to do it yet," said Williams, who left the band in 1995 to enjoy a successful solo career.
The group reformed in 2006 minus Williams, who returned to the fold four years later to record an album and do a tour. They reformed again in 2014, without Orange and Williams.