Legendary guitarist Slash on hitting the gym and accidentally leaving a band member behind
Life never gets boring for the rock legend, who will be performing here next week.
Since rock never dies, it's fair to presume that its legends never grow old. And if you look at the inimitable Slash, also known as the lead guitarist of Guns N' Roses, winner of a Grammy award, seller of over 100 million albums and face of Guitar Hero III, you'd certainly admit that he's in great shape today.
"I try to hit the gym at least every other day if I can, and I'm not hardcore about it. I hate the gym," he told CNA Lifestyle via email. "I do it to keep my stamina up for these two- and three-hour shows you do every night. You have to be prepared for that."
One of the shows he's training for is Slash Feat. Myles Kennedy And The Conspirators Live In Singapore, taking place on Jan 8 at The Coliseum.
"We're touring a new album, and Singapore is one of the first stops on the international tour, so the whole show and most of the set is pretty new," he said. At the concert, he and the band, consisting of singer Myles Kennedy, bassist Todd Kerns, drummer Brent Fitz and rhythm guitarist Frank Sidoris, will be performing songs from their chart-topping third album, Living The Dream, which debuted in September last year.
"We're really excited to be back in Singapore again," added Slash, who has performed here three times before, most recently in 2017 with Guns N' Roses. "I don't know if I have enough time to actually hang out like I did last time – I think we're sort of in and out – but I'm most looking forward to the fans, delivering all of this new material, and seeing how all of that goes over."
Any recent Spinal Tap moments for him and the gang? "Spinal Tap is the movie that we never stop living," he quipped. "Yeah, we had a real basic one where we left one of the band members back at the venue and we took off to go to the next city. That was one Spinal Tap moment – we left Frank behind somewhere. And then, of course, there was a recent event where we played at a venue we've never played at before, and we left the dressing room to go to the stage, and it was the wrong way. I don't think there's anything more Spinal Tap than that one."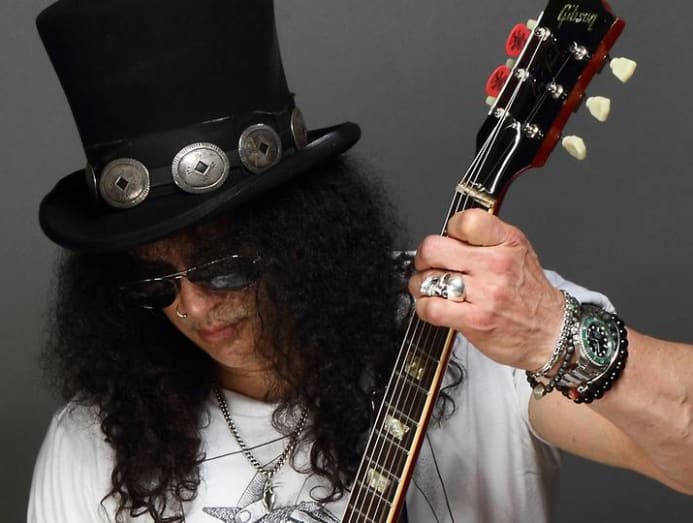 With his sustained years of career success and his larger-than-life persona, it's hard to imagine that the British-born musician, whose real name is Saul Hudson, runs up against creative road blocks very often, but he assures us that he most definitely faces that issue. "Creative blocks are sort of a natural part of being creative," he said.
"The problem with a creative block is you think about it too much and you feel like it's the end of the world and its not, but you just have to ride it out and try not to let it get to you. For me the best way to deal with it is to not force the issue, basically continue to do whatever it is that you're doing… Keep practicing and keep noodling and keep playing your guitar, and eventually, something will trigger, something inspirational will happen, and then that creative block will pass."
SOUND ADVICE
For young or aspiring musicians these days, it is in some ways easier and in other ways harder to reach an audience with their work. What's the most significant way in which this rocker legend thinks the scene has changed from back in his day?
Well, in his time, you simply worked with your band until you were good enough to play at clubs and venues. "Trying to get out in front of an audience is still the best thing to do," he said. "But then if you're looking for a record deal, or if you're hoping that somebody will discover you in that setting – that has changed a lot… There aren't people going down to the clubs and looking for new talent to develop."
"Another thing is when a record company, especially a major label, picks up a new artist, they don't develop them," he continued. "They want them to have a hit, right there at the beginning, recorded, and put it out there, and sell a gazillion copies. In the old days, you'd sign a band that had great potential… Sometimes it could be really successful, sometimes it might have a minor hit, or not achieve really great success, but then you'd do another record and then you'd just keep working it up until the band really succeeded, and that's how you'd develop a band. It's different now."
On the other hand, he said, with YouTube, Soundcloud and other such platforms, the sky could be the limit. "At this point in time, it's really how you use your imagination and just make it up as you go along, and see what works best for you."  
Catch Slash Feat. Myles Kennedy And The Conspirators Live In Singapore on Jan 8 at 8pm at The Coliseum, Hard Rock Hotel Singapore, Resorts World Sentosa.
Tickets from S$148 to S$228 from Sistic.