Watch Ryan Reynolds 'crash' Hugh Jackman's original X-Men cast Zoom reunion
Other celebrities appearing in the funny skit for the Global Citizens: Unite For Our Future benefit include Halle Berry, Sophie Turner and Patrick Stewart.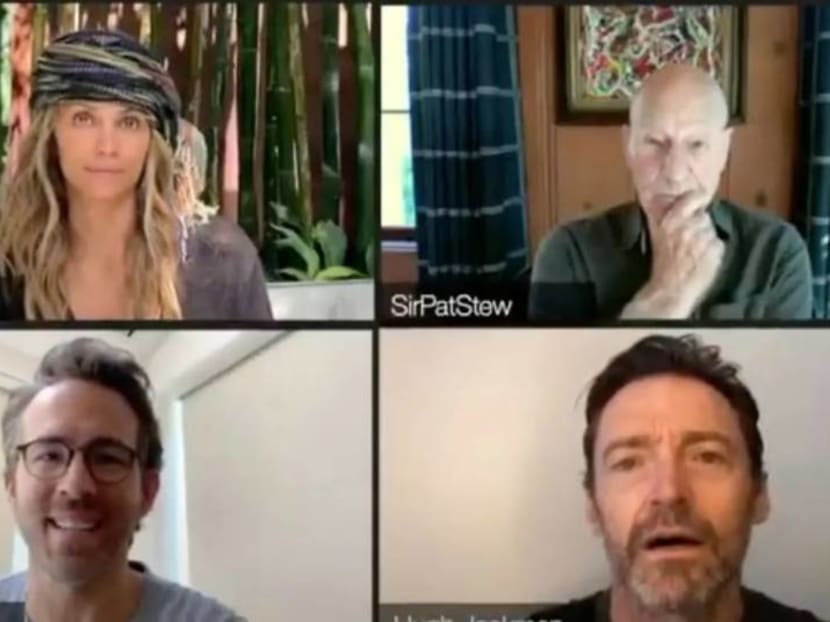 It's hard to believe it's been 20 years since the first X-Men movie debuted in cinemas.
That was the first time we were introduced to Hugh Jackman's Wolverine, Halle Berry's Storm, Patrick Stewart's Professor X and Famke Janssen's Jean Grey.
To mark the momentous occasion, the original stars of the 2000 superhero film held a reunion on Zoom on Saturday (Jun 27).
Twenty seconds into the chat, Ryan Reynolds, who only started in the franchise in 2009's X-Men Origins: Wolverine, called in to join the fun.
Jackman reminded Reynolds that the call was for the stars of the original film only, saying "Ryan, the cast and I were all just reminiscing about the movie that we're in together."
Reynolds pushed on by introducing other stars who weren't in the original film, namely Sophie Turner and James McAvoy from 2019's X-Men: Dark Phoenix.
That was when the celebs started leaving one by one, all citing other movie reunions they had to attend. 
Turner left after this quip, "Oh sorry, I actually thought this was a Game of Thrones reunion", while McAvoy said he had to go for a Split reunion.
Janssen and Berry both left soon after, claiming they had to get to a James Bond reunion.
And then there were two with only Reynolds and Jackman left on screen, leading Reynolds to ask, "Just you and me Logan, you know what that makes this a reunion for?"
To answer that question, Liev Shreiber pops up to say: "X-Men Origins reunite!"
The funny bit from the actors was meant to do more than just make you crack a smile. 
The skit was part of the Global Citizens: Unite For Our Future benefit and Jackman had a serious message at the end to wrap things up.
He said, "Sometime in the not too distant future the hard work of every global citizen will bring about a healthier, safer, more equitable world. To all the first responders, essential workers and those fighting for racial justice: I stand in awe of your efforts this year and I stand with you."