'You can find strength at any age': Sammi Cheng opens up about life, movies and her Instagram feed
How does the Hong Kong superstar remain at the top of her game? CNA Lifestyle sat down for a chat with Sammi Cheng, who was in town for the Singapore International Film Festival.
She's one of Hong Kong's biggest stars – an award-winning, box office-smashing singer-actress who's been at the top of her game for the better part of 30 years.
But when it comes to social media, Sammi Cheng plays it surprisingly cool.
Unlike many celebrities who look suspiciously perfect on their Instagram feeds, the 46-year-old often posts photos of herself sweating profusely at the gym, cooking and washing dishes, or chilling at home sans make-up with the pets she owns with husband Andy Hui.
Several weeks ago, the Cantopop diva even shared stories about how she'd come down with a parasitic infection from eating raw sea snails – and how she had to sprint to the bathroom to, erm, get rid of the worms.
"Maybe these photos are too real," Cheng laughed. "I like to keep things natural."
'IT DOESN'T MATTER IF I LOOK UGLY'
The actress spoke with CNA Lifestyle in Singapore, where she was promoting her new film, First Night Nerves, which has a sold-out screening Saturday morning (Dec 8) as part of the Singapore International Film Festival (SGIFF) on Saturday morning.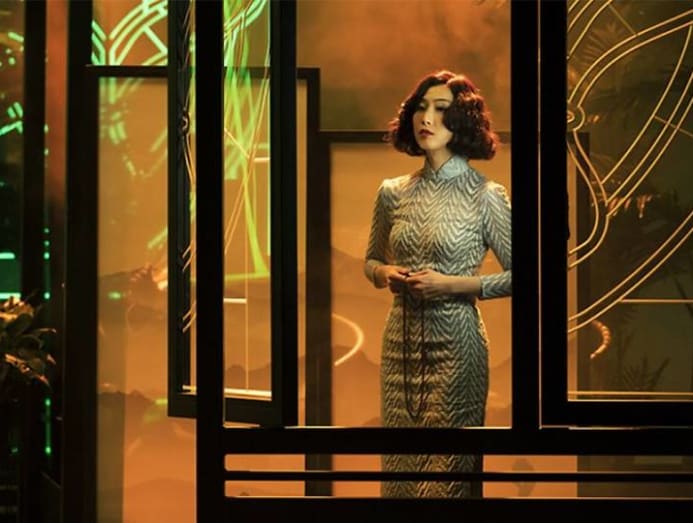 "It doesn't matter whether I look pretty or ugly, fat or thin, it's all part of who I am. I don't think it's a big deal to post photos like that on Instagram. But a lot of people can't stand it, (they tell me) 'your photos are too ugly'!"
It's part of Cheng's journey to embrace all aspects of herself, even as she continues to push her own limits – a gargantuan task, given how she's about to enter her fourth decade in showbiz.
Cheng, who launched her showbiz career in 1988 at the age of 16 after winning third place in the New Talent Singing Awards, has seemingly done it all.
The Cantopop diva was among the most sought-after film actresses in Hong Kong in the early 2000s, though she is probably better known among Mandarin-speaking fans for her electronic dance tunes. Today, Cheng still routinely sells out concerts around Asia, and her latest music release, Believe In Me, was also Hong Kong's best-selling album for weeks earlier this year.
Perhaps part of the reason why Cheng still captivates audiences today, is her refusal to remain within her comfort zone.
'PEOPLE TEND TO TYPECAST YOU'
Before our interview began, Cheng asked what I thought about the movie, and seemed genuinely pleased when I told her, quite honestly, that while I didn't fully understand the movie, I was surprised to see a Sammi Cheng that I did not recognise from the blockbusters she'd starred in earlier in her career, such as Love On A Diet, Needing You and Summer Holiday.
"For me personally, I really need such opportunities to try different roles, and to show a side of me that is different from what audiences have seen in my romantic comedies," said Cheng, who plays a talented actress who returns after five years of retirement to co-star in a play with her biggest rival (Hong Kong singer-actress Gigi Leung) in First Night Nerves, directed by legendary Hong Kong filmmaker Stanley Kwan.
"When you've been in your career for so long, it's hard to meet with new opportunities, because people tend to typecast you, so you have to keep challenging yourself, and it's not easy," said Cheng. "The good thing about me is that I love looking at myself through different lenses. I don't set any boundaries for myself. And I believe you can find strength at any age, to discover a whole new side to yourself."
'I FELT LIKE MY BATTERY HAD RUN OUT'
Strength is a topic that comes up regularly in conversations and interviews with Cheng, who battled depression while filming Everlasting Regret – which, incidentally, was also directed by Kwan.
Cheng has spoken publicly about how she'd struggled, locking herself at home for days on end. It took sheer willpower and her religious faith, before Cheng was able to return to work in 2007, with sold-out shows at the Hong Kong Coliseum. Fans will remember how, in a deeply emotional moment at the end of her tour, Cheng declared that after two long years, she'd finally found her courage again.
"I am human, and sometimes I feel tired. The physical exhaustion is still manageable. It's much harder to handle when your heart or soul is exhausted" said Cheng. "(What I didn't realise) was that there was a limit to my energy and motivation. I felt like my battery had run out. That is why I fell to pieces."
And if she retired tomorrow, Cheng would be proudest – not of her singing awards, the number of fans she has amassed, or the millions of dollars her films have made at the box office – but of the way she'd pieced herself back together after those tumultuous years.
"I was at rock bottom, and I was ready to give up. I picked myself up, and I saw a different side to life," she said. "In my career, I saw a different path (available to me) as well. I can use my role as an artiste to share my faith with everyone. That is an incredible opportunity."