Sarah Jessica Parker returns on screen as Carrie Bradshaw... for 15 seconds
And it's all thanks to Matt Damon and his latest Water.org campaign.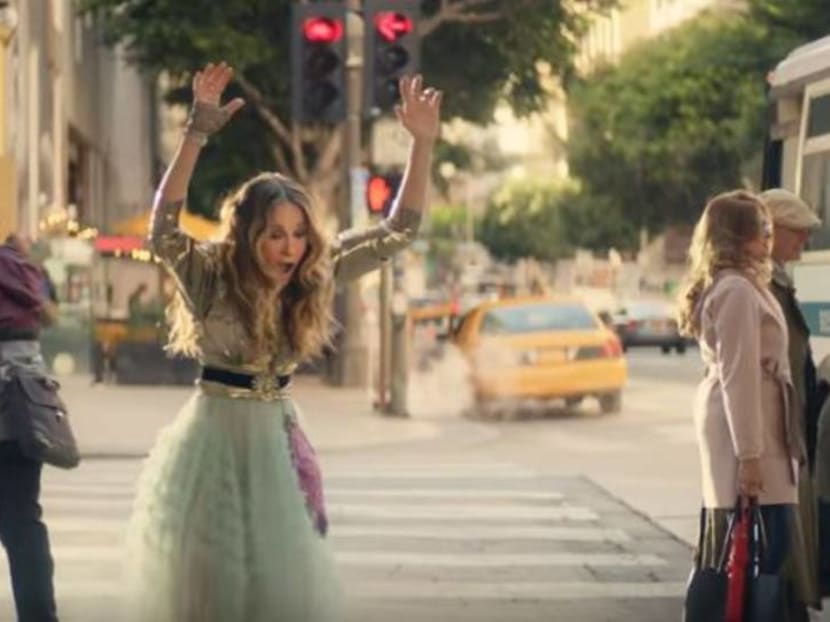 The final episode of Sex and the City may have aired 15 years ago, but that doesn't mean Sarah Jessica Parker is ready to say goodbye to playing Carrie Bradshaw just yet. Especially if it's for a good cause.
Parker has very briefly revived her iconic role in the latest campaign for Water.org. Dubbed Pour It Forward, an initiative with Stella Artois to help raise money and awareness for actor Matt Damon and Gary White's nonprofit organization ― aimed at providing safe water and sanitation to millions of people around the world.

The 15-second ad announces the beer brand's partnership with the organisation.

It begins with the familiar Sex and the City theme song as Parker is seen walking down a New York City street, but there are some key changes in the more recent version of that all-to familiar opening bus scene.

Instead of "Carrie Bradshaw knows good sex" on a sign, the bus that splashes a puddle of water on her in the original opening now reads "1 bottle = 1 month of clean water" with a Stella Artois label on the side.
The new banner sparks Carrie to rethink her beverage of choice. "I couldn't help but wonder, wasn't it obvious? You make a little change to do a lot of good," she narrates.
In an Instagram post sharing the ad, Parker captioned "My old friend. She is making a brief reappearance. Partnering with a great brand and supporting a cause we all care about. More to come. X, SJ"
Speaking to PEOPLE, Parker said that she's "never been asked to reprise Carrie Bradshaw for a campaign" before, but was excited when she was approached. 
"I just thought it was incredibly clever, and it made perfect sense. I really feel that this cause is important and urgent, and reviving Carrie in that moment was just the cherry on the sundae."
"It was peculiar in a way, but really, really fun and joyful. It was sort of like time stood still for a second and this alternate universe of that life was presented again."
Damon, who co-founded Water.org with White in 2009, says that bringing Parker on board was an obvious decision. "It's so huge for us to have this iconic character in this iconic moment to drive people to take action," he tells PEOPLE.
The actor also stars in a new Stella Artois commercial promoting the brand's Pour It Forward campaign, which promises to provide a month of clean water for every bottle of their beer sold in stores.
"We know we have this huge problem: over a million kids are dying every year totally needlessly and lives are affected in horrible ways, girls are out of school because they're doing water collection, but what can we actually do about it?" said Damon to PEOPLE.
"And Stella has done a great job of providing this action that people can take. Going into a bar and having a beer poured for you and you're giving someone who you'll never meet safe water for a month. It's a real way you can help, and to have Sarah Jessica  – or Carrie Bradshaw – show people how to do that, it's just awesome for us."