Sex And The City stars reunite in podcast to thank healthcare workers
Cast members including Sarah Jessica Parker, Kim Cattrall, Cynthia Nixon and Kristin Davis shout out the important work frontline medical workers have been doing during the COVID-19 pandemic.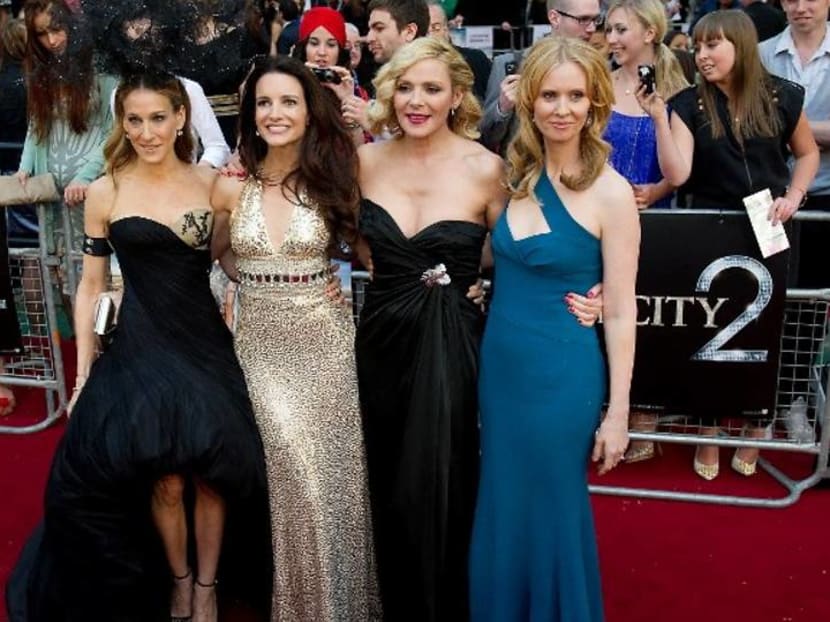 We may not get another Sex And The City movie so this is likely the closest we'll come to a reunion for now. In the latest episode of the Bradshaw Boys podcast posted on YouTube on Wednesday (Apr 8), the cast of the hit TV series got together to express their gratitude towards healthcare workers in their fight against COVID-19.
Those who appeared on the podcast included the original foursome: Sarah Jessica Parker, Kim Cattrall, Cynthia Nixon and Kristin Davis.
They gave a shout out to a healthcare worker named Meg who, according to the video description, is a doctor in New York City working in a COVID-19 Intensive Care Unit. She's also apparently a huge fan of Sex And The City too.
Nixon, who played Miranda in the show, had a personal connection with the hospital Meg works at.
"I know how amazing your hospital is, you saved my mother's life when she had a heart attack in 2001," she shared. "Thank you for what you are doing, I hear your husband is also an ER doctor. You're just our heroes right now. Please stay safe. And just thank you from the bottom of our hearts."
Parker, Carrie Bradshaw herself, expressed her gratitude towards Meg and other healthcare workers as well, saying: "I don't think we ever imagined we'd be asking this of our medical community. I don't know how to thank them enough."
Willie Garson, who played Stanford Blatch, called medical workers "heroes" and said: "Thank you so much for your work, it's incredible what you guys are doing. I know you guys don't often feel that way, that people are aware that you literally are saving lives left and right."
David Eigenberg (Steve, Miranda's love interest in the show) made an appearance as well, and said: "We all admire you and send our love to you and our hope, wish you all the best and want you to know you are cared for as much as we can from the places we are." 
Meanwhile, Davis (Charlotte) said: "Thank you so much for what you're doing. We know it's really difficult and it means so much to all of us that you are on the front lines."
"Keep on working hard, we're thinking about you," she continued.
"Without you, we couldn't keep going. I'm so glad to hear that we put a smile on your face as you walk across the park and get on that front line," said Cattrall, who played Samantha. "We're with you. We love you. We can't do it without you.