On Singai Naadu's 10th anniversary, this is the untold story behind Shabir's love song to the nation
The Singaporean musician recalls the challenges of independently writing a National Day song back in 2012, including pumping all his money into the project and being down to his last S$50.
Ten years ago, musician Shabir Tabare Alam decided to compose and sing a song for Singapore.
Singai Naadu, a soaring anthem, was instantly embraced by the Tamil-speaking community, who had been longing for a song that would join lonely Munnaeru Vaalibaa on a national stage. It wasn't until nine years later that Shabir himself finally performed the song at the National Day Parade (NDP).
"It was still 'the other song', until last year happened," said Shabir, who will take to the NDP stage again this year with Singai Naadu. "It took nine years. This year, it's like, 'Okay, the song is here to stay in the NDP."
The song's title means, "Singapore, my country".
This ground-up initiative's journey to officially becoming part of the canon wasn't an easy one.
Shabir recalled that the project, including producing the song and making its music video, cost about S$250,000, of which he paid about a tenth out of his own pocket – something he could scarce afford as a 26-year-old musician and a father to two young daughters.
"I was a month behind on rent," he recounted. To save money, "I didn't eat out for three months. I had to stinge on what I did with my kids – no outings, and I tried to cut down on transport and moving around too much. I was broke, but I couldn't show it," he chuckled wryly.
He remembers the song's production team meeting at a Starbucks to discuss the project, and the bill coming up to S$50. "It was the last S$50 I'd got, but I still had to pay it and figure out what to do later," he said.
"Even the clothes I'm wearing in the music video – one outfit was rented, and the other was my old stuff put together."
But, in spite of the challenges, "the intention was very clear – to contribute to the list of songs the nation has".
THE MAKING OF SINGAI NAADU
Back in 2012, "there was a sentiment in the Indian community: 'Why do we only have one Tamil National Day song, which is Munnaeru Vaalibaa?'" Shabir recollected. In addition to reading online comments on the topic, "I was part of the Tamil Language Learning Promotion's executive committee, and at the beginning of my tenure, I saw an item on the wish list that said, 'Can we have a new National Day song?'
"I saw it, and I asked people I knew how they felt about Munnaeru Vaalibaa. People who spoke Tamil told me, 'We like it and it's a fun song, but we don't exactly know what some parts mean.'" He explained, "In Munnaeru Vaalibaa, the syllables are structured in a way that's not intelligible when you sing the song", as the emphases disappear into the tune.
"This was a real problem, which was not acknowledged," he continued. Granted, "it's a once-a-year problem that happens only during National Day, but I'm in the industry, so I saw the urgency for change."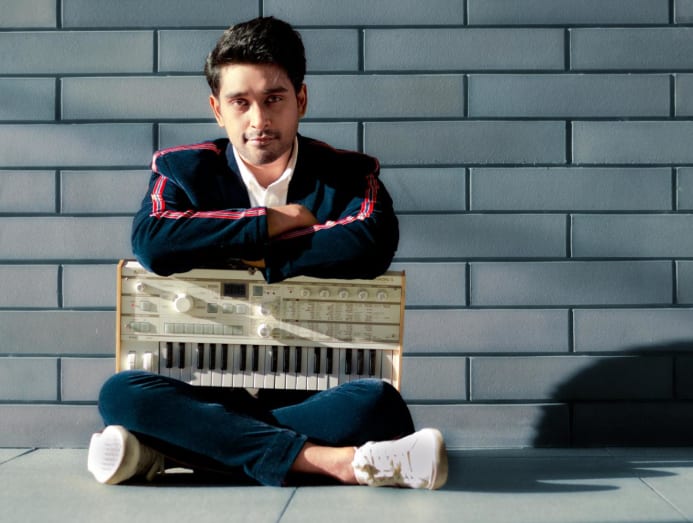 Furthermore, "I realised National Day songs are of a certain style. We (Indians) have to come with tabla and sitar. But, Indian culture is so rich. If I only use the erhu and guzheng every year to present a song, something is wrong, because there's so much more," he said.
"And, do all National Day songs have to be upbeat? No – they can be sentimental, emotional, melancholic. I wanted to do a complete contrast (to Munnaeru Vaalibaa).
"Singai Naadu is me putting forward an alternative, a solution. Let's have Munnaeru Vaalibaa, but add one more song to the list. Hopefully, more people come in and add more songs."
He mused, "Of course, there was insecurity. 'Why me? I only won the Vasantham Star competition – I'm not a big deal.' I didn't even know if I was a good composer. 'Shouldn't it be someone more established?'
"But, I realised, maybe I shouldn't wait. I should do it."
He assembled a team of freelancers to join the video's director Shariff Abdul and producer Raj Maiden, who volunteered their time; and proceeded to spend seven months working on the project.
This included canvassing for funds. "Going out and asking for money was the hardest part," he chuckled. "I didn't know I had signed up for that when I started writing the song. It was like, 'Now we've got to go find money and make the video.' And the scale and grandeur of it – multiple locations, profiles, a wedding – and it's still indie, not state funded."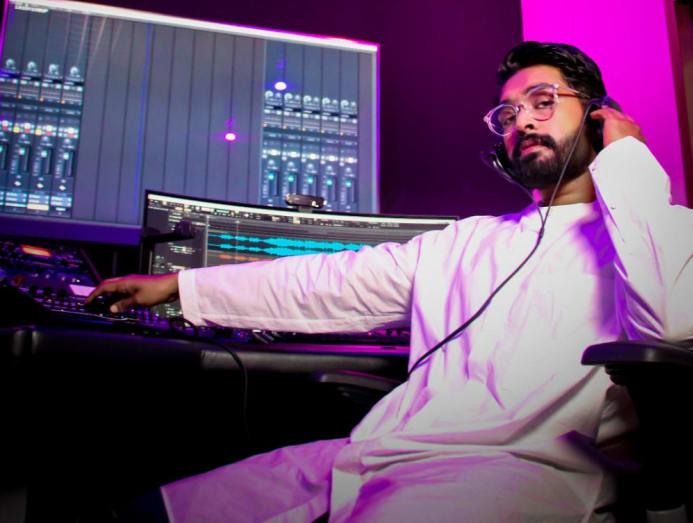 The song itself was also costly to record "because we had a choir and a lot of live instruments – the erhu; the rebana, which is a Malay instrument; and the nadaswaram. I thought it was important to have that (mix of cultural instruments) because I'd not heard it at any NDP. As a Singaporean who loves my country and loves the fact that we are (racially and culturally) integrated, I wanted to show the integration through my music. And, as a composer, I believe it's part of my business to show these instruments can properly come together, rather than exist in silos."
In the end, "entrepreneurs from the Indian community came on board to support the song, and that was great".
Still, "it started off feeling a little lonely, to be very honest. We were still kind of outsiders because we were not part of any NDP committee or writing team.
"But the end goal was in my mind. If it was not for the nation, I don't think I would have had that much persistence. I have not done it for any of my indie songs. When there's something larger than you at play – community, nation – then I don't know where the strength comes from. You do reach into that reservoir."  
Professionally, he knew that the song needed all the grandeur and polish it could muster. "I didn't want to cut corners or compromise," he said. "Tamil people from all over the world could listen to it one day. I didn't want it to come across in any way as inferior – musically, lyrically, sonically. It's a Singapore song. It will be here even after I'm gone."
FROM INDIE PROJECT TO NATIONAL STAGE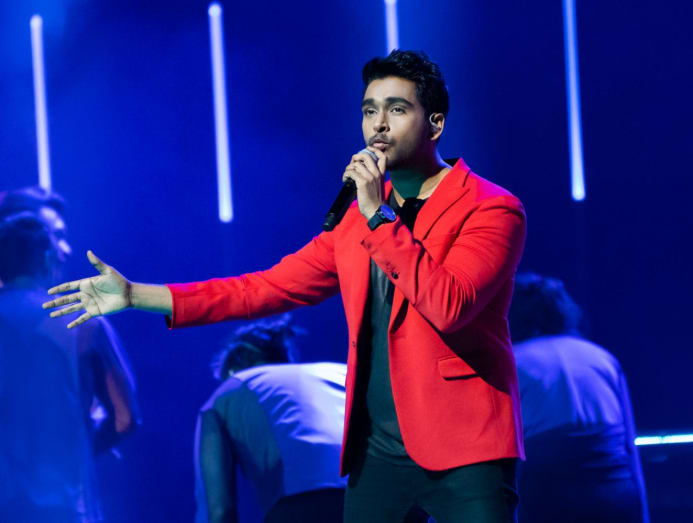 Shabir recalls the occasion when the freshly-minted Singai Naadu was first performed in front of a live audience. It was played just before an awards ceremony. "I get the opportunity to listen to the song with 1,000 people – like a mini listening party without me realising it," he recounted. "The song ends. There are eight seconds of pin-drop silence. Eight seconds is a long time for a theatre with 1,000 people, in a pre-variety show atmosphere. Then, someone starts clapping. Then everybody is cheering like they're watching a concert. That was when I really knew, 'Okay, the song is going to make it. People like it.'"
Although the song was not ready in time to be considered for the 2012 NDP, it was played during the pre-parade segment, and also came to Prime Minister Lee Hsien Loong's attention that year. "He tweeted and put it on Facebook. He really liked the song. He did play a crucial role in the song reaching out to people," Shabir said. "He jokes with me, saying we have to share the royalties."
Still, Munnaeru Vaalibaa remained the only Tamil song at the following year's parade. Singai Naadu went on to gain some traction, with segments of it performed in medleys, but it was only in 2021 that Shabir was invited to sing it on the official stage.
"In 10 years, I think I have all the reasons to believe the song could have been forgotten somewhere in between," Shabir mused. "All I heard from people was, 'Your song needs to be heard more.' It was still underground. Something changed last year when I performed it at NDP for the first time. The composer-singer-songwriter singing it at the NDP – that was like full circle for the song."
Shabir thanks Dr Sydney Tan for including the song in last year's lineup, and looks forward this year to performing an upbeat version of Singai Naadu for the first time, arranged by Don Richmond.
If there's anything he would go back and change about it, "I would make the song a bit louder," he quipped. "All the songs now are very loud!"
Does he think he would ever write another song for the nation? "I think I will, but not in Tamil," he said. "Maybe one in all the languages. I don't think we have one like that."
These days, Shabir shuttles between India and Singapore, scoring music for Kollywood films as well as producing independent songs. His latest indie release, titled Rubaiyat Kavithai, will be out on streaming platforms on Aug 12; it explores the relationships between classical and newer art forms, with the story of a poet falling in love with a Kathak dancer.
But Singai Naadu will always have a special place in his heart. From the beginning, he has always believed in its power. "There are some songs we know are not all that good – maybe I like it but people don't – but not in the case of Singai Naadu," he stated.
"I'm very appreciative that the song is liked by people, and I'm just glad that I could contribute in some way – my own little way as a music artist – to this whole conversation of nation building and racial harmony, and what it means to be Singaporean and look toward the future.
"As a musician, I don't think there could be anything better."
Catch Shabir at the National Day Parade on Aug 9.