Shallow spoof: Brie Larson, Samuel L Jackson channel Lady Gaga, Bradley Cooper
Larson once harboured teen pop star dreams.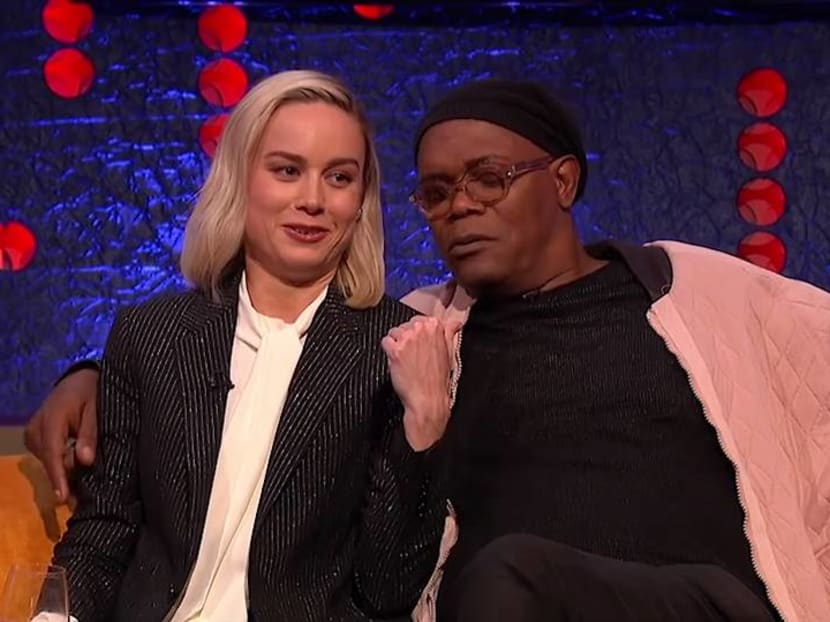 When you're Captain Marvel, you can do anything. That includes channeling your inner Lady Gaga at whim.
Actress Brie Larson and co-star Samuel L Jackson recently did a parody of the Oscar-winning singer-actress and Bradley Cooper singing their hit song Shallow.
The duo were guests on The Jonathan Ross Show in the UK on Saturday (Mar 2) to promote Captain Marvel, which opens in cinemas this week.
Besides talking about the superhero flick, however, Larson and Jackson – a good band name there, really – took some time to perform a parody of the song from A Star Is Born.
Prior to the surprise cover, Ross introduced the album artwork of Larson's 2005 debut studio album, Finally Out Of P.E., when she was a labelmate of Lindsay Lohan at Casablanca Records. Larson took the opportunity to mock audition for The Voice, with the host and fellow guests Jennifer Hudson and will.i.am as the judges.
Hudson herself was on the show to talk about her role as Aretha Franklin in an upcoming biopic on the iconic singer. The American Idol alum belted out Franklin's 1967 hit Respect with backup vocals by Jackson.
Captain Marvel opens in Singapore on Mar 7.