Sheila Sim has baby news: She and her husband are expecting a daughter
The baby is due in September, and the actress is taking the "circuit breaker" period to rest and to prepare for her arrival.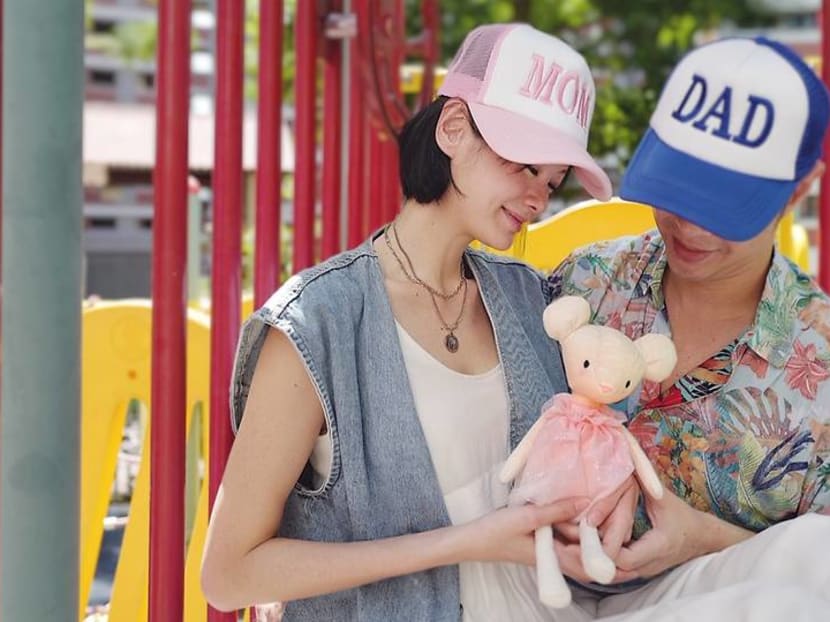 Sheila Sim has just announced that she's four months pregnant with a baby girl.
The 35-year-old model-turned-actress and her banker husband, 39-year-old Deon Woo, have always wanted a daughter, and they're over the moon.
"I have been very giggly," Sim told CNA Lifestyle in a phone conversation on Monday (Apr 27). "I giggle at the stupidest thing."
The journey to parenthood hasn't been completely smooth, though. After tying the knot in early 2018, Sim had been upfront in interviews about wanting to become a mum, but when that didn't happen right away, "we went to see fertility doctors." That was when "I realised I had fibroids in my womb – and there were a lot of them."
In September last year, she underwent an operation to remove the fibroids.
"There was a lot of uncertainty. Before we went to the doctor, we didn't know that that was the reason we weren't getting pregnant. I'm always quite positive and I believe everything happens in God's time, but at some point, I told my husband, 'If we really can't conceive naturally, then so be it'," she recounted.
But not long after the operation, within a period of five months, she began feeling unusually tired – and a home pregnancy test turned up positive.
"I really feel very blessed because before the pregnancy, I had Diana Ser, who knew I was trying for a child, message me to ask whether I had done all the checks. I was 34 and she said, 'If you're going to be trying, get the checks done and get all the questions out of the way first.' So, that's what I did. I'm thankful for angels and their pro tips. The women's community is so strong, powerful and important… It's important to know your choices and to stay happy."
DISCOVERED PREGNANCY ON ANNIVERSARY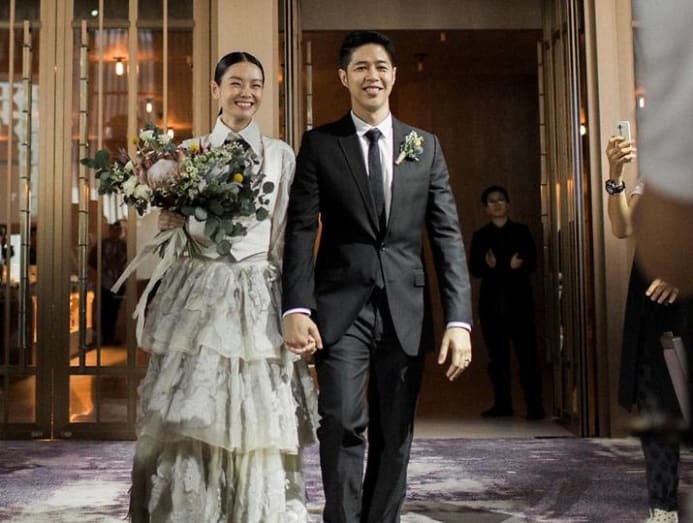 Sharing the news with her husband was an eventful affair.
"I found out on the day of our second anniversary," Sim said. "I had one pregnancy kit left at home and I used it. A very obvious line appeared. I went through that moment by myself, like, 'Is this for real?' Every special occasion, my husband and I write each other cards. I had a card for him and I put the pregnancy kit in the card… He was in shock for about five minutes. He couldn't really talk. He was very, very happy. I think he's always wanted a baby more than I, because his twin brother was already a father by the time we got married."
They also both wanted a girl, but they tempered their expectations, especially when close friends said they thought the baby would be a boy. So, when they found out they were expecting a daughter, there were celebrations all round. "Girls are so sweet," Sim said. "I have two nieces and they're both sweet and tender, and not super hyper. Girls are closer."
The "circuit breaker" period has meant that Sim has had a lot of time to spend resting and nesting at home. "I feel very blessed because I have so much time to prepare the house for the arrival of my baby. I've been doing a lot of decluttering. If not for the circuit breaker, I really don't think I'd have the time or energy to spring clean. I'm also resting at home a lot and have a lot of time to do research and come up with recipes for eating healthier," she said.
Taking courses in positive psychology and growing into the person she's now become have helped to prepare her for pregnancy in a time of COVID-19. "Had I been the person I was previously, I would really be struggling – not being able to go out, drink and socialise," she said. "I have eased into this quite smoothly."
Keeping doctor's appointments hasn't been any more troublesome for her than for anyone else, she said. "Initially, I felt a bit of anxiety and fear because it's not just me now. If I get the virus, I know how to deal with it, but I don't know what's going to happen to the baby inside me." But she's taking precautions by wearing a mask, sanitising and washing her hands.
Due to the circuit breaker, the couple has had to cancel plans for a babymoon, shopping trips and massage sessions, and Sim has had to give up going for yoga and pilates classes. "But, to be honest, I feel like even though it's a very challenging period, we are all prepared for it – a lot of things are digitalised, like banking and information that's available on the internet and YouTube."
A SMOOTH PREGNANCY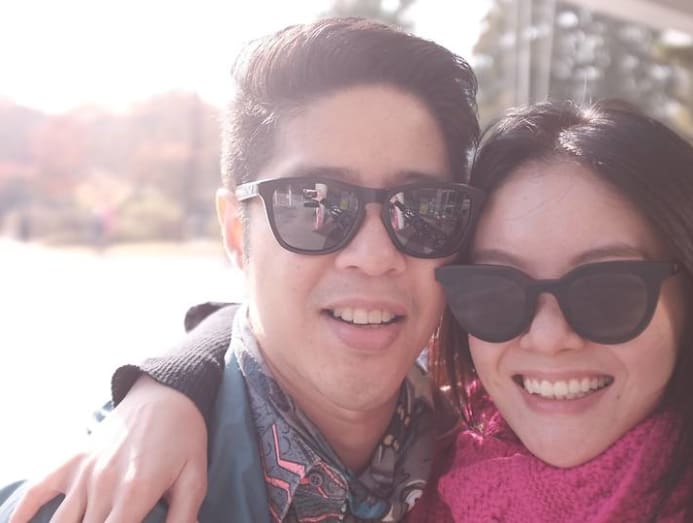 Pregnancy hasn't been difficult so far, save for insomnia and backaches.
"My husband is very surprised because I'm usually the kind of person who has a craving every day. I'll wake up and say, 'Today I feel like eating this.' So, he was expecting to have to travel far away at midnight to get something I specifically wanted. But none of that has happened," she said. "I've had no morning sickness or special cravings."
Instead, her husband has developed sympathetic pregnancy symptoms. "I've been having backaches – he strangely has been going through every symptom at the same time. I don't know whether he's coming up with all these imaginative things or if it's really hormonal," she chuckled.
She's appreciative of her husband's support. "One of the sweetest things he did was to ask me one day, 'Do you feel like I love the baby more than you?' I said, 'No, I don't.' He said, 'Okay, that's good, because I want to keep it that way. I want to make sure you always feel like I love you more.' What more can I ask for? Through all the relationships, I really can't imagine someone else going through this journey with me. He's just so assuring all the time. Sometimes I'll say, 'I feel so fat; I cannot fit into my clothes.' He'll say, 'Don't say that – the baby will hear you!'"
Experiencing her first pregnancy at the age of 35 is also something to be thankful for because many of her friends have been there and done that, and she's able to benefit from their expertise. "I really don't know what I'd do without all this advice. Within my group of friends, the one who got pregnant first had to get all the information from Facebook forums. I feel so lucky because I don't have to do that – all these confinement nanny numbers were given to me."
With baby due in end September or early October, Sim won't be able to take on acting roles in the near future, but will fulfill her commitment to filming the second season of the drama How Are You?, after which she would like to concentrate on building her online positive psychology platform, The Positive Moment, which she runs together with online personality Jade Seah.
Meanwhile, she's busy setting up the nursery, following online yoga courses and preparing to welcome a little one. "I always knew we wanted to have a family of our own. I'm very grateful… I feel very blessed. All has happened in God's time."