Join the entire nation in singing Home to thank healthcare, migrant workers
The singalong event, Sing Together Singapore, will take place on Saturday (Apr 25) at exactly 7.55pm and will feature local celebs like Dick Lee, Taufik Batisah, Shabir as well as Mediacorp artistes.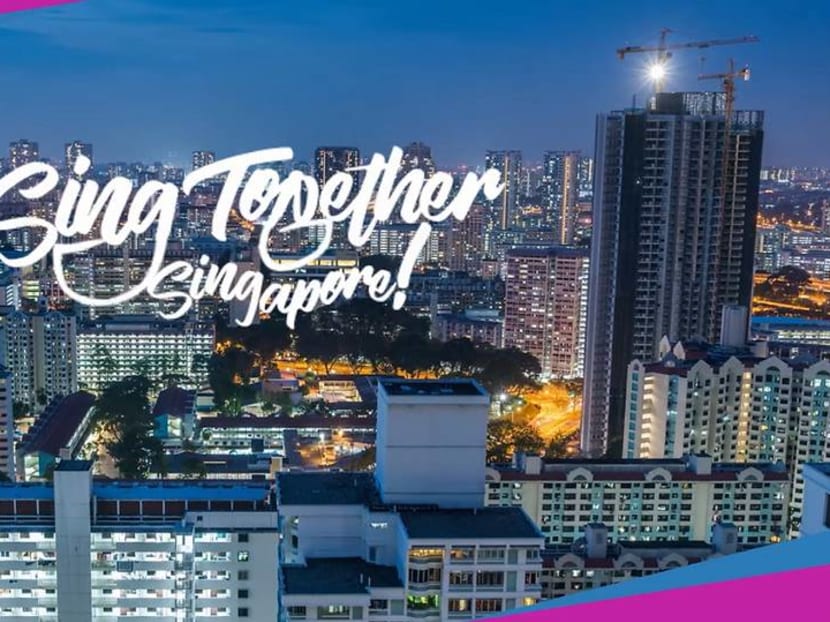 Get ready for Singapore's very own crossover event as the nation's media industry participates in the biggest singalong event ever, Sing Together Singapore.
On Saturday (Apr 25) at precisely 7.55pm, local celebrities will be singing the ever-popular NDP favourite, Home. 
The song's composer Dick Lee, along with Rahimah Rahim, Shabir, Taufik Batisah as well as Mediacorp artistes Desmond Tan, Felicia Chin, Rebecca Lim and Vernetta Lopez will be taking part in the event. 
They will be backed by the 900 members of the Voices Of Singapore choir.

Those at home are encouraged to take to your balconies and windows to sing the song as well, wave a torchlight and even record yourselves. 
You can then upload the clip of your performance to social media with the hashtags #singtogetherSG, #SingaporeTogether and #stayhomeforSG. Selected entries will be featured on a special music video that will be shown later that same night at 10.30pm.
The massive "karaoke" session is intended to rally Singaporeans to show our support and appreciation for our healthcare and migrant workers.
According to the press release on Thursday (Apr 23), the initiative also aims to encourage all Singaporeans to keep their spirits high and to stay united as everyone remains at home during the extended circuit breaker period.
"We hope that this small initiative can help to boost some morale and at the same time, show our appreciation to all the frontliners and volunteers who are out there fighting for the nation," Taufik told CNA Lifestyle. 
"I do hope the lyrics will be a reminder to us that more than ever we need to stick together and help one another wherever possible."
Lopez added: "Families will be coming together for a very special moment in Singapore's history. Every child should look at their parents and say, 'I'm with you here and now.' If every block and estate has voices ringing out, and social media goes nuts with everyone's uploaded videos, that would make every frontline worker realise that we love them for what they're doing."
Singapore's media industry has teamed up for the effort, namely Mediacorp, So Drama! Entertainment, SPH Radio, mm2 Entertainment, AsiaOne, the Association of Independent Producers (AIPRO), and the Mediacorp Partner Network companies comprising 99.co, Popcorn, theAsianparent, The Walt Disney Company South East Asia and VICE Media.
Sing Together Singapore is supported by Gov.sg and Nexus MINDEF.
According to Irene Lim, Mediacorp's chief customer officer: "It is heartening to see so many media industry partners come forward to lead and be involved in this meaningful event that truly unites people from all walks of life across Singapore."
She added: "While we are all physically apart in our respective homes, I hope everyone can come together this Saturday to show the Singapore spirit by joining the singalong."
You can watch the singalong through the following channels: Mediacorp platforms on meWATCH, meLISTEN, TV channels, radio stations and social media pages on Facebook, Instagram and YouTube.
You can also catch it on SPH Radio, Camokakis radio stations, and the Gov.sg Facebook page. The special music video at 10.30pm will be available on Mediacorp platforms on meWATCH, YouTube and TV channels.