War, peace and biceps: Inside the world of competitive arm wrestling in Singapore
Meet the members of the Singapore Armwrestling club. They started at a void deck in Yishun – now they're flexing their muscles at Boat Quay for all the world to see.
Not many people would have the audacity to approach total strangers and challenge them to a bout of arm wrestling.
But when Valen Low was a teenager, that's exactly what he would do.
"When I was about 16, I'd go up to random people in coffee shops and ask if they wanted to arm wrestle," recalled the 24-year-old Singaporean.
"Most of them would look like they trained in the gym and I was quite flabby at that point in time so they didn't know any better. Then they'd be shocked if I beat them!"
These days, Low waits for strangers to come and challenge him.

Every Saturday evening, while the rest of Boat Quay's denizens are boozing and shooting the breeze, he and a group of like-minded arm wrestling enthusiasts gather in front of The Public House. For a few hours, they grunt, lock arms and flex their biceps as curious passersby gather – and perhaps even work up the courage to try their luck in beating them.
SOCIAL MEDIA STALKING AND HDB TRAINING
Low is the captain of Singapore Armwrestling, the only group of its kind in the country. It began back in 2011, after he and a friend decided to take their unusual passion to the next level.
"I would arm wrestle my classmates in school for fun," he said. "Then I slowly discovered it was actually a professional sport with competitions held overseas. So I decided I'd do competitive arm wrestling. And after O-Levels, I tried to start a club because there were none around."
The group started small. Low and a couple of his friends would have weekly training sessions, first at the balcony of his Yishun home before shifting to the void deck of an HDB block four years ago.

Earlier this year, they moved their weekly training to the city centre. The Public House owner Alvin Phua had chanced upon them online and thought the group was worth supporting.

"It's the same for every other sport, whether it's badminton, capteh or football – it's something you do for fun when you're young," said Phua. "But these guys took it to the next level. I played with them once – and I had to recover for a week! These guys do this for hours."
Most of them would look like they trained in the gym and I was quite flabby at that point in time so they didn't know any better. Then they'd be shocked if I beat them!

Through the years, Low's band of brothers expanded, as he discovered there were others just like him, whether through word of mouth, chance encounters or simply by stalking possible members on social media – which is how the group's vice captain Tay Jia Jun was recruited.
"I saw him on Facebook. I saw he was quite muscular so I thought, 'That guy has potential.' I had never met him!" shared Low.
"He messaged me: 'You look quite strong'," added an amused Tay. "We added each other on MSN Messenger and started to webcam each other. After that, we met and arm wrestled."
Today, Singapore Armwrestling has 15 members, the youngest of which is 16 and the oldest is 39. The majority of them are currently NSF or regulars, and students.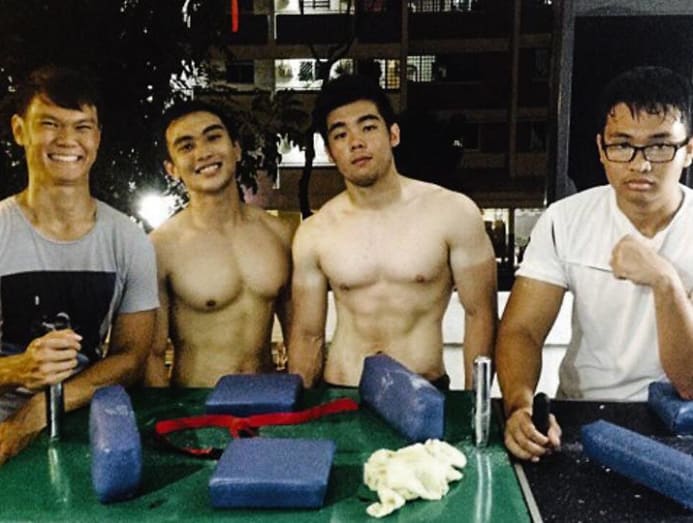 And if you're assuming this a boys-only club, think again: The group now includes two relatively new female recruits who are currently learning the ropes.
"Most people would have the perception that it's for guys but that's not true. I came by a month ago to see their training, then I actually tried it out and found it interesting," said Shannan Fong, who works in events and marketing.
IT'S JUST LIKE ANY OTHER LEGIT SPORT
Despite their passion, arm wrestling is still seen by many as a kind of game rather than a legit sport.
"At first glance, it might seem to some that it's 'just that', but it involves a lot of things you don't see," said Tay of the skill behind what appears to be a straightforward display of strength. "When you get into it, there are a lot of physics and specific calculations to the movements. Every millimetre, movement, angle counts."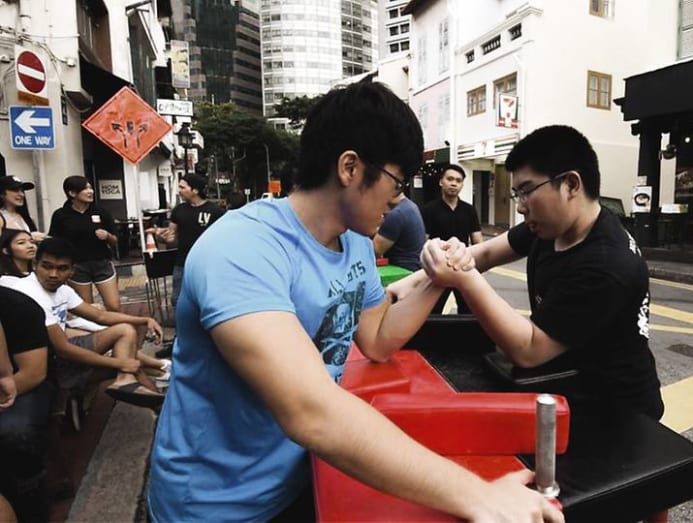 "It's also an intelligence sport, somewhat similar to chess," added member Joshua Park. "There are many kinds of styles, moves and angles. And you have to have the mental drive for it."
Like any other sport, it uses proper equipment (like a specialised table with pads and grip handles) and is bound by rules (official competitions have referees, and there are various categories according to age, weight and whether you're a lefty or not).
There's also the risk of injuries if one isn't properly trained "Major injuries usually happen to people who are newcomers who think they're very strong and compete in professional competitions – I've seen quite a few broken humerus," said Low.
And while there's really not much of a competitive scene here – Chinese language daily Shin Min previously held contests but has stopped – it's a big deal elsewhere.
The sport's umbrella World Armwrestling Federation has been recommended for full membership into the Global Association of International Sports Federations, the biggest club for all sports groups. And, yes, it might take a while for arm wrestling to become an Olympic sport, but it's gaining headway into recognition in the Paralympics.

When the referee says 'go', every single muscle fires up and the adrenaline kicks in – before that sensation of peace after pinning my opponent.

But even without the thumbs up from these groups, professional arm wrestling competitions are held worldwide. Some of these events have around 200 to 300 participants, said Low – and Singapore Armwrestling members are owning the competition.
Low himself, who has been going for competitions since before the group began, has taken first place in various competitions in Australia, Japan and China, while Tay has placed first in Malaysia. Other members have also finished high in these competitions.
THE FUTURE OF ARM WRESTLING IN SINGAPORE
But in Singapore, at least, members might have to be a bit more patient as they try to push for more recognition.
The group itself has yet to be officially recognised by Sport Singapore,"but we're looking in that direction," said Low. In order to become more visible, the group is also actively looking to take part in various events, sporting or otherwise.
On Oct 27, they'll be holding arm wrestling championships during the Show Of Strength multi-sport event (which also includes another unusual and under-the-radar power sport, log lifting).
The Public House's Phua is keen on giving more exposure to the group – he plans to pitch an inter-pub competition to his neighbours, and has even reached out to Singapore River One, which organises the Singapore River Festival.
Until that time comes, Low and his merry band of arm wrestling friends will still be hanging out in Boat Quay every Saturday evening to train and take on challengers.
And for Low, it's a feeling like no other.
"When you're on the arm wrestling table, everything suddenly becomes quiet. And when the referee says 'go', every single muscle fires up and the adrenaline kicks in – before that sensation of peace after pinning my opponent.
"It's like my mind going through the stages of peace, war and the ultimate zen state."