Transforming a 4-room BTO flat into an open-plan home with city views everywhere
CNA Lifestyle's Making Room series looks at small homes that were given big transformations. This week, a couple takes us around their open-concept home with just enough privacy.
When Lynn Yang and her husband Ronald got the keys to their BTO four-room HDB flat in Whampoa, they envisioned a timeless-looking home inspired by a minimalist design.
Another must-have on their wish list: "To open up the home, and let the living, dining and kitchen areas be one space".

"We also really liked the city view from the kitchen, so we requested that things continue to be visible for us whether we're cooking or hosting," said Yang.
But at the same time, they wanted privacy and clear demarcations of the various spaces throughout the home.
These two criteria might seem like a contradiction in terms, but interior designer Low Chee Kiang of 932 Design Consultants helped them achieve their vision.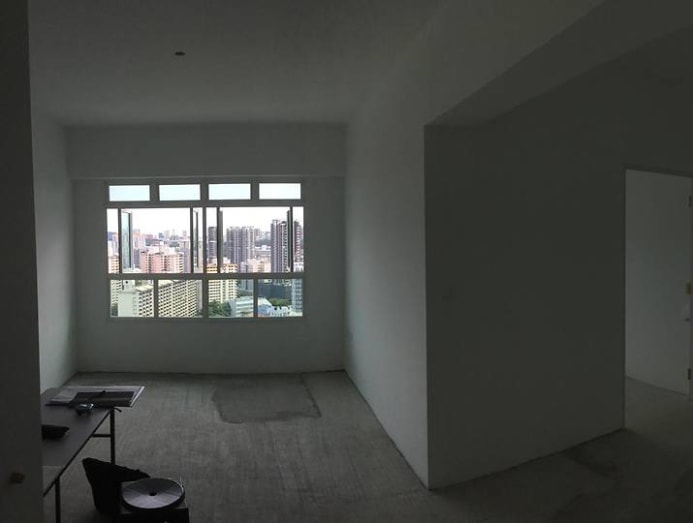 The walls between the original kitchen, living/dining area and the third bedroom were removed, and the flat's layout was smartly reconfigured in a series of clean lines that make the space look larger and create a beautiful flow.​​​​​​​

The U-shaped, open-concept kitchen is located immediately left of the main door. It has an island bar counter that faces the side-by-side living and dining areas, such that all three areas have views of the city skyline.
This also allows the hosts to easily interact with their guests even if they're busy cooking. A built-in induction stovetop provides a clean, seamless look and frees up the counter top for dining once the cooking was done.
Another clever strategy employed was to keep the various spaces of the home somewhat separate, yet visually connected.

For example, the living area – which is furnished simply with a low-slung, extra-deep sofa in a muted, medium-grey fabric placed against a wood-panelled feature wall and a rectangular wood and metal coffee table – is partially segregated from the dining area by a floating divider perched atop a narrower base. 
A flat-screen TV and speakers are mounted directly onto the divider, thus doing away with the need for any additional pieces of furniture, such as a TV console.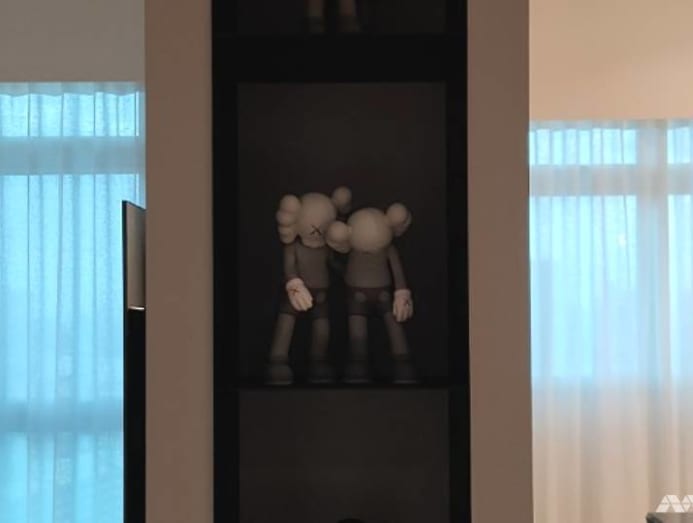 The divider also serves as a display area for their quirky collection of Kaws Companion figurines by Brooklyn-based pop artist Brian Donnelly – the only obvious forms of ornamentation in this austere, Zen-like space.
On the other side of the divider is the dining area, a neat, rectangular space containing only a black glass-topped rectangular table and six slim-profile black chairs. "We like hosting friends so over the weekend, this table is not only for dining, but for poker games," shared Yang.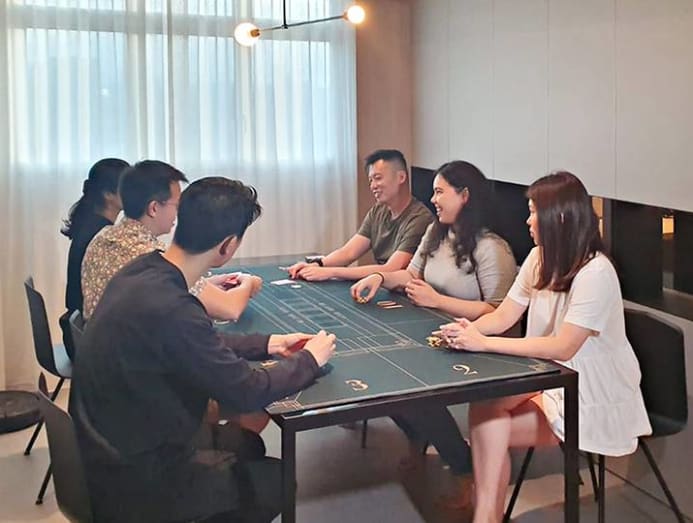 This space is physically segregated, yet visually connected, to the adjacent study room (which was formerly the second bedroom) by a row of white custom-built top- and bottom-hung storage cabinets united by a central row of glass panels that served as "windows" between the two spaces.
When it came to the master bedroom, the couple wanted a king-sized bed and lots of storage. So to keep the design language uniform, the interior design company hacked away the old bathroom door and created a concealed door leading to the master bedroom.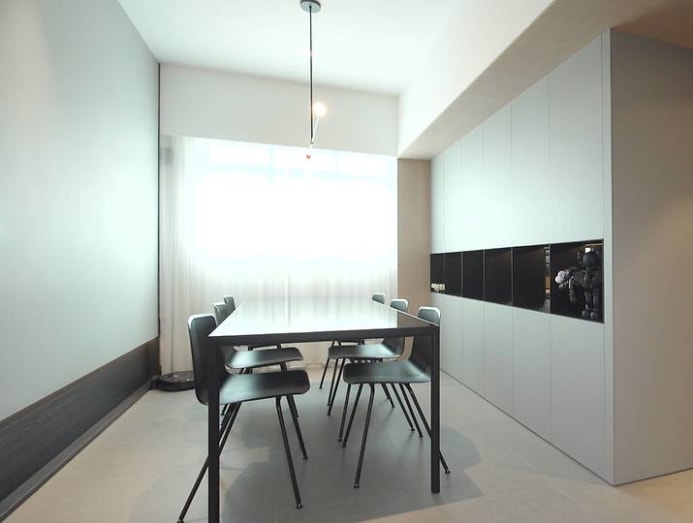 Opening up the walkways between the study, master bedroom and bathroom also helped create an illusion of an en suite with a study, making the room feel extra spacious.
The master bedroom, which sees a mid-height, backlit blond wood "headboard" running the entire length of one wall, contains only a king-sized bed, two utilitarian-looking bedside tables, and a row of floor-to-ceiling built-in wardrobes, all made of the same material as the headboard.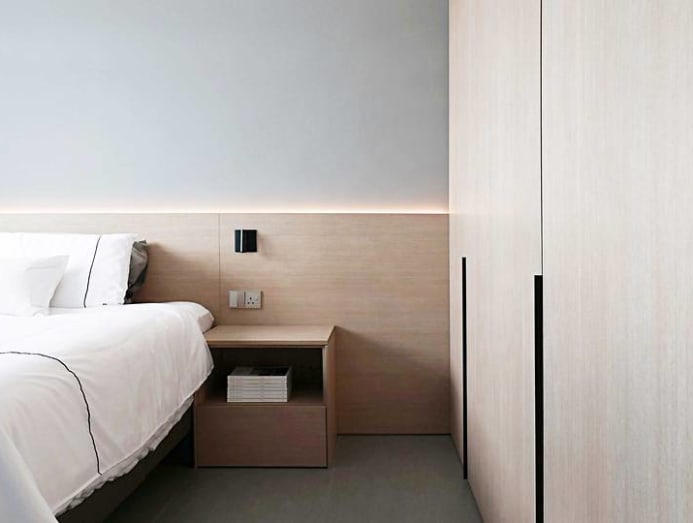 A soothing and muted palette of neutrals such as white, grey, blond and dark wood, and black used throughout the home help keep create a unified and ageless feel. "Grey walls are timeless and classy, and add a hint of cozy to every room, mood and setting," said Yang.
Achieving a truly minimalist look requires paying attention even to the smallest details, such as making sure that the air-conditioning units were neatly concealed behind white grille panels, and opting for light switches in muted brushed-metal tones.

And instead of opting for dramatic statement lighting, unobtrusive light fixtures such as recessed downlights were chosen instead. The owners even took extra care in selecting home accessories, such as crockery, vases and humidifiers, that embody the aesthetic of their space.
"The place is framed very nicely. Everything is concealed. It's clean, it's very neat. That's what I really like about our house," said Yang. "I just want to come home every day and laze. For me, that is the best thing about the house."