Transforming a 517 sq ft condo into a colourful, cosy home fit for a busy bachelor
CNA Lifestyle's Making Room series look at small homes with big transformations. This week, the tiniest home featured in our series belongs to a flight attendant who made it a luxurious retreat.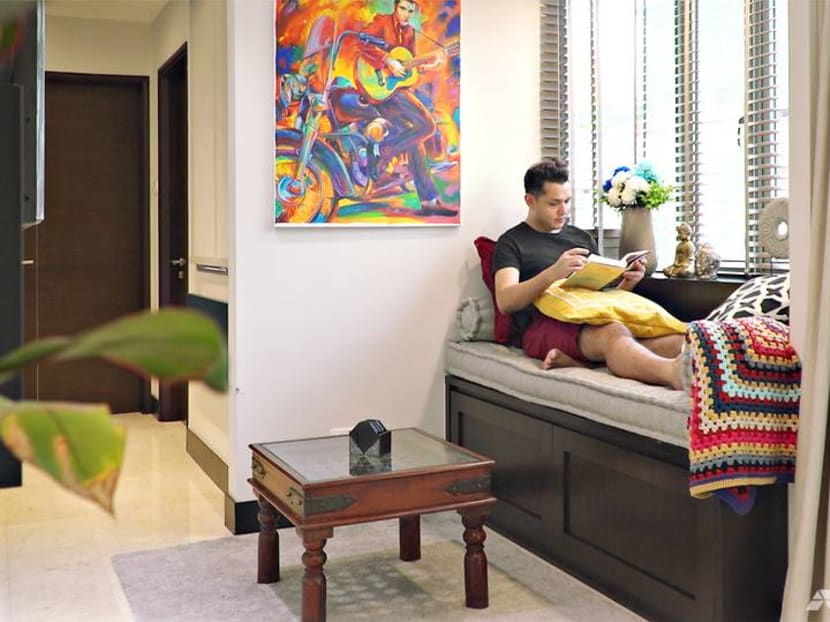 Flight attendant Bhupinder Singh is constantly on the move because of his job, so he wanted to create cosy corners around his 517 sq ft condo unit to unwind and retreat from his busy schedule.
CNA Lifestyle's Making Room series look at small homes with big transformations. This week, the tiniest home featured in our series belongs to a flight attendant who made it a luxurious retreat
So he engaged Aiden T, an interior design firm that prides itself in creating "luxurious but liveable" interiors that are "never stuffy" and easy to maintain – perfect for someone with a busy but eventful lifestyle like Bhupinder's.

A neutral colour palette was used throughout most of the home – white walls, cream marble floor tiles in the living and dining areas, and dark wood furniture and wood trim give the apartment a cohesive look, while creating a welcoming and classically elegant hotel-like ambiance.
At the same time, lots of smart space-maximising tricks were employed to make the tiny home look a lot larger.
For example, a wall-to-ceiling mirrored feature wall resembling black-framed French windows was built at the farthest wall of the apartment where the dining area is, effectively creating the illusion that the apartment is twice its size.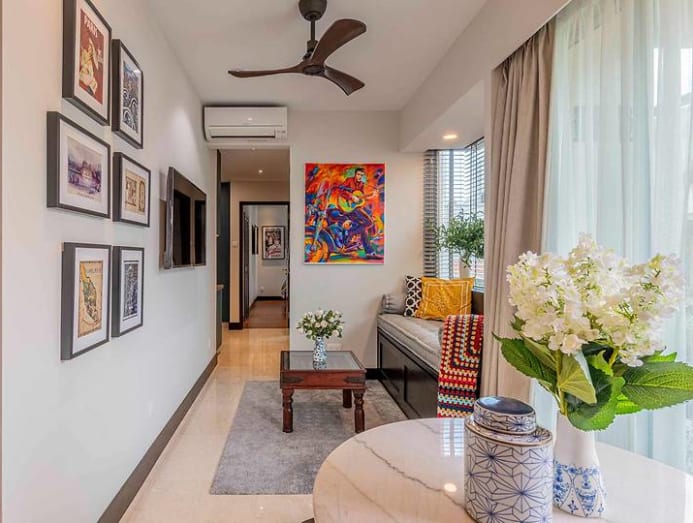 It also conceals plenty of hidden storage, an important detail since Bhupinder needed to store the bulky tools of his trade – three suitcases – within easy reach.
"In compact spaces, the right kind of furniture is crucial," he added.
Pointing to the round retro marble-top dining table which comes with four dark-wood stools, Bhupinder explained: I chose this old school kopitiam-style dining table – it maximises my space and at the same time, brings a uniquely Singaporean touch."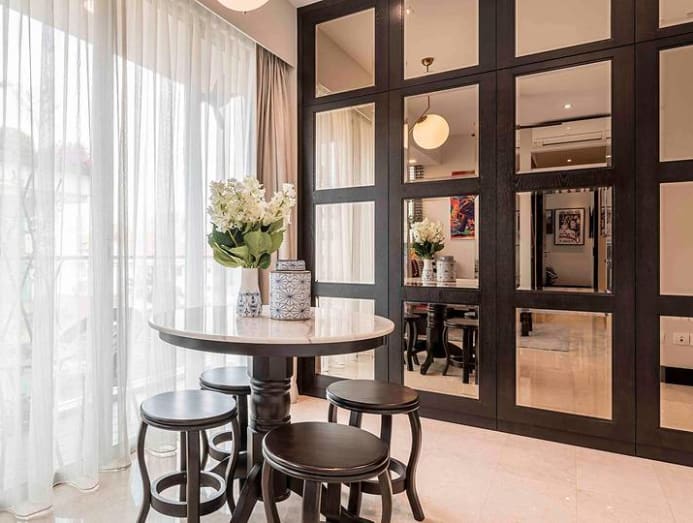 Right beside it is a gallery wall of framed prints for a more nostalgic "colonial" charm.
To create extra space in the tiny, narrow living area, a daybed in dark wood was built onto the bay window. Topped with a resort-style tufted rectangular mattress in grey cotton, it features pull out drawers below for stashing extra throws and cushions.
A flat screen TV mounted on the wall opposite the daybed does away with the need for a TV console.
Bali-inspired accessories, such as an antique coffee table, silvery Buddha head ornaments, cushions, and stone carvings, help achieve the contemporary resort feel, too.
"I do have a colourful personality, so I incorporated very vibrant, very attractive colours," he said, referring to the crocheted Afghan throw that was handmade by his mother, and an Elvis-themed pop art painting on the wall beside the daybed.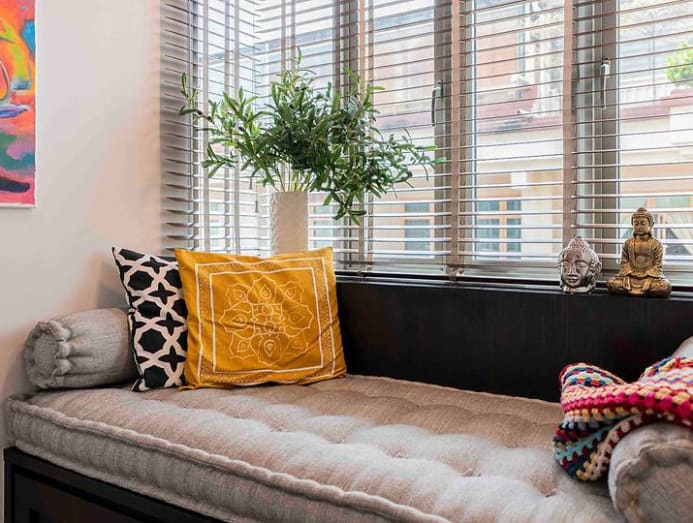 "It's my favourite space in the whole apartment. This is where I spend most of my time reading and watching television," Bhupinder declared.
To make the master bedroom appear larger, the queen-sized bed was reoriented to fit into the nook of the bay window. Its custom-built headboard also functions as a chest, thanks to a flip-top lid which reveals hidden storage.
Right next to the bed is a desk, above which a rectangular wood-framed mirror is placed horizontally. This helps create the illusion of a more expansive, light-filled space.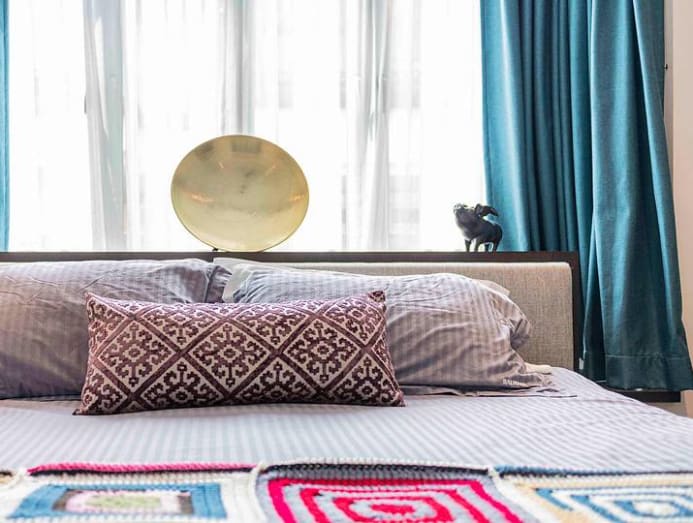 Bhupinder also installed a customised pole system within his walk-in wardrobe, featuring a combination of built-in shelves, drawers and racks that optimises the space while keeping everything within reach.
An eclectic range of decor items, such as horse figurines and vases filled with flowers, add a touch of warmth and luxury. Outside on the balcony, potted plants and a dining set for two create a chillout zone where one can enjoy fresh air and a bird's eye view of the neighbourhood.
Meanwhile, the kitchen's unconventional colour scheme provides a strong contrast to the rest of the apartment.
"The kitchen is a transitional space. This is where I wanted to do something different, something more exciting. These bold, teal-coloured kitchen cabinets are paired with a beautiful metallic backsplash and it has really brought a touch of luxury to the place," said Bhupinder.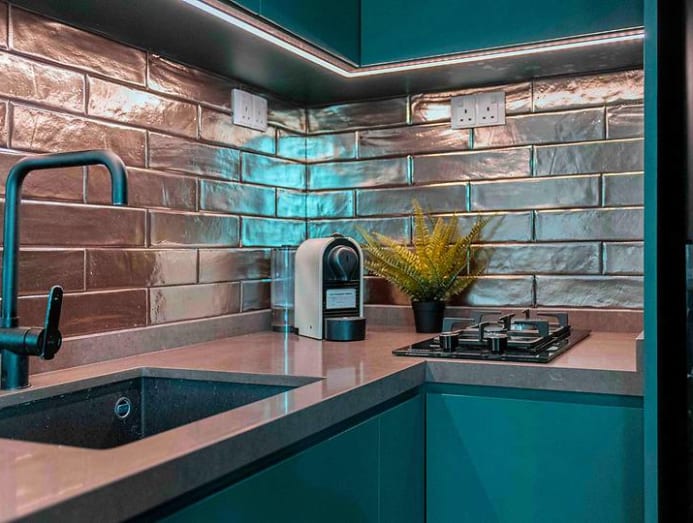 Despite its compact size, the kitchen was designed to be highly functional. A two-burner cooking hob allows him to whip up simple meals, while a full-sized fridge provides plenty of room for storing groceries.
The washing machine is hidden behind a cabinet door, while a tall cupboard holds everything from glasses, spices, health supplements, dry goods and alcohol, despite being only 15cm deep. "It's convenient at the same time because I can see everything at a glance and I can just pick out anything I like," he said.
A collapsible counter near the entrance of the kitchen comes in handy when he needs to do meal preps or when he needs extra space, yet folds away neatly and easily when not in use.
Ultimately, this 517 sq ft one bedroomer is a picture-perfect example of how a home many would consider to be too tiny, can be transformed into a comfortable yet elegant space that's just nice for one person, with enough room to entertain guests in style.