Things to do during the Singapore F1 weekend: Concerts and events from Sentosa to Kampong Glam
Time to rev up your party engines because the Singapore F1 is finally back after a two-year absence with activities and events galore for everyone.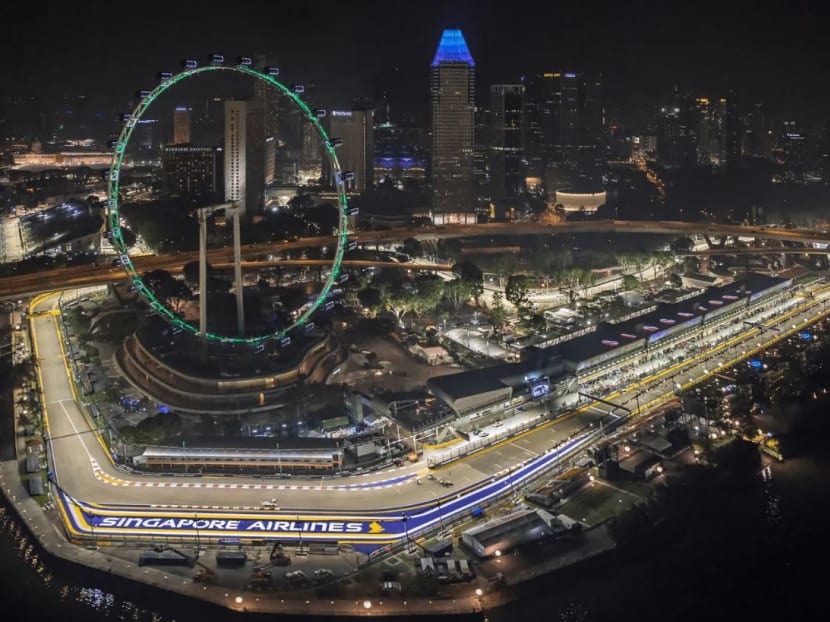 This weekend, tens of thousands of fans are expected to converge for the Singapore Airlines Singapore Grand Prix event, which runs from Friday (Sep 30) to Sunday (Oct 2), as the Formula 1 night race roars back after a two-year pandemic-induced absence.
The obvious thing to do is, of course, watch the race. But for those interested in things other than fast cars zipping around our streets, there is quite a diverse collection of race-themed (naturally) events that cater to all ages and interests.
CNA Lifestyle has rounded up a list of activities and events worth checking out during the upcoming race weekend.
WHAT: Formula 1 Singapore Grand Prix Concert
WHY: It's a star-studded music extravaganza with an entertainment line-up boasting more than 75 performances across eight stages.
Here's a recap of heavy-hitters descending on our shores:
Grammy-nominated Marshmello will be performing at Padang Stage Zone 4 on Sep 30 while fans can catch Irish boyband Westlife at the Padang Stage Zone 4 on Oct 1.
American pop-rap group Black Eyed Peas – currently consisting of will.i.am, apl.de.ap and Taboo – will perform at the Padang Stage Zone 4 on Oct 1 and the Wharf Stage Zone 1 on Oct 2.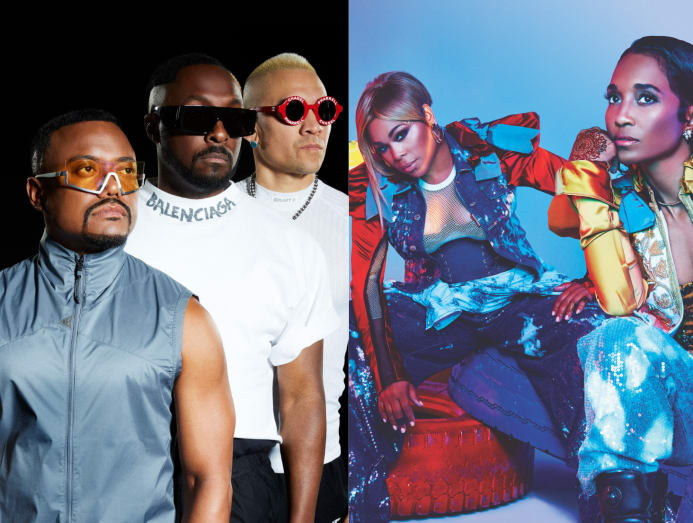 TLC, now made up of Tionne "T-Boz" Watkins and Rozonda "Chilli" Thomas, as well as British alternative band Suede, fronted by Brett Anderson, will be belting out their hits at the Wharf Stage Zone 1 on Oct 1.
Australian rapper The Kid Laroi will be performing at the Padang Stage Zone 4 on Oct 2. And finally, legendary American punk group Green Day – made up of vocalist Billie Joe Armstrong, bassist Mike Dirnt, and drummer Tre Cool, is set to rock the Padang Stage Zone 4 on Oct 2.
WHERE: Across various stages in the F1 circuit park
WHEN: Sep 30 to Oct 2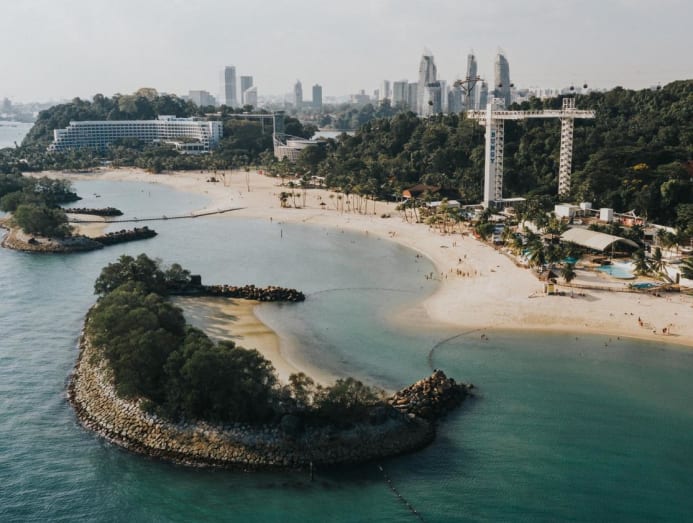 WHAT: Sentosa Beach Jam
WHY: For the foodies, stimulate your taste buds with gastronomical delights from around the world at the Central Beach Bazaar. Meanwhile, movie buffs are invited to take their shoes off, sit back, relax and watch race-inspired movies, including the critically acclaimed Ford V Ferrari.
As for the adrenaline junkies, they can hop onto racing simulators, and race against time to clinch the championship; or hit the Skyline Luge at Sentosa for the best gravity-fuelled thrill ride.
WHERE: Sentosa
WHEN: Various events ongoing until Oct 2, 6pm to 10pm
WHAT: Kampong Gelam - Glamboyant
WHY: Set against Kampong Glam's familiar backdrop of colourful street murals, heritage buildings and indie boutiques, locals and visitors can revel in daily stage performances by local acts like Bushmen and Raw Energy.
They can also tuck into halal fusion cuisine from food trucks at a carnival-like atmosphere at the inaugural Food Yard. There are also all-style street dance battles and freestyle BMX bike challenges, or you can experience the thrills of an F1 race through an immersive F1 roving truck. And right at the end of the day, visitors can catch a silent film.
WHERE: Kampong Gelam
WHEN: Ongoing until Oct 2, 4pm to 11pm (until Friday) and noon to 1pm (Saturday and Sunday)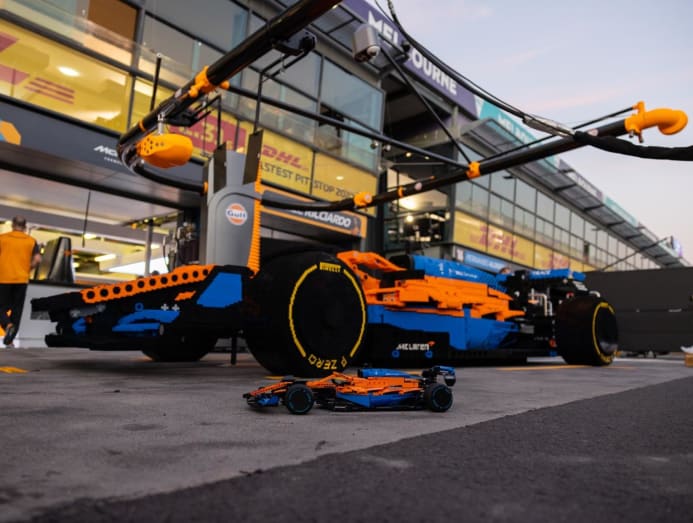 WHAT: Lego Technic McLaren F1 Pop-Up Experience
WHY: Take a seat in a life-sized Lego replica of the sleek McLaren Formula 1 race car,  which is making its Southeast Asian debut at Orchard Road, right outside Ngee Ann City Civic Plaza.
Made up of 288,315 bricks and measuring 5.7 metres in length and 2.4 metres in width, this model was built by Ryan "The Brickman" McNaught and is a first-of-its-kind collaboration with engineering experts from the Lego Group and McLaren Racing. It took almost 1,900 hours to construct.
Avid fans can also purchase an exclusive collectible version, and join in activities such as brick-building speed challenges on-site to get into the spirit of the race.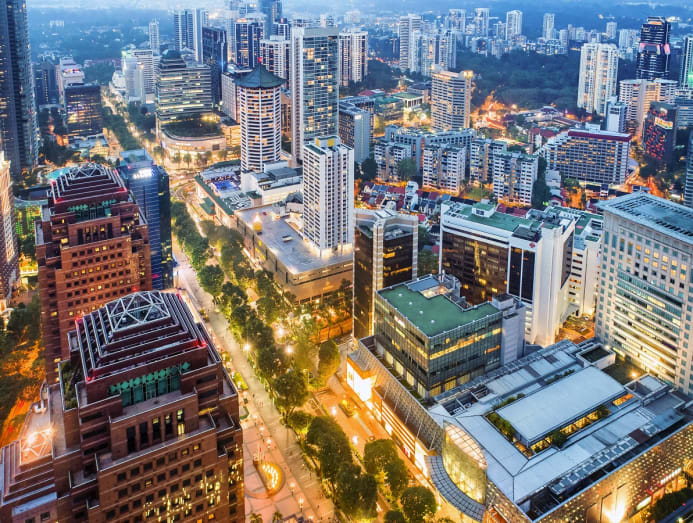 There are other Orchard Road activities like race-themed arcade game challenges at the Heineken Silver Smooooth Pit Stop, which is also located outside Ngee Ann City.
You can also shop at Design Orchard for limited-edition race-themed merchandise and then do a quick detour to visit the House Of Dreams exhibition at ION Gallery, where over 600 Barbie dolls are on display, including, yes, race-themed dolls.
WHERE: Locations all along Orchard Road
WHEN: Ongoing until Oct 2
WHAT: Williams Racing pop-up
WHY: British Formula 1 team Williams Racing is hosting an immersive pop-up experience for fans at Suntec City ahead of the race. Those who missed out on yesterday's meet-and-greet with drivers Alex Albon and Nicholas Latifi still have exhibits and activities to keep them happy, including exclusive merchandise and e-sports rigs. It's free entry, by the way.
WHERE: Suntec City
WHEN: Ongoing until Oct 2
WHAT: Lavo Party Brunch Race Weekend 2022
WHY: Lavo Italian Restaurant & Rooftop Bar is hosting a special race edition of Party Brunch during the race season in Singapore on Saturday. Featuring a specially curated race-themed menu, guests will enjoy a wide variety of Italian-American fare while drinking in spectacular views of the Singapore skyline. Ticketing details can be found here. 
WHERE: Lavo, 10 Bayfront Ave, Tower 1, Level 57
WHEN: Oct 1, 11am to 11pm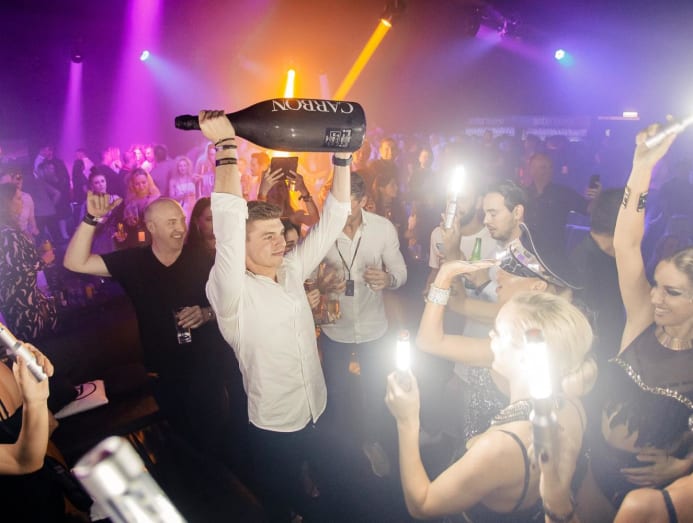 WHAT: Amber Lounge Party
WHY: It's long been billed as the glamorously exclusive post-Grand Prix race trackside party promising a luxe hospitality experience. 
Guests will be transported on a multi-sensorial journey, featuring flowing champagne and cocktails by award-winning bartenders, international music artists, members of the F1 Grand Prix racing fraternity, celebrity guests and exhilarating world-class entertainment including immersive theatrical cabaret and cirque themed performances; all set against breathtaking panoramic views of Marina Bay. Ticketing details here. 
WHERE: The Clifford Pier at Fullerton Bay Hotel, 80 Collyer Quay
WHEN: Sep 29 to Oct 4, 10pm to 5am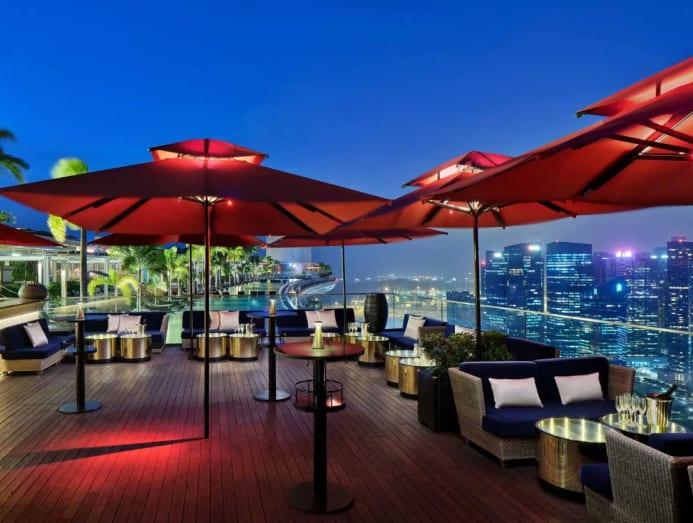 WHAT: Ce La Vi's "Cyber Rally"
WHY: The checkered flag may be black and white, but Ce La Vi is going full colour-forward with its kaleidoscopic, neon-punk "Cyber Rally" theme.
Snap a pic with the revved-up neon photo installation from local artists Tina Fung Designs & Space Objekt, and be mesmerised by projection mapping animation that will embrace the racing spirit. Ticketing details here.
WHERE: Ce La Vi, Level 57, Skypark at Marina Bay Sands
WHEN: Ongoing until Oct 2