Singapore's first ever horror film festival will start scaring on Oct 19 | CNA Lifestyle Exclusive
Horror filmmaking masterclasses by Train to Busan director Yeon Sang-ho and Indonesian auteur Joko Anwar are some of the highlights of the festival curated by Singaporean filmmaker Eric Khoo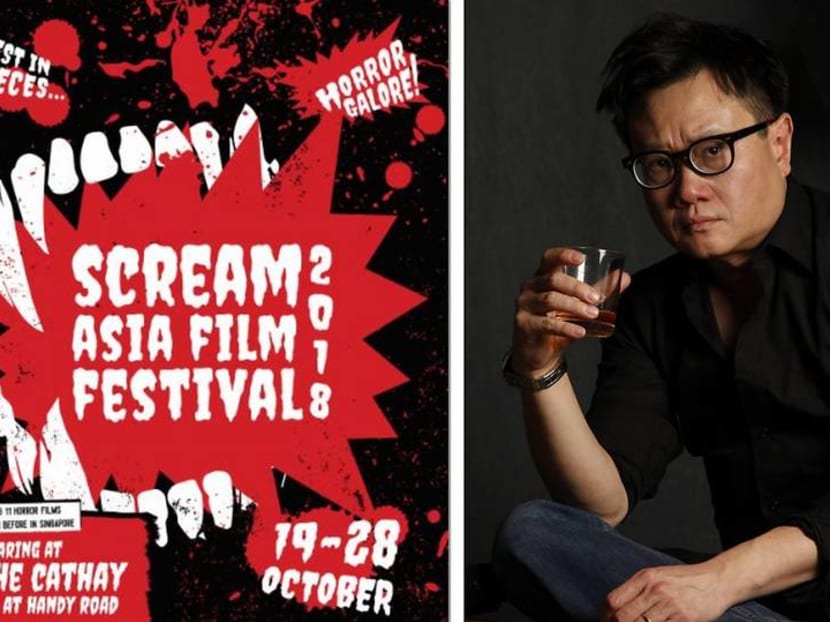 Horror stories are arguably Singapore's unofficial national obsession - and a genre that has been enjoying an unprecedented boom in recent years, scaring up big box-office bucks and inundating our TV screens.
Seems like no better time than now for Scream Asia Film Festival - Singapore's first ever horror film festival. 
Organised by mm2 Entertainment and Cathay Cineplexes, the inaugural festival, which runs from Oct 19 to 28, will screen a total of 11 feature films and one short film, including the J J Abrams-produced Overlord, Lars von Trier's The House that Jack Built and upcoming Singaporean film Zombiepura. In attendance will be closing film They Who Are Not Seen director Billy Christian and Overlord director Julis Avery.
Curated by homegrown award-winning auteur Eric Khoo and South Korean film programmer Jongsuk Thomas Nam, Scream Asia Film Festival also boasts horror filmmaking master classes taught by acclaimed directors Yeon Sang-ho and Joko Anwar.
The former directed the 2016 box-office hit Train To Busan, which became the highest grossing Korean film in Singapore, Malaysia and Hong Kong.  The latter is an Indonesian horror stalwart who directed Satan's Slaves, which was not only the highest grossing Indonesian horror film of all time but also the highest grossing Indonesian film of 2017.
"For all aspiring filmmakers in Singapore and the region, I cannot think of two better directors to learn from than Sang-ho and Joko," Khoo said. "Especially in the genre of horror."
Khoo, a self-professed horror film buff and the festival's creative director, told CNA Lifestyle that he believes that horror films are "the way to go" in growing both our local and regional film industry. 
"They are the cheapest to make and yield the highest returns," he said with a laugh. "Look at the box-office numbers Joko's Satan's Slaves brought in. It's incredible that a horror film is the highest-grossing Indonesian film of 2017."
He continued: "Horror films have long been seen as 'B-grade'. But really, a lot of these films end up creating so much, even though they have miniscule budgets. It's because they have to work even harder, especially on the creative (front), and really push the boundaries and get things done."
Which is why Khoo is hoping that Scream Asia Film Festival will be the platform to help push and encourage the next generation of Singapore filmmakers.
He told CNA Lifestyle exclusively that the festival is "looking to introduce a short film-making competition section next year".  The winner will see their short film produced by organisers mm2 Entertainment, who are also behind other local horror films such as 23:59 The Haunting Hour (2018), Bring Back the Dead (2014), Ghost Child (2013) and the upcoming Zombiepura (2018).
"Asia has an immense thirst for the horror genre so the time is ripe to create an iconic horror film festival here," he added. "We hope that Scream Asia will make our little red dot the hub for horror film fans and filmmakers from the region."
Agreed Ng Say Yong, mm2 Entertainment's Chief Content Officer: "Asia lends itself naturally to the horror genre because its historical and cultural landscape is filled with stories of ghosts, black magic, and a myriad assortment of exorcists and mediums," he said. "Some of the most iconic and scary horror films have come from this region. It's therefore important to establish a horror film festival here… and showcase works that are less known, and develop a platform for regional filmmakers to gather and make even better horror movies."
Tickets are on sale from Sep 10 at cathaycineplexes.com.sg
Festival brochures with the schedule and film information will be available at all Cathay Cineplexes locations.
For more information, visit screamasiafilmfest.com