Singapore Food Festival returns with LiHO avocado kopi and Ya Kun Pocky 
The 26th edition will run from Jul 12 to 28, and delve into the stories and experiences that drive our singularly Singapore food obsession.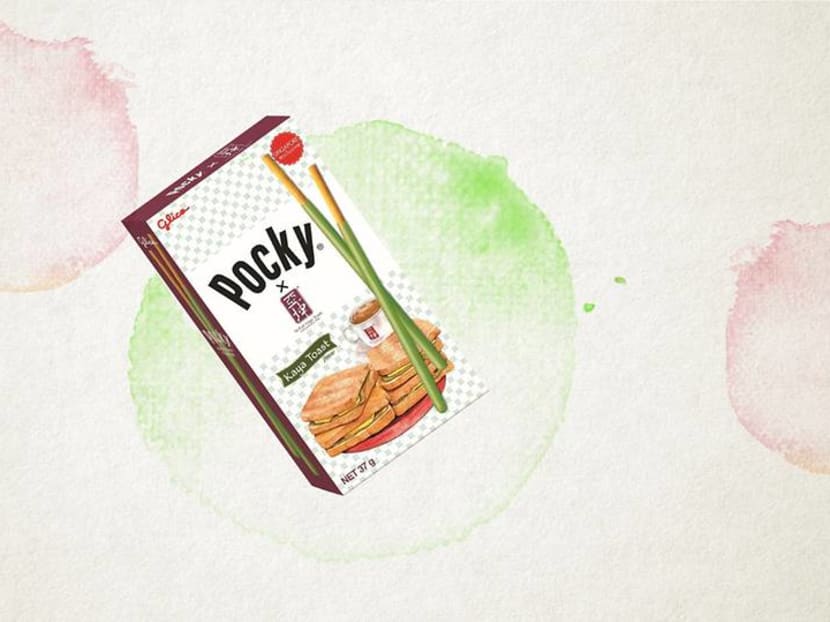 Avocado kopi, a vegan food crawl and the ultimate chilli crab ramen – these are some of the things food lovers can look forward to at the upcoming Singapore Food Festival (SFF).

The annual celebration of local cuisine is back for its 26th year with the theme "Savour Singapore in every bite". The event is dedicated to local cuisine and talent, celebrating the country's multicultural heritage.

Twenty event partners have come together to offer a myriad of dining concepts and gastronomic experiences during the festival that will run from Jul 12 to 28.
The food festival's main event, STREAT, will be back. The two-day event will offer a range of traditional hawker fare and mod-sin interpretations of Singapore street food from 12 eateries.
Highlights include duck rice bento from Jin Ji Teochew Braised Duck and Kway Chap, chicken rice kueh pie tee from Salted & Hung, as well as an Impossible Burger and Fat Papas collaboration.

Diners will also be entertained by local music acts Charlie Lim and Glen Wee, and have the opportunity to attend workshops and masterclasses by local culinary talents.
STREAT will kick off from 5pm on Jul 12 at The Promontory @ Marina Bay.

MODERNITY, CULTURE, TRADITION AND ART: HIGHLIGHTS
Vendors at the Singapore Food Festival will be grouped into four different categories - Modernity, Culture, Tradition and Art.
Here's a taste of what diners can look forward to:
1. The Ultimate Chilli Crab Ramen by Ippudo x No Signboard Seafood (Modernity)

This may be a fan favourite - the Ultimate Chilli Crab Ramen was dreamed up by Japanese ramen chain Ippudo and famous seafood restaurant No Signboard. The dish brings together tonkotsu ramen broth with No Signboard's signature chilli crab sauce, giving it a spicy and savoury kick. 
The Ultimate Chilli Crab Ramen's noodles, which have a springy texture, are customised for the dish - which also comes with toppings such as an umami egg, a whole crab claw and fried mantou. 
Only 30 bowls of this special ramen dish will be served every day at two Ippudo outlets - Mandarin Gallery and Marina Bay Sands - and it will be available in the month of July. 
2. Avocado Kopi by LiHo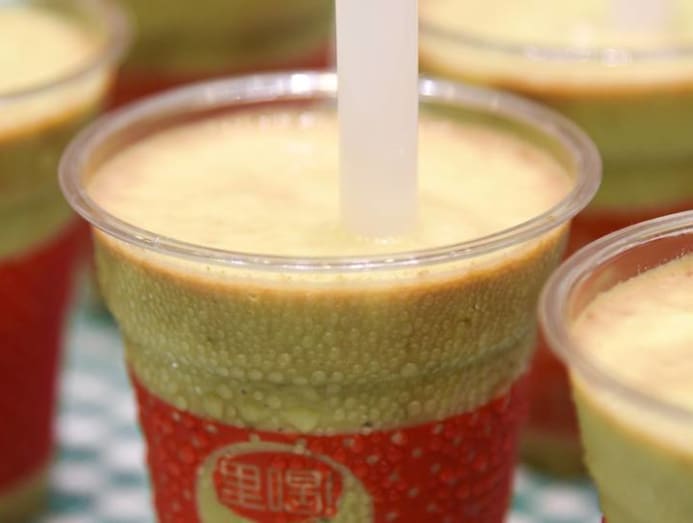 Bubble tea lovers can pick up an avocado kopi from selected LiHO outlets. 
The new concoction blends the sweet and creamy avocado flavour with a nutty and chocolatey brew, resulting in a smooth and flavour-packed beverage. It will be available at selected LiHo outlets from Jul 12 to Sep 20, 2019. 
This is the first time that LiHo is participating in the Singapore Food Festival, along with 7-Eleven and Glico. Glico is also going local, with a limited edition Pocky x Ya Kun Kaya Toast & Kopi O.

3. Sor Hei by Project Plait X Artistry (Art)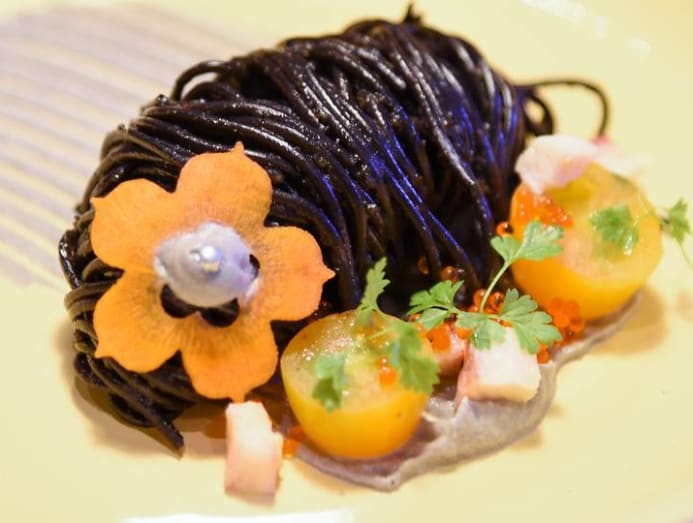 What does dance have to do with food?
Well, as part of the art category, chef Nixon Low and dancer Naomi Tan are coming together to create a unique experience for diners by combining a five-dish menu with a contemporary dance exhibition, named The Mem's Servants. 
This will be held in four interconnected rooms in a black-and-white colonial house near Mount Faber, where diners are required to enter different rooms for each dish. 
One of the dishes featured is called Sor Hei. It's chilled squid ink pasta with smoked golden trout, giving diners a subtle tinge of flavour past the slightly salty squid ink. It is complemented with golden tobiko (flying fish roe), cauliflower puree and pickled carrots to set up a complex but flavourful dish. 
4. Jimami Tofu 5D Experience by Cookyn Ink (Art)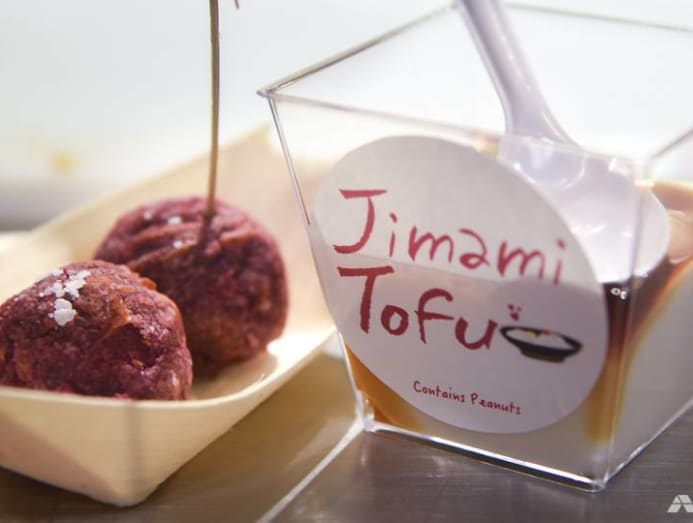 Another unique dining experience can be found in Jimami Tofu 5D Dining Experience by Cookyn Inc. 
Drawing inspiration from the award-winning 2017 Singaporean-Japanese drama film Jimami Tofu, Cookyn Inc will prepare a seven-course dinner menu for diners, all of which are prepared and served at the same time the movie is being screened.
The idea is to provide an all-round experience, allowing diners to use their five senses.
Jimami tofu - naturally - is one of the dishes, along with sweet potato croquette. Both are of Okinawan origin, with the Jimami tofu, a mixture of tapioca and quinoa, having a smooth, sticky and glutinous rice ball-esque texture with sweetened soy sauce.
The croquettes, on the other hand, are quite the opposite - crispy on the outside and pasty on the inside with finely hand-grated sweet potato.
Diners can also look forward to taking pictures with the chefs and cast of the movie. 
5. Mutton Keema from Indian Restaurants Association (Tradition)

Featuring authentic Indian dishes from the 1960s, Campbell Lane in Little India will be opened up to host this year's Great Indian Food Festival from Jul 19 to 28. This is a collaboration between the Indian Restaurants Association Singapore (IRAS) and Singapore Tourism Board (STB). 
One of the highlights is Mutton Keema, essentially minced mutton with Indian breads ranging from naan, chapati, coin prata and a normal-sized prata.
The meat, delicate yet juicy, comes with soft potatoes and peas. The thick gravy adds a spicy final touch to the Keema, due to the fragrant herbs used in its creation. 
The Indian Food Festival will include 16 food carts along Campbell Lane, allowing visitors to experience Singapore's heritage through food.
OTHER EVENTS
Vegans - heads up. The Singapore Vegan Food Crawl will take diners to Chinatown, Geylang Serai and Little India to discover the booming vegan street food culture, while the Singapore Tea Festival from Jul 19 to 21 will bring a curated line-up of artisanal teas, workshops and snack brands for the perfect teatime experience.

Festival-goers can also look forward to The Mem's Servants from Jul 24 to 27, a unique five-course food and contemporary dance experience that'll bring to life untold stories from the cooks and amahs (nannies) who served at black-and-white colonial houses. 

Ranita Sundramoorthy, Director of Retail and Dining, Singapore Tourism Board, said: "With this year's robust line-up of events, from private chef dinners and food tours around our heritage districts, to theatrical dining experiences – Singaporeans and visitors will be able to taste Singapore's diverse flavours and experience our food obsession first-hand."

She added: "In its 26th year, the Festival continues to be a highlight on the Singapore foodie calendar. SFF is a compelling testament to the richness and diversity of our food scene, further cementing our city-state's reputation as a global culinary capital."